Vanilla bean ice cream and root beer ale combine with a dollop of whipped cream and a drizzle of chocolate syrup to create the ultimate adult summer adult beverage.
If you're a fan of social media, odds are you've stumbled across a photo of one of your friends gleefully sipping on a bottle of Not Your Father's Root Beer. For weeks, I've been seeing this adult beverage popping up everywhere, so naturally I had to pick some up because Instagram said so.
Let me make it very clear that I am not a beer drinker. In fact, I don't think I've had a sip of the stuff since 1999 when I made a feeble attempt at a keg stand in college. Bad move on so many levels.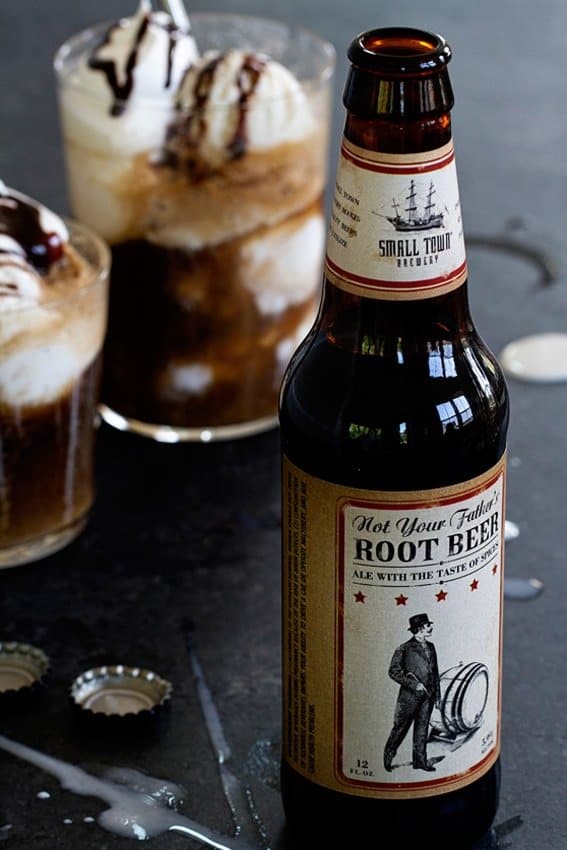 Point being I dislike the stuff, so I had to be pretty intrigued to spend $12 on a six-pack of beer. However, people were raving that it tastes exactly like root beer with no beer aftertaste whatsoever. Well, those people are liars.
While I will 100% agree that it tastes like an ice-cold, spicy root beer initially, there is most definitely a beer finish to each sip. Shockingly, this didn't bother me at all and I finished almost an entire bottle. If you're sensing that I am a little proud of this – I totally am!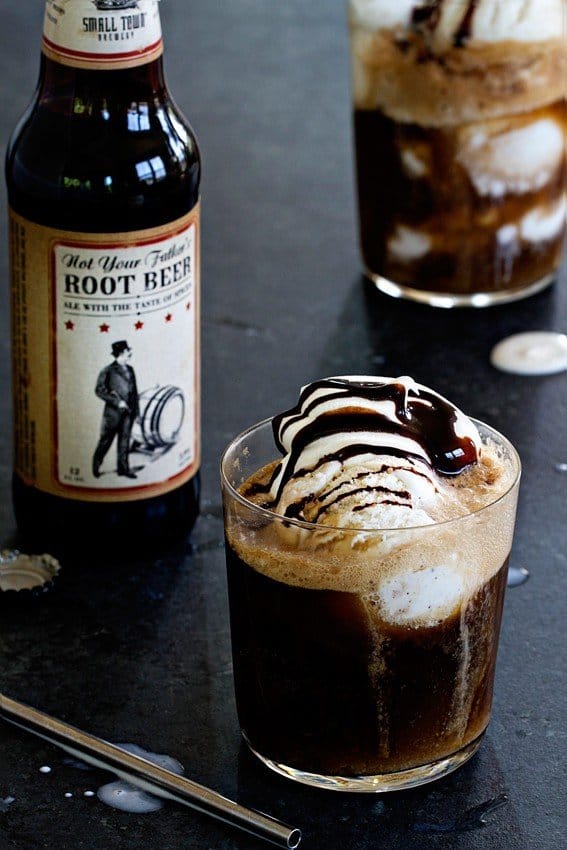 We tossed a few of them into the fridge and kind of forgot about them until one night last week when we both had a little hankering for ice cream. I tossed a couple of mugs into the freezer and about an hour later filled our frosty mugs with vanilla bean ice cream and topped with off with the ice cold Not Your Father's Root Beer. And if I'm being honest, it was pretty darn delightful on a warm, summer evening.
Do me a favor and don't use just any vanilla ice cream. It's gotta be the good stuff, with just a few ingredients, and flecks of real vanilla bean throughout. Because it's only that honest, creamy flavor that's going to stand up to this hard root beer.
I'm pretty sure these floats would go over amazingly well at your next barbecue. You can even pre-scoop the ice cream into frosty mugs or Solo cups and stick 'em in the freezer. Then just pick up some regular root beer for the kiddos. Talk about the best way to spend a warm summery night!