Quick and easy Almond Joy Cupcakes are made with a doctored up cake mix and topped with fluffy buttercream and sweet coconut.
I like to think that I am always on top of my game. You know – punctual, organized, prepared. But that is so not the case – at all. While I try my best, life happens. Ya know, like having your ventilation hood installed 8 inches lower than it's supposed be, resulting in tearing out drywall and having yet another crew in our house for the rest of the week. Fun times. Life though, it happens.
A few weeks ago, my mom reminded me that she'd be stopping by with her boyfriend and that it was his birthday. Between work, construction chaos, decorating and a toddler, I totally lost track of the days. With them arriving in just a few hours, I did a quick pantry scan and threw together a batch of Almond Joy Cupcakes.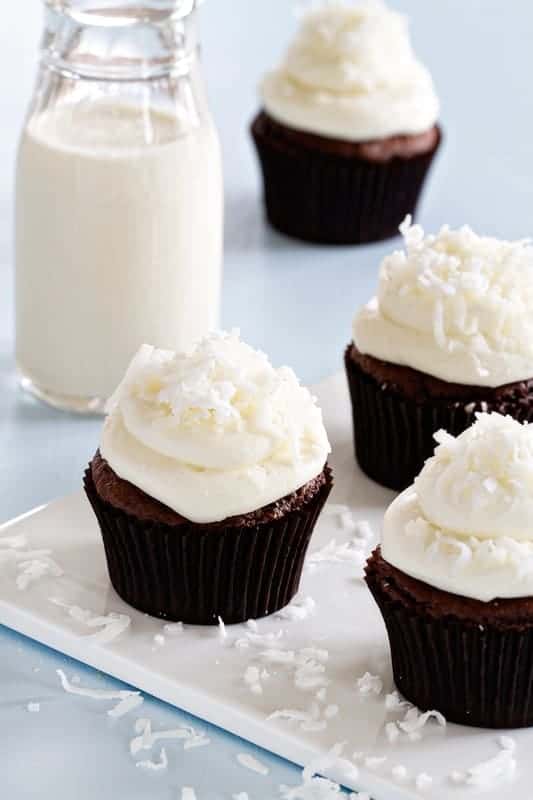 John is wholeheartedly a coconut addict, so I thought these would be the perfect way to celebrate his special day. Using a doctored up cake mix allowed me to skip a last minute trip to the grocery store for cocoa powder. This was most definitely a little bonus because I had a sweet baby fast asleep for her midday nap.
My favorite doctored up cake mix is super super simple and requires just a handful of ingredients. The beauty of this recipe is that you can tweak it just a tad and give it a whole new life. From Mint Chocolate Chip Cupcakes to Heath Bar Cupcakes, this recipe has been one of my favorites for years. And these Almond Joy Cupcakes might just be my new favorite adaptation, because hello: almonds and coconut and chocolate and buttercream? That's my jam.
How can you possibly go wrong with half a mini Almond Joy tucked into a chocolate cupcake, anyway? Topped with vanilla buttercream and shredded coconut? You can't, you just can't.