Almond Joy Cupcakes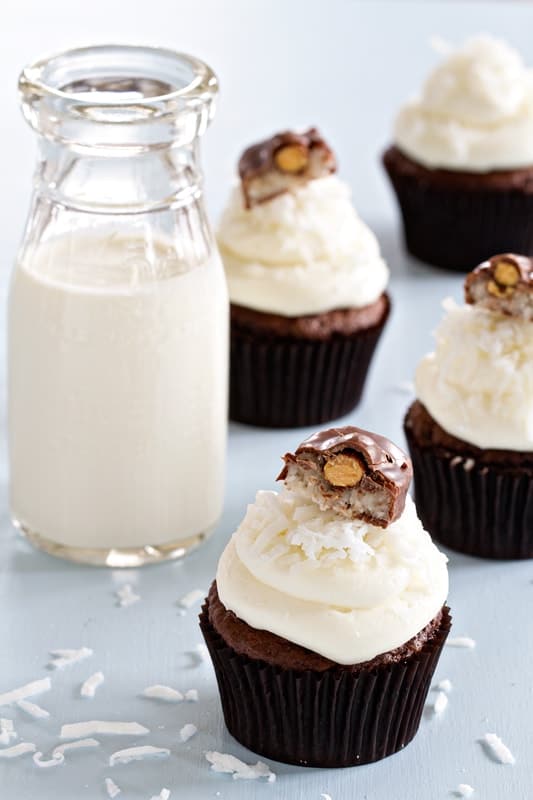 Quick and easy Almond Joy Cupcakes are made with a doctored up cake mix and topped with fluffy buttercream and sweet coconut.
I like to think that I am always on top of my game. You know – punctual, organized, prepared. But that is so not the case – at all. While I try my best, life happens. Ya know, like having your ventilation hood installed 8 inches lower than it's supposed be, resulting in tearing out drywall and having yet another crew in our house for the rest of the week. Fun times. Life though, it happens.
A few weeks ago, my mom reminded me that she'd be stopping by with her boyfriend and that it was his birthday. Between work, construction chaos, decorating and a toddler, I totally lost track of the days. With them arriving in just a few hours, I did a quick pantry scan and threw together a batch of Almond Joy Cupcakes.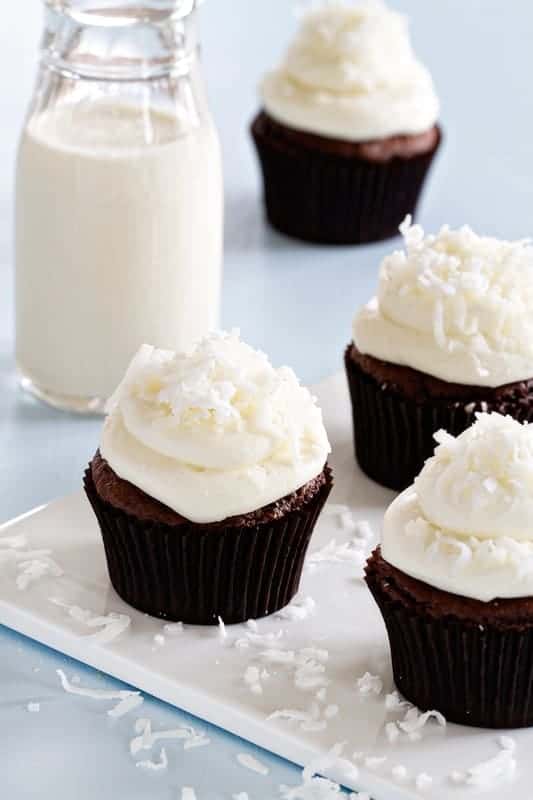 John is wholeheartedly a coconut addict, so I thought these would be the perfect way to celebrate his special day. Using a doctored up cake mix allowed me to skip a last minute trip to the grocery store for cocoa powder. This was most definitely a little bonus because I had a sweet baby fast asleep for her midday nap.
My favorite doctored up cake mix is super super simple and requires just a handful of ingredients. The beauty of this recipe is that you can tweak it just a tad and give it a whole new life. From Mint Chocolate Chip Cupcakes to Heath Bar Cupcakes, this recipe has been one of my favorites for years. And these Almond Joy Cupcakes might just be my new favorite adaptation, because hello: almonds and coconut and chocolate and buttercream? That's my jam.
How can you possibly go wrong with half a mini Almond Joy tucked into a chocolate cupcake, anyway? Topped with vanilla buttercream and shredded coconut? You can't, you just can't.
Almond Joy Cupcakes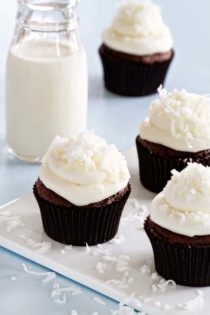 Ingredients:
For the Cupcakes

1 (15.25 ounce) package devil's food cake mix (see note below)

1 (3.4 ounce) package instant chocolate pudding mix

3/4 cup sour cream

3/4 cup vegetable oil

3 large eggs, lightly beaten

2 teaspoons pure vanilla extract

1/2 cup warm water

10 snack size Almond Joy candy bars, cut in half
For the Buttercream

3 sticks (1 1/2 cups) unsalted butter, room temperature (I used Challenge Butter)

1 ½ pounds (24 ounces) confectioners' sugar, sifted

2 teaspoons vanilla extract (I used clear vanilla)

2-4 tablespoons heavy cream
For the Garnish

shredded coconut
Directions:
1. Preheat oven to 350°F. Line muffin tin with paper liners.
2. In the bowl of a stand mixer, fitted with the paddle attachment, or with a hand mixer in a large bowl, beat together the cake and pudding mixes, sour cream, oil, eggs, vanilla and water. Beat for about one minute on medium speed until well combined.
3. Using a large cookie scoop, distribute the batter between 24 muffin wells; about 3 tablespoons of batter per well.
Push half a snack size Almond Joy into the center and use a spoon to cover the candy bar.
4. Bake in preheated oven for 18-22 minutes or until the tops of the cakes spring back when lightly touched. Allow cupcakes to cool inside muffin tins for about 5 minutes or so before removing them to a cooking rack to cool completely. Once cupcakes are cool, prepare the buttercream frosting
5. In the bowl of a stand mixer fitted with the paddle attachment, beat butter on medium-high speed for about 8 minutes. This process will lighten the color of the butter and ensure you buttercream in extra smooth and fluffy.
6. Turn speed down to low and gradually add in the confectioners' sugar. Continue mixing on low speed until the powdered sugar is completely incorporated. Add in 1-2 tablespoons heavy cream and vanilla extract and mix until combined. Turn mixer back up to medium-high speed and beat the mixture for an additional 5-6 minutes. If needed, add in a little more cream 1 teaspoon at a time until you reach the consistency you desire. Pipe the buttercream onto cupcakes and topped with shredded coconut.
Notes:
- If you do not use boxed mixes, you can substitute your favorite from scratch recipe, or check out the organic and all-natural cake mixes available.

- Store cupcakes in the refrigerator for up to 3 days. Allow Almond Joy Cupcakes to sit at room temperature for one hour before serving.
All images and text ©
Follow Jamie on Instagram. We love to see what you're baking from MBA! Be sure to tag @jamiemba and use the hashtag #mbarecipes!
This post may contain affiliate links. We are a participant in the Amazon Services LLC Associates Program, an affiliate advertising program designed to provide a means for us to earn fees by linking to Amazon.com and affiliated sites.