I have developed a serious case of muffin envy. My local market has a pretty incredible bakery section that I like peruse for research purposes. From decadent cakes, fresh breads, doughnuts and pies – it's enough to bring this carb addict to her knees.
Although the entire bakery is filled with utter brilliance, I'm always drawn to the glass case that is home to the big, beautiful muffins. It's not even the flavors that lure me in, it's those glorious risen crowns that are baked to golden brown perfection. You know exactly what I'm talking about, don't ya? Admit it, you've fallen victim to muffin envy – haven't you?
Every single time I peer into the meticulously shined glass that separates me from amazing muffin world, I think to myself – why can't I do that at home – on my my own turf – with my own flavor combinations?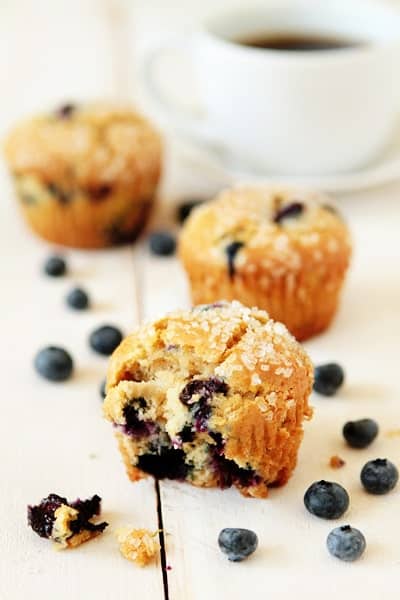 Well folks, I don't have an answer for you. I've read about, researched and tasted more muffins than I care to openly admit. But sadly nothing that I create in my own kitchen compares to the muffin bliss that stares me down every single time I enter the market.
So instead of dwelling on what may never be, I choose to embrace the homemade, rustic muffins that I create in my own kitchen. And today I have an incredibly tasty sour cream muffin bursting with fresh blueberries and the tart zing of fresh lime zest. They're perfect for breakfast, lunch or simply a midday snack.
On second, thought, maybe I'll go all undercover and apply for a muffin baking apprenticeship – ya know – for that aforementioned research!
Tell me, what's your favorite muffin flavor?