Blueberry-Lime Muffins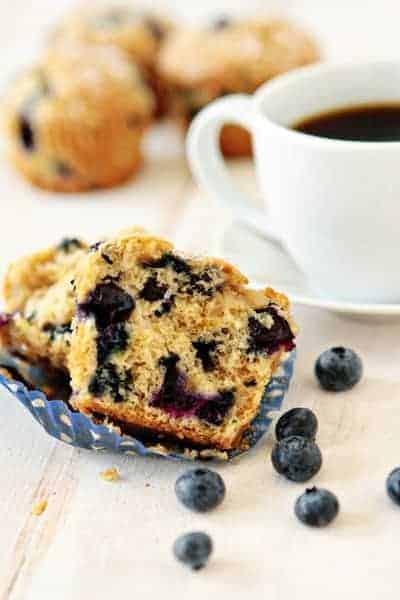 I have developed a serious case of muffin envy. My local market has a pretty incredible bakery section that I like peruse for research purposes. From decadent cakes, fresh breads, doughnuts and pies – it's enough to bring this carb addict to her knees.
Although the entire bakery is filled with utter brilliance, I'm always drawn to the glass case that is home to the big, beautiful muffins. It's not even the flavors that lure me in, it's those glorious risen crowns that are baked to golden brown perfection. You know exactly what I'm talking about, don't ya? Admit it, you've fallen victim to muffin envy – haven't you?
Every single time I peer into the meticulously shined glass that separates me from amazing muffin world, I think to myself – why can't I do that at home – on my my own turf – with my own flavor combinations?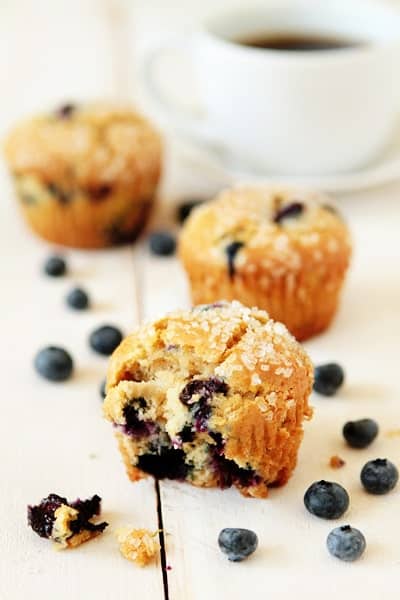 Well folks, I don't have an answer for you. I've read about, researched and tasted more muffins than I care to openly admit. But sadly nothing that I create in my own kitchen compares to the muffin bliss that stares me down every single time I enter the market.
So instead of dwelling on what may never be, I choose to embrace the homemade, rustic muffins that I create in my own kitchen. And today I have an incredibly tasty sour cream muffin bursting with fresh blueberries and the tart zing of fresh lime zest. They're perfect for breakfast, lunch or simply a midday snack.
On second, thought, maybe I'll go all undercover and apply for a muffin baking apprenticeship – ya know – for that aforementioned research!
Tell me, what's your favorite muffin flavor?
Blueberry-Lime Muffins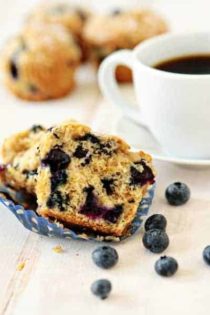 Ingredients:
1 cup sugar
zest of two limes
2 cups all-purpose flour
1/2 teaspoon salt
1/2 teaspoon baking soda
2 eggs
1/2 cup vegetable oil
1 teaspoon vanilla extract
1 cup sour cream
1 cup fresh or frozen blueberries
coarse sugar, optional
Directions:
Preheat oven to 400 degrees F. Spray muffin pan with nonstick cooking spray or line with paper muffin liners.
In a small bowl, combine sugar and lime zest. Mix with clean fingertips until sugar is moistened and fragrant. Set aside.
In a medium bowl, stir together flour, salt and baking soda. Set aside.
In large bowl, beat eggs and sugar until thoroughly incorporated. Continue beating while slowly pouring in the oil. Add in vanilla.
Stir dry ingredients into egg mixture alternately with sour cream. Gently fold in blueberries. Scoop batter into prepared muffin cups and if desired, top with a sprinkling of coarse sugar.
Bake in preheated oven for 20-22 minutes.
Notes:
– adapted from allrecipes.com
All images and text ©
Follow Jamie on Instagram. We love to see what you're baking from MBA! Be sure to tag @jamiemba and use the hashtag #mbarecipes!
This post may contain affiliate links. We are a participant in the Amazon Services LLC Associates Program, an affiliate advertising program designed to provide a means for us to earn fees by linking to Amazon.com and affiliated sites.