I adore quick breads, they have a certain appeal to them…beyond their ease of preparation–to me they exude a high level of hominess and are the perfect giftable baked good! If you are a baking newbie, a quick bread is well, quick and is leavened through the use of a chemical leavener such as baking soda or baking powder.
Although my absolute favorite quick bread is of the banana variety, this Blueberry Zucchini bread is absolutely delicious and could easily go head to head with your best loaf of banana bread!
The shredded zucchini imparts a moist and almost creamy texture, while the addition of whole wheat flour adds just the right amount of nuttiness. The fresh blueberries end up bursting in your mouth and make the bread taste really fresh and wholesome. Plus, I think the opportunities to healthify this recipe are awesome–think toasted nuts, wheat germ, apple sauce…oh the possibilities. If you make this and adapt it, definitely come back here and let us know your result!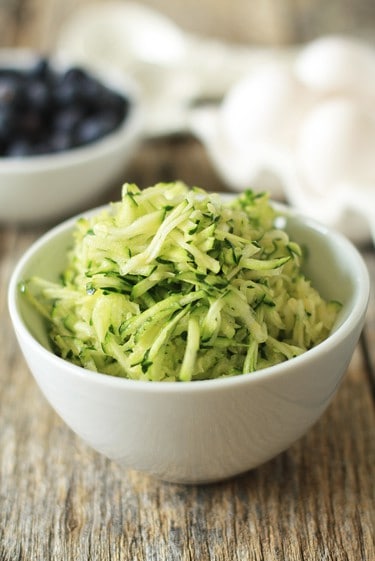 This particular Blueberry Zucchini bread is not overly sweet, so you can definitely experiment with the amount of sugars to appeal to your taste buds; personally, I liked this quality of the bread. I sprinkled a little bit of oatmeal and coarse sugar on the top for visual appeal added texture. This bread was awesome toasted and spread with a bit of butter–perfect for breakfast with a cup of hot tea!
In other news, I am 31 and think I have just developed allergies. I. hate. them. So I am going to go pop some more Benedryl, have a few more sneezing fits and bury my face in blanket! Have a fabulous day!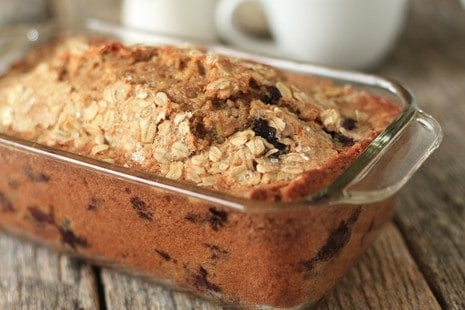 Looking for other quick breads? Check out these:
Banana Bread with a Twist from My Baking Addiction
Cocoa-Nana Bread from The Blue Ridge Baker
Banana Blueberry Bread from Baking and Books
Goat Cheese and Olive Savory Quick Bread from Gastronomy
Coors Beer Bread from Vino Luci

Blueberry Zucchini Bread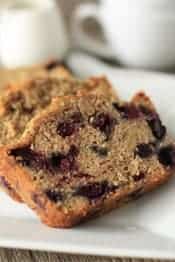 Ingredients:
2 eggs, lightly beaten
1/2 cup vegetable oil
2 teaspoons vanilla extract
1/2 cup white sugar
1/2 cup brown sugar; lightly packed
1 cup shredded zucchini
3/4 cup all purpose flour
3/4 cup whole wheat flour
1/2 teaspoon kosher salt
1/2 teaspoon baking powder
1/8 teaspoon baking soda
1-1/2 teaspoons ground cinnamon
1 cup fresh blueberries
Directions:
1. Preheat oven to 350 degrees F (175 degrees C). Lightly grease an 8.5 x 4.5 loaf pan.
2. In a large bowl, beat together the eggs, oil, vanilla, and sugars. Fold in the zucchini. Beat in the flours, salt, baking powder, baking soda, and cinnamon. Gently fold in the blueberries. Transfer to the prepared loaf pan.
3. Bake 55-65 minutes in the preheated oven, or until a knife inserted in the center of a loaf comes out clean. Cool 20 minutes in pans, then turn out onto wire racks to cool completely.
Notes:
- No whole wheat flour? Simply sub in the all-purpose flour.
- No brown sugar? Simply sub in white sugar.
- No loaf pan? Make muffins--note the cooking time will be shorter if making muffins.
All images and text ©
Follow Jamie on Instagram. We love to see what you're baking from MBA! Be sure to tag @jamiemba and use the hashtag #mbarecipes!
[pinit]