Brown butter maple nutmeg cookies are so nutty and full of festive spice, you won't know what to do with yourself. Make them immediately!
Are you in full-on, cookie-baking-machine mode yet? I certainly am.
This year, Eric and I decided we'd go homemade on a lot of gifts. If you read MBA on a regular basis, you know that we're in the beginning stages of building a home.
And let me tell you, that ain't cheap.
So, we decided we'd go easy on our collective wallet and make homemade gifts full of more love than any store-bought gift could ever contain.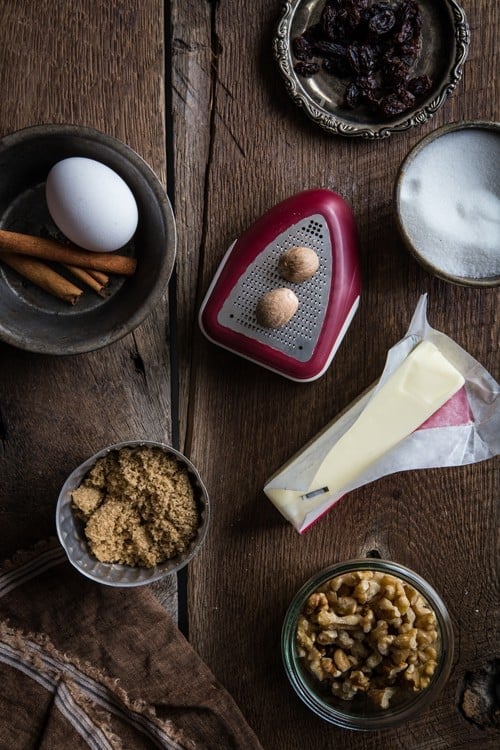 This means lots and lots of cookies, homemade candy (like these peppermint Oreo cookie balls), and even cookies in a jar ready to be whipped up by the gift recipient when a cookie craving hits.
There are lots of festive flavors this time of year. A lot of people gravitate towards peppermint and chocolate, or cranberry, citrus and white chocolate, or gingerbread.
One flavor I think gets heavily overlooked this time of year is maple.
Maple is definitely a wintery flavor. Pair it with warming spices like freshly grated nutmeg and cinnamon? You're on to a cookie that is both comforting and lively at the same time.
All those fresh spices make for a flavor-packed bite.
This brown butter maple nutmeg cookies recipe takes it one step further with the completely addicting, nutty flavor of brown butter.
If you've never tried a cookie with brown butter, you are missing out! Butter transforms the longer it cooks, into this luscious, almost caramel-y flavor, even without sugar.
Add it to spicy cookies and maple? Good golly, you're on to something.
Cookies like this wouldn't be complete without some crunchy nuts and sweet frosting. For heaven's sake, do not skip the frosting. These cookies are good on their own, but that maple frosting just kicks things into overdrive.
I used walnuts because I think they pair well with maple, but feel free to add whatever you have on hand. Pecans or hazelnuts would be scrumptious, or even sunflower seeds, if you're baking for a nut-free crowd.
Whatever you do, make these brown butter maple nutmeg cookies immediately. The holidays should always be scented with a little something maple and nutmeg!
Photos in collaboration with Emily of Jelly Toast.