I love Butterfingers – I blame my dad for my slight infatuation with these crispety, crunchety, peanut buttery candy bars. Seriously – it's a problem. Last weekend, I was with my dad at Target and we picked up an obscene amount of Butterfinger candy bars – strictly for baking purposes – ha!
First, I made these Butterfinger Cookies – which are incredible, so if you haven't made them yet, ya need to get on it. Trust me, you'll thank me later.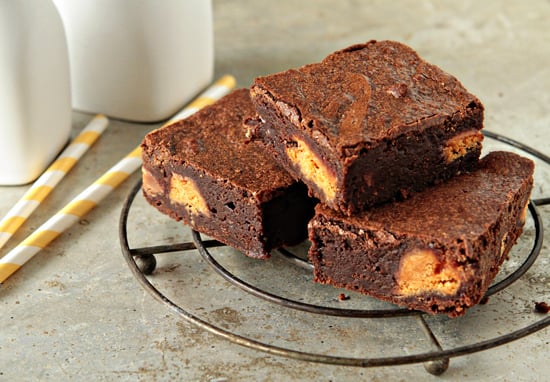 After I made two batches of cookies, I still had quite a few candy bars sitting around looking all lonely in our candy dish. And since I simply couldn't bring myself to log in Butterfingers as my dinner in My Fitness Pal, I had to get rid of them. So, I chopped them up and baked them into the center of a batch of brownies. These brownies are rich, delicious and loaded with Butterfinger bliss.
[pinit]

Butterfinger Brownies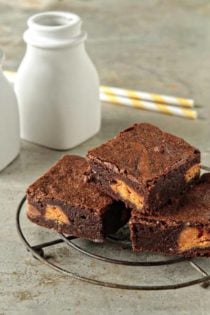 Ingredients:
4 ounces unsweetened chocolate; coarsely chopped
3/4 cup butter
1 1/4 cups sugar
3 eggs
1 teaspoon pure vanilla extract
1/4 teaspoon salt
1 cup all-purpose flour
3 (2.1 ounce) Butterfinger candy bars, chopped into bite size pieces
Directions:
1. Preheat oven to 350 degrees. Line an 8×8 inch baking pan with foil and spray with nonstick cooking spray.
2. Microwave chocolate and butter in a large bowl microwave-safe bowl at medium (50% power) for 3-4 minutes or until butter is melted.
3. Stir until chocolate is melted. Whisk in sugar, eggs, vanilla and salt. Gradually add in flour and stir until just combined.
4. Spread 1/2 the batter into prepared pan. Add an even layer of Butterfinger pieces and cover with remaining 1/2 of brownie batter. Bake for 30-35 minutes; do not over bake.
5. Remove to cooling rack. Allow to cool completely before cutting.
My Baking Addiction
All images and text ©
Follow Jamie on Instagram. We love to see what you're baking from MBA! Be sure to tag @jamiemba and use the hashtag #mbarecipes!