You guys are well aware of the fact that I have a thing for peanut butter. Although I'm pretty much an equal opportunity consumer, I've recently developed a pretty serious addiction to the chunky stuff. More specifically, Skippy Natural Super Chunk.
If you're a peanut butter lover, you know how important the sweet to salt ratio is and in my opinion, Skippy nailed it with this blend. And seriously how can you go wrong with something dubbed "super chunk"? I stocked up on a few jars and then one day – it disappeared off the store shelves.
So I checked another store and then another and there was no Skippy Natural Super Chunk to be had. Immediately I panicked – okay, I really didn't panic but I was slightly annoyed as I chucked a jar of Jif Chunky into my cart.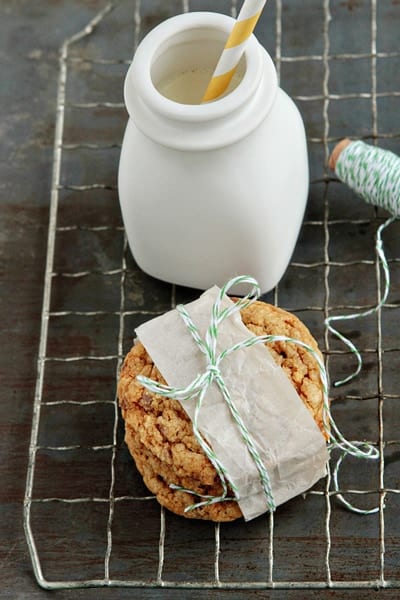 Jif just wasn't the same, so I took advantage of my Amazon Prime account and ordered a 6 pack of Skippy Natural Super Chunk from Amazon. Since 6 jars is kind of a ridiculous amount of peanut butter for my tiny pantry, I decided take advantage of my ample supply and make these unbelievably delicious Butterfinger Cookies.
These scrumptious peanut butter cookies are chock full of Butterfinger flavor and they definitely bring new meaning to Bart Simpson's classic catchphrase – "Nobody better lay a finger on my Butterfinger!"
[pinit]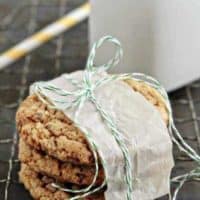 Butterfinger Cookies
Ingredients
1/2 cup unsalted butter, softened
3/4 cup white sugar
2/3 cup lightly packed light brown sugar
2 egg whites
1 1/4 cups crunchy peanut butter
1 1/2 teaspoons pure vanilla extract
1 cup all-purpose flour
1/2 teaspoon baking soda
1/4 teaspoon salt
5 (2.1 ounce) Butterfinger candy bars, chopped
Instructions
1. Preheat oven to 350 degrees F. Line baking sheets with parchment paper.
2. In the bowl of a stand mixer fitted with the paddle attachment or in a large bowl with an electric mixer, cream the butter and sugars together until light and fluffy. Add the egg whites and beat well. Beat in the peanut butter and the vanilla, mixing until well combined.
3. In a small bowl, combine the flour, baking soda, and salt. Add the dry ingredients into the creamed mixture and mix until just combined. Stir in the chopped candy bars.
4. Using a medium cookie scoop (about 1 ½ tablespoons) shape dough into balls and place on the prepared baking sheets.
5. Bake in preheated oven for 10 to 12 minutes or until golden brown. Remove cookies from oven and allow them to cool for about 5 minutes on the cookie sheet before moving them to a cooling rack.
Notes
Store cookies in an airtight container at room temperature for up to 2 days.
Recipe from allrecipes.com