Last week I tempted you with Candy Corn Oreo Truffles, professed my love of Brach's Candy Corn and prepared you for more delicious Candy Corn Oreo recipes in the near future.
After posting the recipe, I received a few emails from readers urging me to try candy corn mixed with salted peanuts. Say what? Clearly this little combination of sweet and salty bliss is widely known, but obviously I missed the memo!
Since I always have peanuts in the house, I immediately tossed them into a ramekin with a handful of candy corn. And let me just tell you – this combo is no joke! In fact, I think it might just be life changing. Yep, I said it – life changing, my friends. At that very moment, I decided to whip together a batch of Candy Corn Oreo Bark flecked with salty peanuts and pretzels.
The idea of Candy Corn Bark really isn't anything new – I actually made a version of this recipe a few years back. However, this time, I've kicked it up a notch with Candy Corn Oreos.
Halloween just got more awesome, people. The sweet and salty combination, along with that signature Oreo cookie, makes for a delectable treat all your ghouls and goblins will be drooling over.
Candy Corn Oreo Bark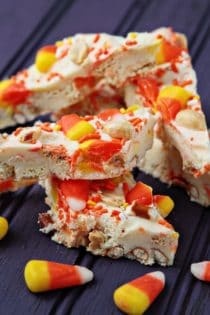 Ingredients:
10 Candy Corn Oreos, chopped
1/2 cup small pretzel stick pieces
1/2 cup salted peanuts
12 ounces white chocolate, chopped (see note below)
3/4 cup candy corn
festive sprinkles
Directions:
1. Line an 8×8 baking sheet with parchment paper.
2. Spread the cookies, pretzels and peanuts into the bottom of prepared pan.
3. Melt chocolate in a bowl set over a pan of simmering water, or in the microwave at 50% power, stirring frequently until almost melted. Remove from the heat while there are still a few pieces of unmelted chocolate; stir until smooth.
4. Drizzle chocolate with a spoon over the goodies in the pan, spreading the top flat to coat evenly.
5. Top with candy corn and sprinkles. Let cool until firm. Break into pieces and store in an airtight container.
Notes:
- I used three 4-ounce Ghirardelli White Chocolate Bars. I find that white chocolate chips can be difficult to melt.
All images and text ©
Follow Jamie on Instagram. We love to see what you're baking from MBA! Be sure to tag @jamiemba and use the hashtag #mbarecipes!
[pinit]