White Chocolate Cherry Scones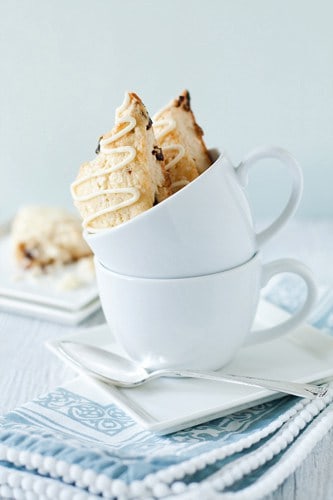 Can you tell I have developed a thing for scones? I am smitten with them and they have quickly become one of my favorite things to bake.
I love experimenting with different flavor combinations, although I have yet to meet a scone I didn't like. I picked up some dried sour cherries from my favorite specialty store and wanted to use them in fabulous dessert. I initially contemplated cookies, but after a quick twitter survey and some peer pressure, I decided on scones.
I came across a scone recipe on allrecipes that was developed by the amazing, Pam Anderson and knew it would be a hit. I simply made a few tweaks and ended up with one fabulous recipe. Brian did not think they were sweet enough, but I thought they were just perfect. The texture is divine; a slightly crisp exterior with a buttery melt in your mouth interior. These are great for breakfast with a cup of coffee and will definitely become a staple in your baking repertoire if you give them a try!
On a side note for all you photography nerds…I am a BIG pansy (not confident) when it comes to photography. These are the first photos I have ever shot in RAW format, typically I shoot in JPEG and edit in Photoshop. These were edited in Lightroom and the process was totally out of my comfort zone, but I think I am digging the results. Lesson? Step outside of your box…you may just enjoy the journey and learn something new! I am pretty excited to experiment and hope I can improve my photography!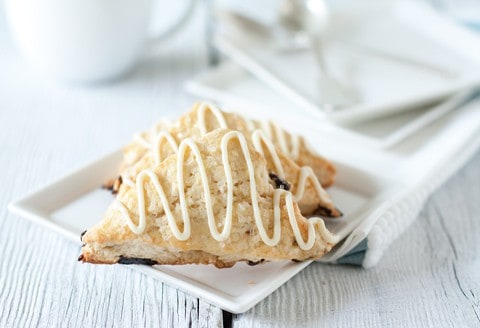 White Chocolate Cherry Scones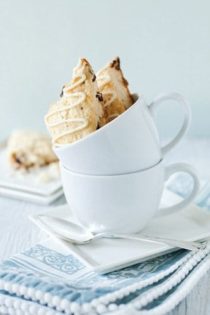 Ingredients:
2 cups all-purpose flour

1/3 cup sugar

1 teaspoon baking powder

1/4 teaspoon baking soda

1/2 teaspoon salt

8 tablespoons unsalted butter, frozen

1/2 cup dried sour cherries; chopped

1/2 cup white chocolate chips; roughly chopped

1/2 cup sour cream

1 large egg

1/2 teaspoon pure vanilla extract
Directions:
1. Adjust oven rack to lower-middle position and preheat oven to 400 degrees.

In a medium bowl, mix flour, 1/3 cup sugar, baking powder, baking soda and salt. Grate butter into flour mixture on the large holes of a box grater; use your fingers to work in butter (mixture should resemble coarse meal), then stir in dried cherries and white chocolate.
2. In a small bowl, whisk sour cream and egg until smooth; stir in vanilla.
3. Using a fork, stir sour cream mixture into flour mixture until large dough clumps form. Use your hands to press the dough against the bowl into a ball. (The dough will be sticky in places, and there may not seem to be enough liquid at first, but as you press, the dough will come together.)
4. Place on a lightly floured surface and pat into a 7- to 8-inch circle about 3/4-inch thick. Use a sharp knife to cut into 8 triangles; place on a cookie sheet (preferably lined with parchment paper), about 1 inch apart. Bake until golden, about 15 to 17 minutes. Cool for 5 minutes and serve warm or at room temperature.
5. If desired, drizzle with melted white chocolate after the scones have cooled.
Notes:
1. I added a light egg wash to the top of the scones and a sprinkle of coarse sugar before placing in the oven.
2. I have prepared these in the food processor with fabulous result, simply pulse cold butter into the dry ingredients instead of grating the frozen butter.
3. Add in a variety of ingredients to make your signature scone, think chocolate chips, nuts, espresso powder... endless possibilities!
Follow Jamie on Instagram. We love to see what you're baking from MBA! Be sure to tag @jamiemba and use the hashtag #mbarecipes!
[pinit]
This post may contain affiliate links. We are a participant in the Amazon Services LLC Associates Program, an affiliate advertising program designed to provide a means for us to earn fees by linking to Amazon.com and affiliated sites.