I really want to say thank you very much to those of you that commented on my recent post for Lola Cupcakes. Your condolences and personal stories put tears in our eyes and warmed our hearts. I am truly amazed by the awesome group of people I have met through blogging and appreciate each and everyone of you! Now let's get back to baking, blogging and recipes!
In the quest for perfection, I am always willing to try a new chocolate chip cookie recipe in the hopes of finding "the one." This recipe is from the Scharffen Berger book, The Essence of Chocolate and was contributed to the book by Joanne Chang. This book has over 100 delectable recipes ranging from sweet desserts like Cocoa Caramel Panna Cotta to savory dinner selections such as Chile-Marinated Flank Steak.
The vast array of recipes come from the company's files and from chefs including Flo Braker, Jim Dodge and Thomas Keller. Just flipping through this lovely compilation of chocolate recipes will bring a smile to your face and a serious chocolate craving!
These cookies are easy to prepare and turn out with a good texture from the bread flour. The have slightly crisp outside while the center maintains a nice chewy texture. Although they are not the best chocolate chip cookies I have made, we definitely enjoyed them. Brian said they tasted like sugar cookies with delicious chunks of chocolate and his co-workers gobbled them up in no time flat!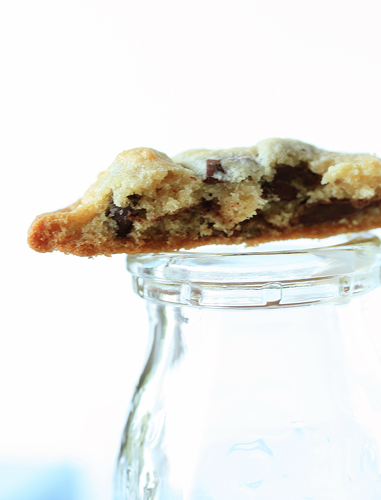 Looking for chocolate chip cookie perfection? Check out my current faves:
New York Times Chocolate Chip Cookies
Extraordinary Chocolate Chip Cookies

Chocolate Chunk Cookies
Ingredients:
1 1/4 cups all-purpose flour
1 cup bread flour
1 teaspoon baking soda
1/2 teaspoon salt
16 tablespoons (8 ounces) unsalted butter at room temperature
3/4 cup granulated sugar
3/4 cup firmly packed light brown sugar
2 large eggs
1/2 teaspoon pure vanilla extract
9 ounces 70% bittersweet chocolate, chopped into chip sized chunks (I used semi sweet Scharffen Berger Chunks)
2 1/2 ounces 42% milk chocolate, chopped into chip sized chunks
Directions:
1. Position the racks in the lower and upper thirds of the oven, and preheat the oven to 350F. Line two baking sheets with Silpats or parchment paper.
2. Sift together both flours, baking soda, and salt into a medium bowl. Set aside.
3. In the bowl of a stand mixer fitted with the paddle attachment, cream together the butter and both sugars on medium speed for about 5 minutes, or until pale, light, and fluffy. Scrape down the sides and bottom of the bowl as necessary. Beat in the eggs and vanilla until thoroughly combined. Scrape down the bowl. Reduce the speed to low, add the dry ingredients, and mix until the flour is completely blended, scraping the bowl as necessary.
4. Remove the bowl from the mixer and fold in the chocolate chunks until evenly distributed. (The dough can be refrigerated, well wrapped, for up to 1 week or frozen for up to 1 month).
5. Drop the dough by heaping tablespoons, 2 inches apart, onto the prepared pans. Flatten each cookie slightly. Bake for 15 minutes, or until golden, rotating the pans halfway through baking. Transfer the cookie with a spatula to a cooling rack to cool completely.
6. The cookies can be stored in an airtight container for up to 3 days.
from The Essence of Chocolate
All images and text ©
Follow Jamie on Instagram. We love to see what you're baking from MBA! Be sure to tag @jamiemba and use the hashtag #mbarecipes!
[pinit]