I'm officially done with school for the Summer – yay! Which means no more alarm clocks with incessant, annoying ringtones and more importantly, it means leisurely mornings. There isn't the rush of getting ready, grabbing coffee and a quick bite before heading out the door. With summer comes the luxury of savoring a morning meal – lingering over a cup of coffee on the deck and indulging in a little something special – like this Chocolate Swirl Coffee Cake.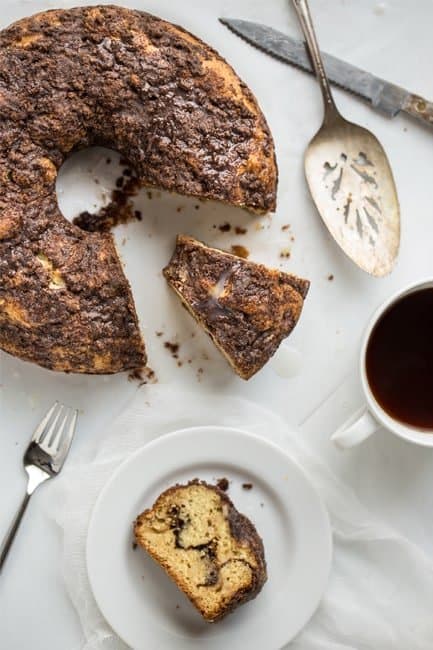 This Chocolate Swirl Coffee Cake is definitely decadent. The sour cream adds richness and moisture to the batter and the touch of espresso balances out the sweetness of the cake. Topped with a cinnamon, chocolate and espresso streusel topping and a light glaze, this coffee cake is perfect for a relaxed summer breakfast or brunch.
The versatility of Truvia Baking Blend is one of my favorite things about it. From turning it into a substitute for brown sugar in my Crème de Menthe Stuffed Chocolate Cookies to turning into a super fine powder to create a light milk glaze in this Chocolate Swirl Coffee Cake, I have found that it fits perfectly into a variety of baked goods.
Chocolate Swirl Coffee Cake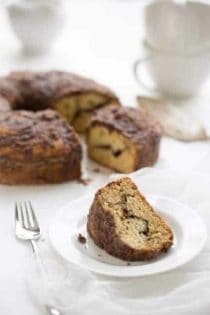 Ingredients:
For the Swirl Filling
(2/3 will be used in cake, 1/3 will be used in streusel topping)
1 tablespoon Truvia Baking Blend
1 tablespoon instant espresso powder
1 tablespoon unsweetened cocoa powder
For the Cake
2 cups all-purpose flour
1 teaspoon baking powder
1 teaspoon baking soda
1 1/2 teaspoons salt
1 stick of butter, softened
1/2 cup of Truvia Baking Blend
2 large eggs
1 teaspoon pure vanilla extract
1 cup reduced fat sour cream
Streusel Topping
1/3 of Swirl Filling mixture
1 tablespoon Truvia Baking Blend
1/3 cup of all-purpose flour
1 teaspoon cinnamon
4 tablespoons unsalted butter
Glaze (optional)
1/3 cup of Truvia Baking Blend, processed in the food processor until very finely textured
1-3 tablespoons of milk (to reach desired consistency)
Directions:
1. Preheat oven to 350 degrees. Butter and flour a standard sized tube pan and set aside.
2. Make Swirl Mixture: In a small bowl, whisk together 1 tablespoon of Truvia Baking Blend, 1 tablespoon of espresso powder and 1 tablespoon of cocoa powder and set aside.
3. Mix Cake Batter: In a separate bowl, whisk together flour, baking powder, baking soda and salt and set aside.
4. In the bowl of an electric mixer, beat together butter and Truvia Baking Blend until fluffy. Add eggs, one at a time, beating well between each one. Add vanilla extract and beat for an additional 30 seconds.
5. Beat in 1/3 of the flour mixture, then ½ of the sour cream, then 1/3 of the flour mixture and the rest of the sour cream. Finish with the remaining flour mixture (be sure to start and finish with the flour mixture). Beat briefly between each add in.
6. Spread 1/2 of the cake batter in the prepared tube pan. Sprinkle with 2/3 of the swirl filling. Top with remaining cake batter. Using a knife, cut through the cake batter to 'swirl' the cake. Do this in about 6 places.
7. Make Streusel Topping: In a small bowl, use a pastry blender to mix together remaining swirl filling, Truvia Baking Blend, flour, cinnamon and butter until it's well blended and crumbly. Sprinkle streusel topping over cake batter.
8. Bake cake for 50 minutes or until cake tester inserted into the cake comes out clean. Allow cake to cool in pan on a wire rack for 30 minutes. Turn coffee cake out and flip right side up (streusel side up).
9. Make Glaze (optional): Mix processed Truvia Baking Blend with 1 to 3 tablespoons of milk. Add milk 1 Tablespoon at a time until desired consistency is reached. Drizzle over warm cake.
Notes:
- Leftover cake can be stored in an airtight container for up to 2 days.
- By processing Truvia Baking Blend in the food processor, you can create a fine 'powdered sugar' like texture that creates a beautifully smooth glaze for this coffee cake.
- Want to use granulated sugar in place of the Truvia? Simply use double the measurement for the Truvía® Baking Blend and replace with sugar. For example: 1/2 cup Truvia equals 1 cup granulated sugar.
My Baking Addiction adapted from Martha Stewart
All images and text ©
Follow Jamie on Instagram. We love to see what you're baking from MBA! Be sure to tag @jamiemba and use the hashtag #mbarecipes!
Disclosure: My Baking Addiction has teamed up with Truvia to develop recipes using Truvia® Baking Blend. This is a sponsored post written as part of that program. All opinions about Truvia Baking Blend are my own.