[pinit]
I've recently confessed that I am not much of a cookie consumer; however, there are certainly a few exceptions to that statement. Sugar cookies and Girl Scout Cookies – more specifically Thin Mints and Tagalongs.
I will forever equate Thin Mints with my dad. For as long as I can remember, my pops has been the best Girl Scout Cookie customer on the planet. Seriously, think Thin Mint hoarder. He'd stock up and store boxes upon boxes in the freezer, making every attempt to hide them from anyone that might happen to peek into our freezer.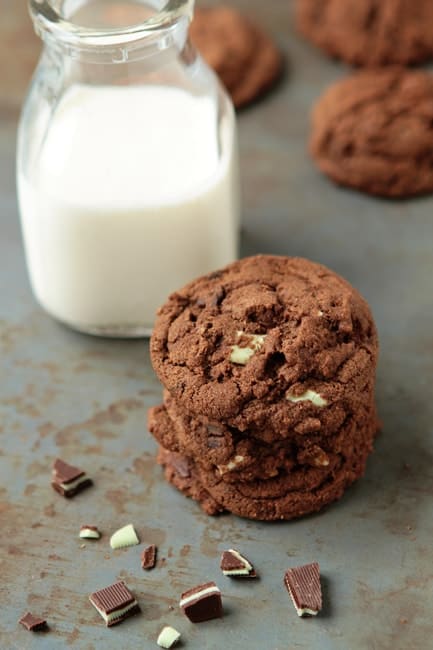 Lucky for him, my brother and I weren't all that into mint when we were kids, so we'd gladly leave his stash alone as long as he picked us up a few boxes of Do-Si-Dos.
This year, I purchased a few boxes of Girl Scout Cookies – ya know, strictly for recipe research purposes. And when I was contemplating ideas for the Thin Mints, I had the idea of working them into one of my favorite chocolate cookie recipes to make a pretty serious cookie creation.
That's exactly what these are, people. A pretty serious cookie creation. Thin Mints stuffed into my favorite chocolate cookie base.. I hope your thighs forgive me!
Chocolate Cookies with Thin Mints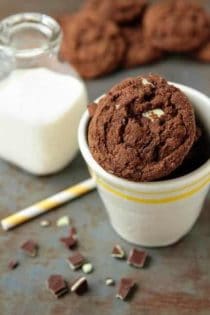 Ingredients:
1 cup unsalted butter, softened
2 cups sugar
2 large eggs
2 teaspoons pure vanilla extract
2 cups Gold Medal all-purpose flour
3/4 cup unsweetened cocoa powder
1 teaspoon baking soda
1/2 teaspoon salt
1/2 cup semi-sweet chocolate chips
28 Andes Mints, chopped
16 Thin Mint Cookies, chopped
Directions:
1. Preheat oven to 350 degrees F. Line baking sheets with parchment paper.
2. In a large bowl, cream together the butter and sugar until smooth. Beat in the eggs one at a time, then stir in the vanilla. In a large bowl, combine the flour, cocoa, baking soda and salt; mix into the creamed mixture. Fold in chocolate chips, Andes mints, and Thin Mint Cookies. Using a medium cookie scoop (1 1/2 tablespoons) form dough into balls and place on prepared cookie sheets about 2 inches apart.
3. Bake in preheated oven for 8 to 10 minutes, until cookies are set. Allow cookies to cool on baking sheet for 5 minutes before removing to a wire rack to cool completely. Cooled cookies will store in an airtight container at room temperature for up to 2 days.
Notes:
- If you are unable to find Thin Mints, you can substitute Keebler Fudge Shop Grasshopper Cookies.
All images and text ©
Follow Jamie on Instagram. We love to see what you're baking from MBA! Be sure to tag @jamiemba and use the hashtag #mbarecipes!
Disclosure
This post is part of an ongoing relationship between My Baking Addiction and Gold Medal Flour. In June of 2012, My Baking Addiction attended a Farm to Table event in Kansas City to learn why Gold Medal has been America's flour of choice for 125 years. Although this is a sponsored post, the views and opinions expressed are our own and based upon our personal experiences with Gold Medal Flour.