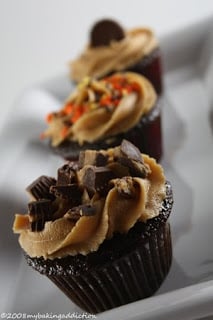 I wanted to make a cake for the boyfriend's birthday, but cake is difficult to "grab and go" at his place of employment, so I made cupcakes. I went with the Hershey's Chocolate Cake recipe, smothered these babies with Ina Garten's Peanut Butter Frosting and topped them with a miniature a Reese's Peanut Butter Cup, Autumn themed sprinkles and/or chopped Reese Cups. I use the Hershey's recipe a lot because it is tried and true in my kitchen; however, I want to experiment with other recipes in the near future. This frosting recipe was a first for me, I doubled it, so I would have enough to slather on 24 cupcakes. The frosting recipe was very straight forward and required simple ingredients, I chose to use Reese's Creamy Peanut Butter because Reese's were the theme of these (in case you have not caught on to that) plus it was cheaper than Jif. I loved the way these looked after they were decorated, they were so autumnal…and very tasty too! The boyfriend's co-workers are very pro chocolate and they seem to shun anything fruit based (fruit desserts go to my school, where they will eat anything) , so I have to keep this in mind before I decide what to send in with him. These were deemed "amazing" and went over very well. Enjoy!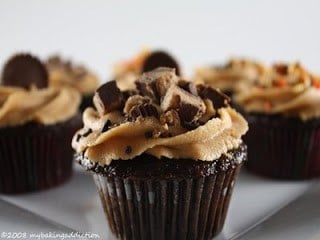 *Remember to stay tuned to my blog because next Tuesday I will have a little fall inspired giveaway!

Hershey's "Perfectly Chocolate" Chocolate Cake
Source:
Hershey's Website
Ingredients:
2 cups sugar
1-3/4 cups all-purpose flour
3/4 cup HERSHEY'S Cocoa
1-1/2 teaspoons baking powder
1-1/2 teaspoons baking soda
1 teaspoon salt
2 eggs
1 cup milk
1/2 cup vegetable oil
2 teaspoons vanilla extract
1 cup boiling water

Directions:
1. Heat oven to 350°F. Grease and flour two 9-inch round baking pans.
2. Stir together sugar, flour, cocoa, baking powder, baking soda and salt in large bowl. Add eggs, milk, oil and vanilla; beat on medium speed of mixer 2 minutes. Stir in boiling water (batter will be thin). Pour batter into prepared pans.
3. Bake 30 to 35 minutes or until wooden pick inserted in center comes out clean. Cool 10 minutes; remove from pans to wire racks. Cool completely. Frost. 10 to 12 servings.
Cupcakes: Line muffin cups (2-1/2 inches in diameter) with paper bake cups. Heat oven to 350°F. Fill cups 2/3 full with batter. Bake 22 to 25 minutes. Cool completely. Frost. About 30 cupcakes.

Peanut Butter Icing
Source:
Ina Garten
(Food TV)

Ingredients:
1 cup confectioners sugar
1 cup creamy peanut butter
5 tablespoons unsalted butter, at room temperature
3/4 teaspoon pure vanilla extract
1/4 teaspoon kosher salt
1/3 cup heavy cream

Directions:
Place the confectioners sugar, peanut butter, butter, vanilla, and salt in the bowl of an electric mixer fitted with a paddle attachment. Mix on medium-low speed until creamy, scraping down the bowl with a rubber spatula as you work. Add the cream and beat on high speed until the mixture is light and smooth.