Today is National Bundt Day! Yes, folks, bundts do indeed have their day! I must confess that I had no idea National Bundt Day existed until I saw The Food Librarian's tweets about her "I Like Big Bundts-30 Days of Bundt Cakes." Go visit her site for 29 different bundts leading up to National Bundt Day. I guarantee you will be jamming to the Sir Mix-a-lot classic in a matter of seconds.
Once I started looking through Mary's awesome bundt round-up, I decided on a cake from her site that included peanut butter and chocolate… seriously, how can you go wrong with this combination? Plus, I love the band of peanut butter filling that is visible when the cake is sliced. This cake definitely took a little time, but the outcome of the presentation is worth it. The cake baked up nicely in about 50 minutes and it released from the pan beautifully.
I sliced this up yesterday morning, drizzled each slice with a chocolate glaze and finished them with some chopped Reese's Peanut Butter Cups. Brian took these to his co-workers where they devoured each slice and proclaimed it to be very tasty!
After examining a couple of pieces for photos, I thought the cake looked like it was a tad dry. When I asked Brian his thoughts on the texture, he admitted it was a bit dry in the center, but said he did not want to tell me! No complaints from his co-workers… BUT it left me wondering how many other desserts he deemed delicious simply to appease me. I guess I need to ask more specific questions – lesson learned.
Have a beautiful day and thanks for visiting. Stay tuned this coming week for some great Thanksgiving dishes and desserts!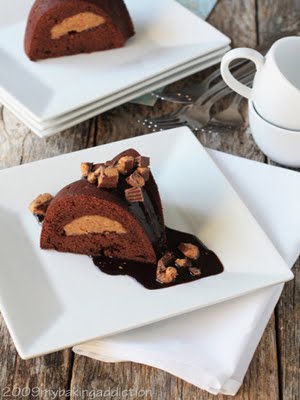 Chocolate & Peanut Butter Bundt Cake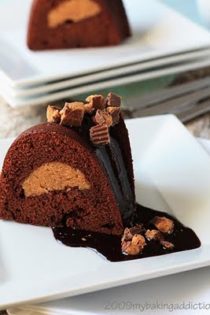 Ingredients:
For the Peanut Butter Filling
2/3 cup peanut butter
1/3 cup cream cheese, softened
1 tablespoon butter, softened
3 egg yolks
1 teaspoon vanilla
1/3 cup granulated sugar
2 tablespoons all-purpose flour
For the Cake
1 3/4 cups all-purpose flour
1/2 teaspoons baking soda
1/2 teaspoons salt
3/4 cup natural cocoa powder
3/4 cup boiling water
3 ounces quality bittersweet chocolate, chopped
3/4 cup sour cream
12 tablespoons butter, softened
1 2/3 cups packed brown sugar
2 eggs
2 teaspoons vanilla
Directions:
1. Preheat oven to 350°F.
For the Peanut Butter Filling
1. In a large mixing bowl, beat peanut butter, cream cheese and butter until combined.
2. Add egg yolks, one at a time, and beat until combined.
3. Mix in vanilla. Be sure to scrape down the sides.
4. Pour in sugar and flour, mix until combined.
5. Fit a pastry bag with a large plain tip and scoop the filling into the bag. Place in the refrigerator until ready to use.
For the Cake
1. In a medium bowl, whisk together flour, baking soda and salt.
2. In a medium metal or glass bowl, add cocoa and whisk in boiling water. Add in chopped chocolate and whisk until smooth. Mix in sour cream.
3. In large mixing bowl, cream together butter and sugar until light and fluffy. Mix in eggs, one at a time, and then beat in vanilla. Alternatively mix in the dry ingredients and the cocoa mixture, beginning and ending with the flour. For example – mix in 1/3 of the flour, 1/2 of the cocoa mixture, another 1/3 of the flour, the rest of the cocoa mixture and finishing with the final 1/3 of the flour. Mixing just until combined with each addition.
4. Spray a bundt pan with a nonstick spray that has flour included (like Baker's Joy or Pam with Flour). Spoon a little less than half of the batter into bottom of the bundt pan.
5. Using the pastry bag that has the peanut butter mixture, carefully pipe a ring of the filling over the center of the chocolate batter. Pour the remaining batter on top and gently tap the pan to remove air bubbles.
6. Bake until top springs back when lightly touched or a toothpick comes out mostly clean with a few crumbs attached – about 50-60 minutes.
7. Remove from the oven and set on a wire rack to cool for 5 minutes.
8. Place a wire cooling rack on top of the cake and carefully turn over – remove the pan and let cool completely.
Follow Jamie on Instagram. We love to see what you're baking from MBA! Be sure to tag @jamiemba and use the hashtag #mbarecipes!
[pinit]