Chocolate and Peanut Butter combines into one amazingly rich and indulgent dessert that's perfect for any occasion. Really, do I need to say anything more?
In my opinion, chocolate and peanut butter is about as close to perfection as it gets! Even though I have never been a huge fan of chocolate on its own, toss in some peanut butter and I'll happily eat myself sick! I think I may have inherited my love of all things peanut butter and chocolate from my dad, he's a big fan of hiding Reese Cups in the freezer; especially the Reese's Eggs…I think there may be a tad peanut buttery goodness in those!
This Chocolate Peanut Butter Torte recipe is easy to prepare and it's the perfect dessert to share with a crowd. A thick, dense, brownie like cake layer pairs perfectly with a creamy peanut butter glaze to create a seriously decadent dessert. A tiny sliver is enough to send someone into chocolate-peanut butter bliss. Be sure to have a pot of coffee or a gallon of milk on hand, because trust me; you're going to need it!
*1/26/11- Update: Several readers mentioned having issues with the glaze. After testing the recipe for a third time, I realized that I used heavy cream and not half and half. The cartons were almost identical and I got them confused. I apologize for the mistake and thank those of you for bringing it to my attention. The recipe has been changed to reflect this correction.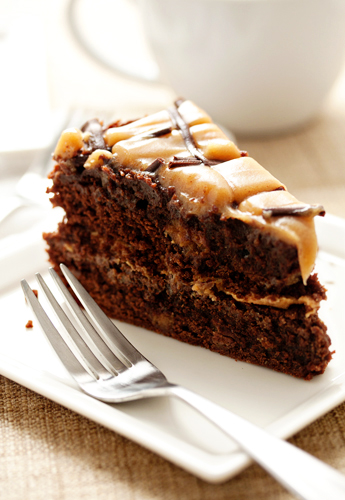 Chocolate Peanut Butter Torte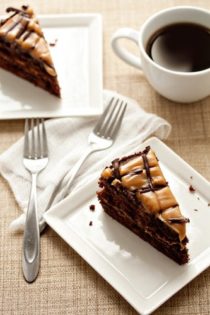 Ingredients:
For the Cake
1 cup butter, melted, plus more for pan
1 cup unsweetened cocoa powder
2 cups sugar
4 eggs
1 tablespoon pure vanilla extract
1 cup all-purpose flour
1/2 teaspoon kosher salt
10 individual Reese's Cups, chopped
For the filling:
1/4 cup peanut butter, heated in microwave at 10 second intervals for easy spreading
For the glaze:
3 tablespoons peanut butter
1/4 cup confectioners' sugar
½ teaspoon pure vanilla extract
1/2 cup heavy cream, plus more if needed
1/2 cup semisweet chocolate chips
Directions:
1. Preheat the oven to 350 F. Butter 2 (8-inch) round pans and line with parchment paper.
2. In a medium bowl combine the 1 cup melted butter and cocoa and stir until the cocoa is dissolved.
3. Add the sugar, 1/4 cup at a time, and mix well. Add the eggs, 1 at a time, and mix until incorporated. Stir in the vanilla, flour and salt and combine until the flour is no longer visible. Fold in the chopped peanut butter cups and divide the mixture between the pans.
4. Bake for approximately 25 minutes, then remove from the oven and set aside to cool. Run a knife around the edge of each pan and turn out onto a work surface.
5. Put 1 cake layer on a cake plate or a round platter. Spread the 1/4 cup of peanut butter over the first layer and top with the second layer. In a bowl, combine the remaining 3 tablespoons of peanut butter, the confectioners' sugar, vanilla and heavy cream until a glaze forms. Add more half and half, if needed, to achieve desired thick glaze consistency. Pour the glaze on top of the torte, spreading it out with a small knife allowing it to drip over the sides. Melt the chocolate chips in a double boiler and drizzle over the glaze. Cut into slices and serve.
Notes:
- adapted from Food Network
All images and text ©
Follow Jamie on Instagram. We love to see what you're baking from MBA! Be sure to tag @jamiemba and use the hashtag #mbarecipes!