Chocolate Pudding with a Kahlua Kick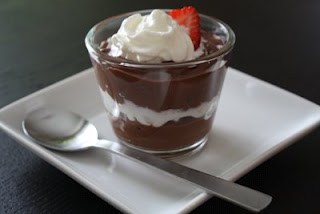 I had leftover bittersweet chocolate from the Caramel-Peanut Topped Brownie Cake that I made last week. I turned to Dorie Greenspan's book, Baking: From My Home to Yours. I decided to try her chocolate pudding, which was just featured as the Tuesdays With Dorie recipe a couple of weeks ago.
I followed the recipe exactly as stated except that I cut it in half and added 4 teaspoons of Vanilla Kahlua! This yielded two large servings of thick, delicious, chocolate pudding with a Kahlua kick.
It was quite easy and so much better than the instant stuff I am used to! I will definitely make this again and again. I am already thinking of other things to add in! Enjoy!
[pinit]
This post may contain affiliate links. We are a participant in the Amazon Services LLC Associates Program, an affiliate advertising program designed to provide a means for us to earn fees by linking to Amazon.com and affiliated sites.