For the longest time I thought I wasn't much of a chocolate lover, and I'm fairly certain that I've proclaimed my fondness for fruity, sour, chewy candy-awesomeness more times than I can count.
However, within the last couple of years I've strayed a little bit from the sweets of my youth and tiptoed my way to the dark side. And now, I am completely smitten.
When the lovely people at NESTLÉ® asked if I would be interested in collaborating with them to create a delectable recipe using NESTLÉ® Toll House Dark Chocolate Morsels, I couldn't resist. Plus, the idea of a fun "Dark Chocolate Pinspirations Contest" is something this Pinterest fanatic can easily get behind!
When deciding what to create for this collaboration, I knew keeping it simple would allow the rich, intense flavor of NESTLÉ®'s dark chocolate shine through. What better way to make that happen than decadent Dark Chocolate Toffee Truffles? Come on, who doesn't love a marriage between rich dark chocolate and rich buttery toffee? I can't be the only one that secretly consumes those little toffee bits by the handful when making recipes that include them… right?
Smooth and sinful, these Dark Chocolate Toffee Truffles are a treat worthy of your deepest chocolate needs. And thanks to NESTLÉ® Toll House Dark Chocolate Morsels, they're easy peasy to make. Trust me, you're going to want to make these babies, stat.
Dark Chocolate Toffee Truffles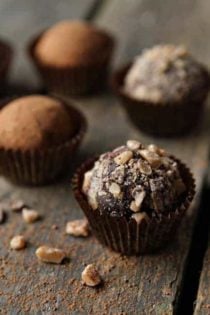 Ingredients:
10 ounce package Nestle® Toll House® Dark Chocolate Morsels
2/3 cup heavy cream
1 teaspoon pure vanilla extract
1 cup toffee bits (see note below)
Directions:
1. Place chocolate morsels into a medium bowl. In a small saucepan, bring heavy cream to a boil. Remove hot cream from heat and pour it over chocolate. Let stand for 1 minute, then stir until chocolate is melted and mixture is smooth. Stir in vanilla extract and chopped toffee bits. Cover and chill until firm, about 2 hours.
2. Line a rimmed baking sheet with parchment paper. Using a small cookie scoop, shape mixture into 1-inch balls. Roll truffles between your palms to create a smooth appearance. If desired, roll truffles in cocoa powder or additional toffee bits. Chill until ready to serve.
Notes:
- Truffles can be made up to one day in advance; store truffles in an airtight container within the refrigerator.
- Toffee bits can be found in the baking aisle of the grocery store. However, you can also simply chop up your favorite chocolate covered toffee candy bar.
My Baking Addiction
All images and text ©
Follow Jamie on Instagram. We love to see what you're baking from MBA! Be sure to tag @jamiemba and use the hashtag #mbarecipes!