Thanksgiving Dinner Casserole is a quick and easy way to enjoy the flavors of Thanksgiving dinner any time of year! Your family will love this easy Thanksgiving casserole.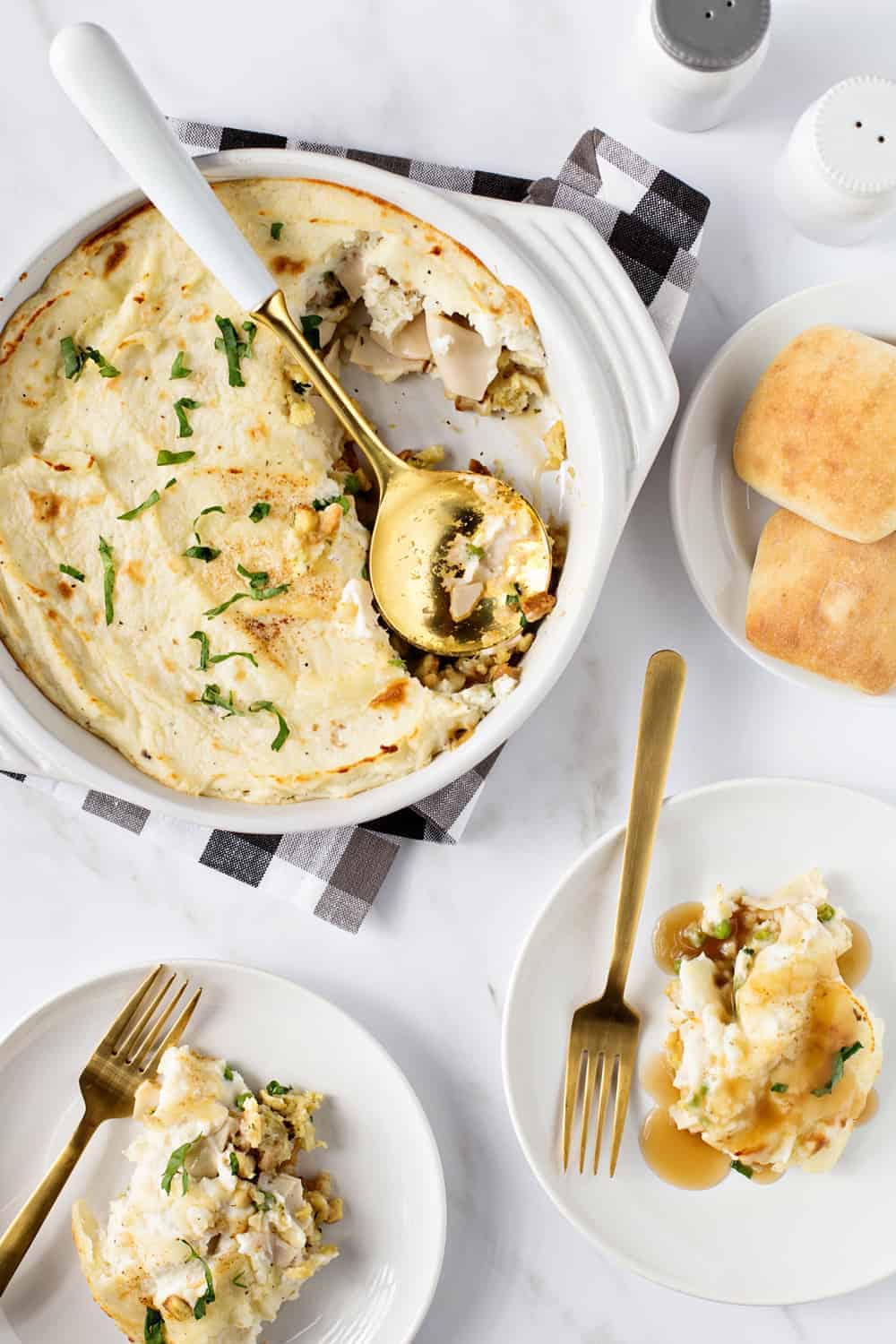 This time of year is nuts. Anyone else feelin' the stress?
I love the holiday season but between work, holiday shopping, Elle's activities, and making sure I haven't forgotten to order the fruit tray for the PTA, I get to the end of the day and seriously wonder where it went.
Seriously, I almost forgot to pick up the fruit tray I promised to bring to the school last week. Cue me running out at the last minute to grab over-priced fruit and cream cheese so I wouldn't be the parent who flaked on donating items for conferences.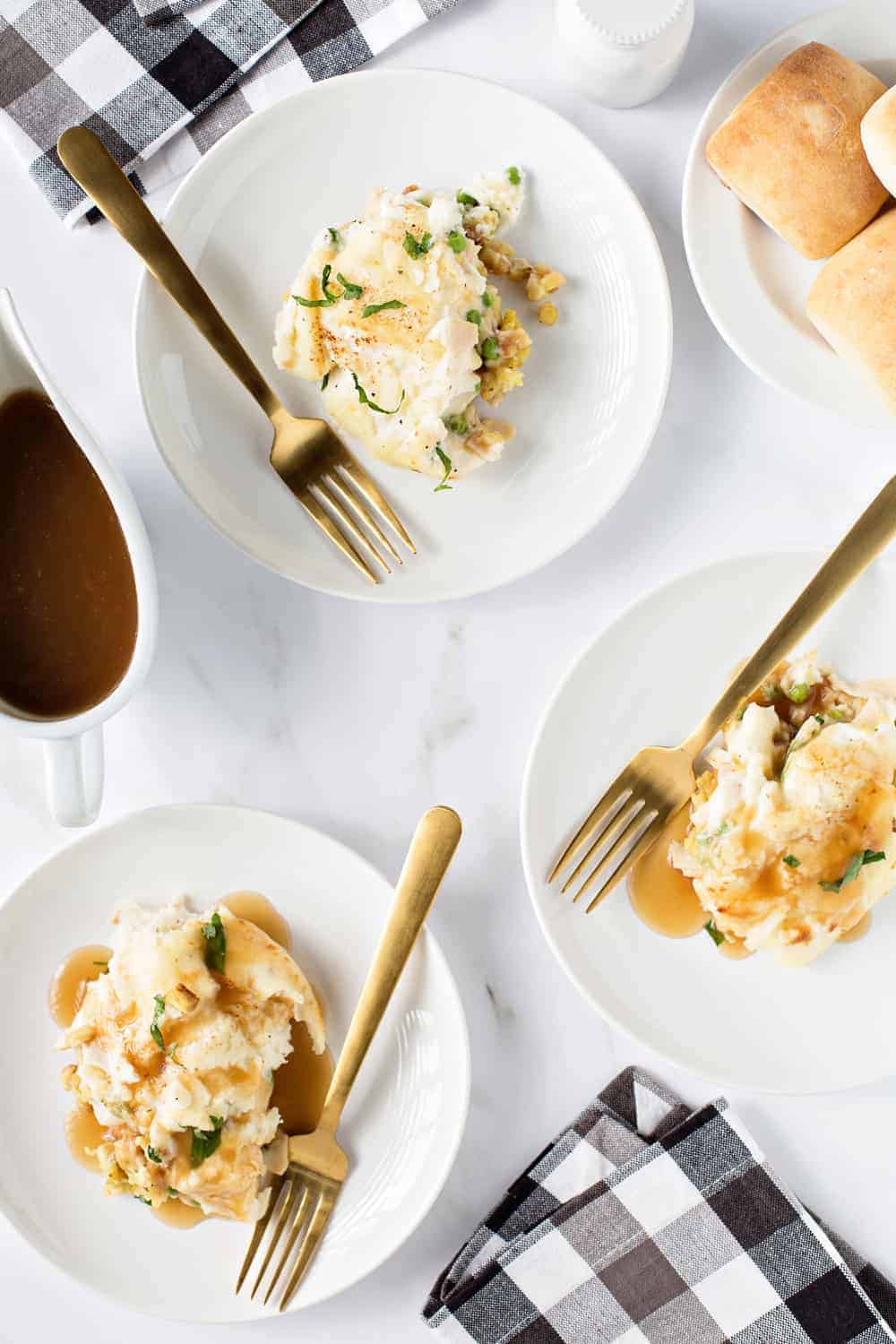 I know I can't be the only mom who feels this way.
So dinner tends to fall to the bottom of my priority list this time of year. Which is totally not ok, since Elle is a growing kid who needs a filling, protein-packed dinner to get her through to breakfast the next morning. But I just don't have the mental energy to pull out a stellar three-course meal right now, ok?
I'm totally relying on recipes like this Thanksgiving Dinner Casserole these days to help me feed my family without sacrificing my sanity at the same time.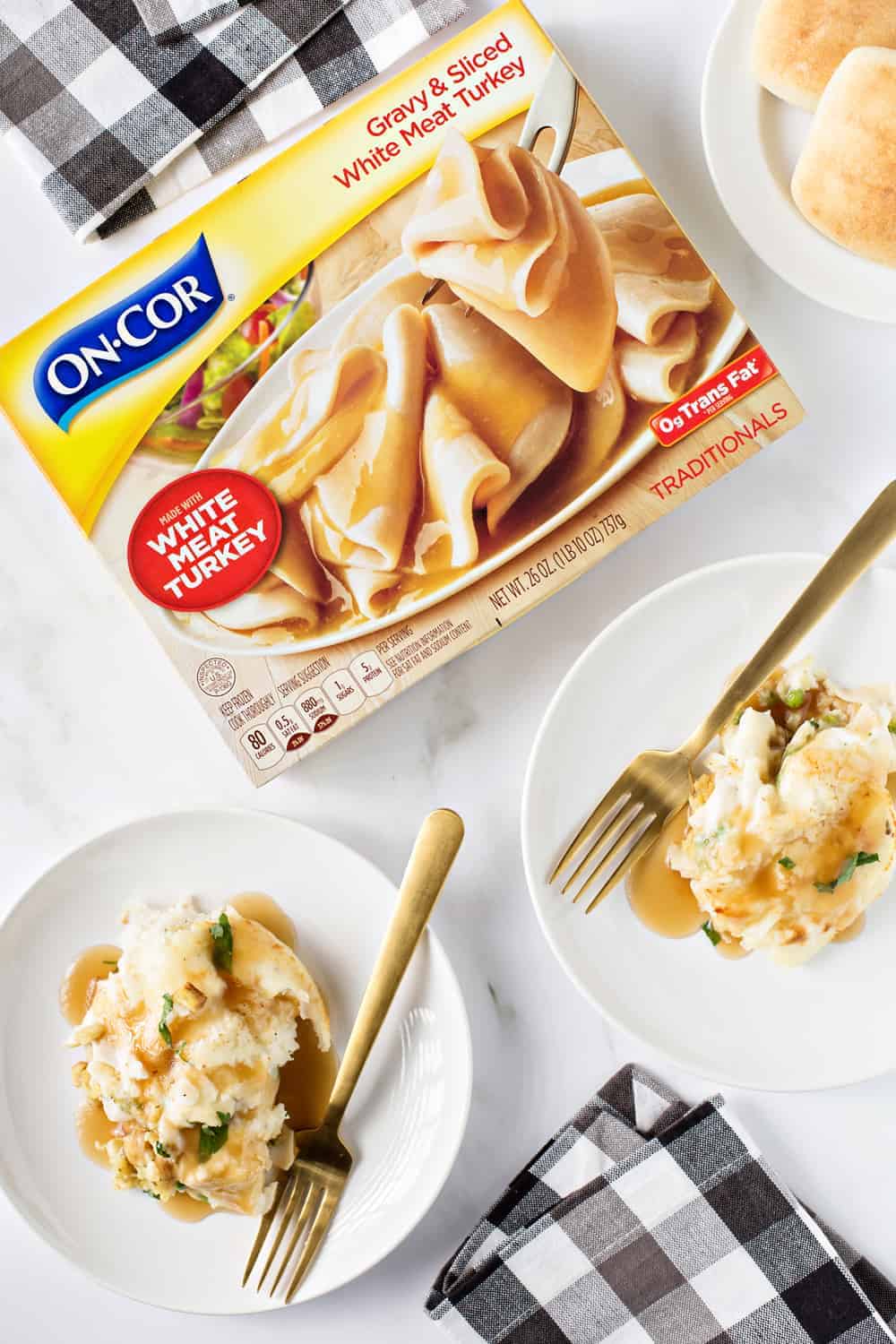 THANKSGIVING DINNER CASSEROLE
I may take the reins when it comes to making Thanksgiving dinner, but all of the time and effort that goes into making that one meal and the Pumpkin Rolls and the Pecan Slab Pie makes me kind of glad it only happens once a year.
So when my family wants to indulge in the flavors of Thanksgiving dinner any time other than Thanksgiving day, you know I have to come up with an easy way to get those flavors on the table without spending an entire day in the kitchen.
When I spotted On-Cor's Gravy & Sliced White Meat Turkey entrée in my Walmart's freezer section, it got me thinking of how I could pack all of the flavors of Thanksgiving dinner into one dish that's easy enough to make even during the busiest season of the year.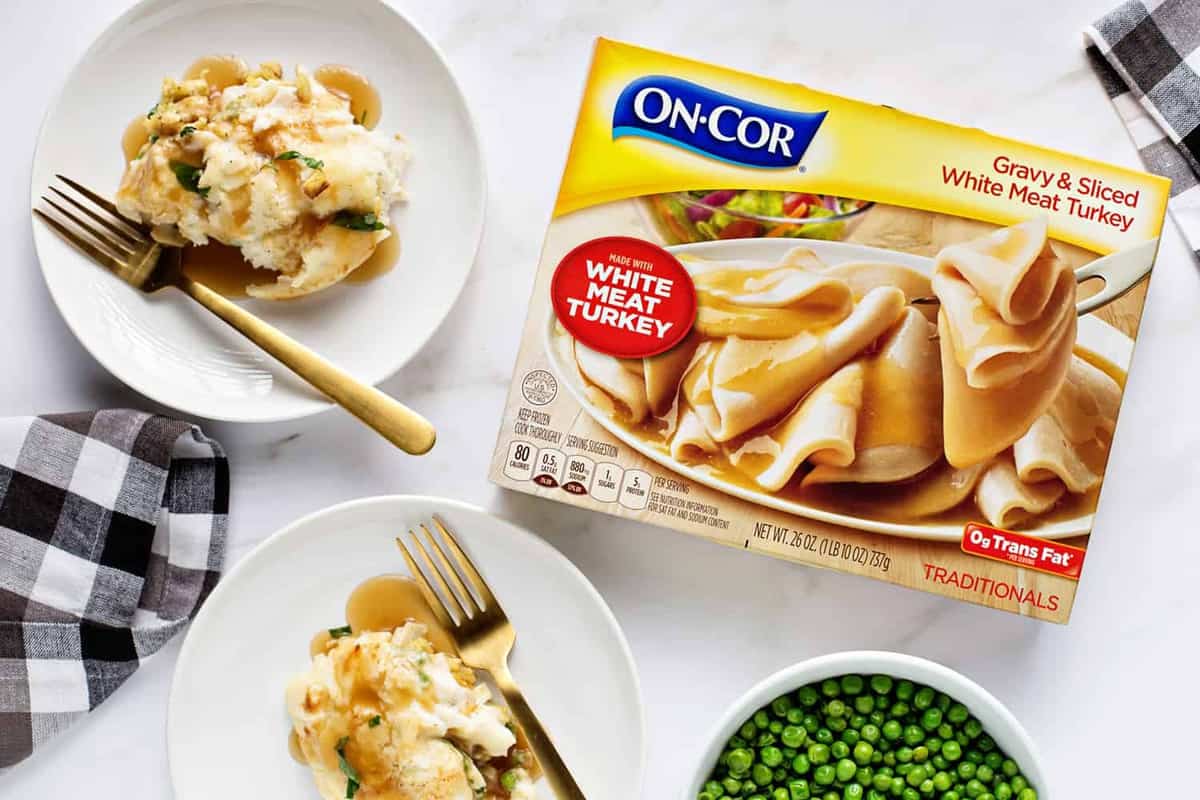 I know that On-Cor has already done all of the prep work on their frozen, fully-cooked entrées, so they're a great option when I need to throw together a delicious dinner for the family and also juggle the dozens of other to-dos on my list.
Thanksgiving Dinner Casserole to the rescue. Stuffing layered with On-Cor Gravy & Sliced White Meat Turkey, peas, and mashed potatoes, to round it out makes my family happy and lets me get a delicious, filling dinner on the table in about 30 minutes.
HOW TO MAKE AN EASY THANKSGIVING CASSEROLE
Thanksgiving Dinner Casserole starts with a layer of stuffing.
Now, no need to pull out your grandmother's recipe for Sausage-Cranberry Stuffing here. We're keeping this easy, remember? Grab your favorite boxed stuffing mix.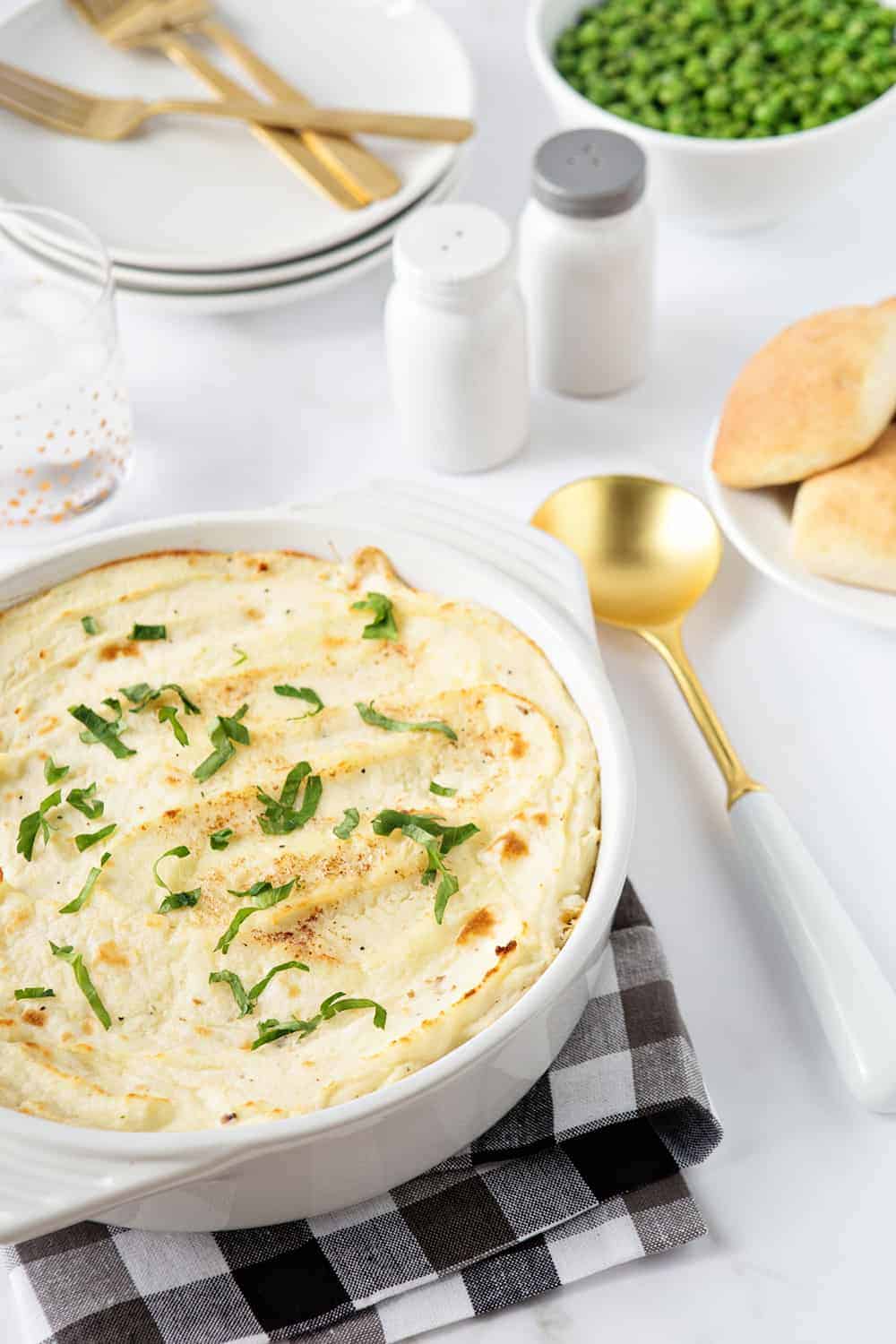 Next, we're going to layer on our On-Cor Gravy & Sliced White Meat Turkey. Don't be shy with the gravy – you know that's the best part of Thanksgiving dinner.
Top everything with a layer of mashed potatoes. Again, we don't need to get fancy here; if you want to reach for your favorite store-bought mashed potatoes, I'll cheer you on every step of the way. Especially if it's been one of "those" weeks.
All the moms here know what I'm talkin' about, right?
If you want to get "fancy," add some thawed frozen peas into the mashed potatoes before you add them to your Thanksgiving casserole. If you don't love peas with mashed potatoes as much as I do, feel free to serve them up on the side instead.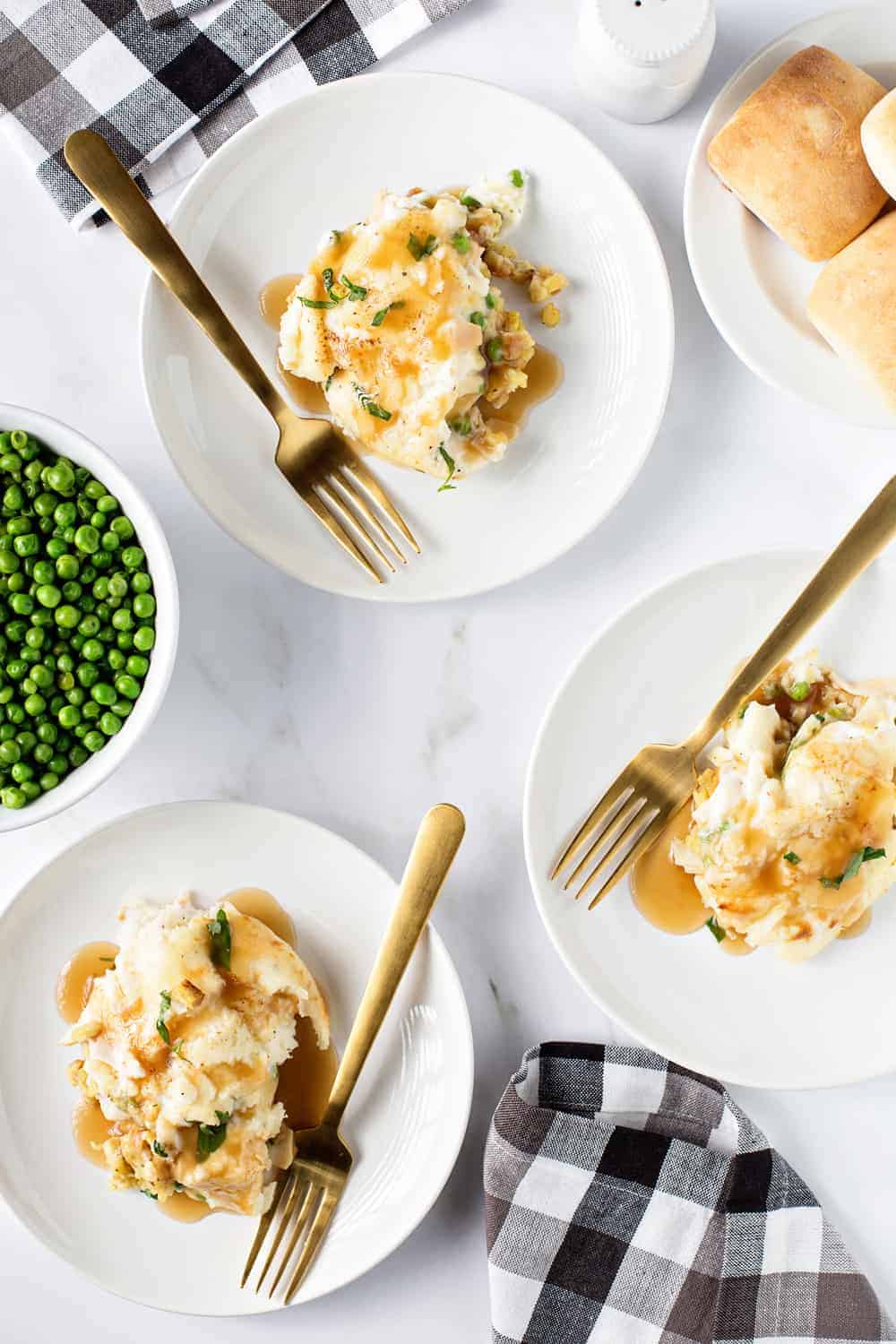 Me? I'll take all the peas in my mashed potatoes, please and thank you.
Because On-Cor's entrées are fully cooked, you don't have to do a ton of work before adding the Gravy & Sliced White Meat Turkey to the casserole. In fact, assembling Thanksgiving casserole only takes about 5 minutes – the rest of the time is hands-off while it bakes.
That's plenty of time for you to do a quick tidying of the house, help the kids with their homework, or address and stamp your holiday cards.
It's a win for everyone. The family gets a delicious dinner, you get extra time to get allthethings done.
Check the freezer section of your local Walmart for On-Cor Gravy & Sliced White Meat Turkey and more convenient, hearty entrées. For more info, visit www.On-Cor.com and www.facebook.com/oncorfrozenfoods.
This is a sponsored conversation written by me on behalf of On-Cor. The opinions and text are all mine.