Let's talk cherries. As you know, I have a pretty strong affinity for this lovely fruit. I'm usually the one paying the big bucks for them before they are actually in season and can be found snacking on them all summer long.
When I'm not noshing on them fresh from the colander, I'm looking for ways to work their sweet deliciousness into desserts and drinks.
Let's face it, pitting cherries by hand can be a giant pain, trust me – I've done it – numerous times. It's messy and the cherries end up looking like they've been stepped on as opposed to pitted which doesn't work out so well for some recipes. Plus the juice splatters everywhere, and since I am not so fond of cleaning in general, I try not to make more work for myself.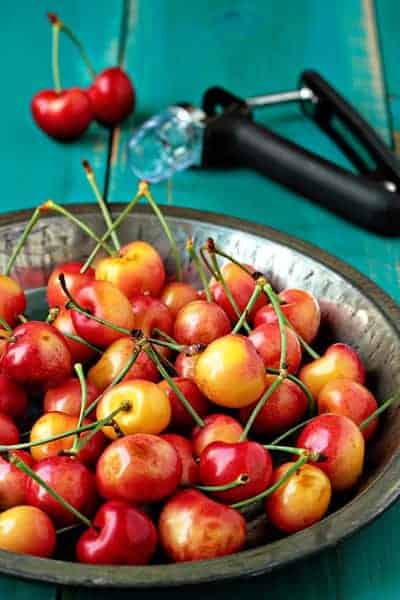 I own two cherry pitters, but find myself using the one from OXO on a regular basis. It only pits one cherry at a time, but I honestly find it to be less of hassle when comparing it to my cherry pitter that pits multiple cherries at one time. Plus it's small enough to store in my utensil drawer and has a nifty splatter shield which helps keep the juice on my cutting board as opposed to my face. It's also sturdy and dishwasher safe which is always a big bonus in this household.
The OXO Cherry Pitter retails for about $13 and can be found at retailers such as Bed Bath and Beyond (be sure to use a 20% off coupon), Target and Amazon. And in my opinion it's a summer essential!
Ready to get pitting? Give these cherry recipes a try:
Frozen Cherry Mojitos
Fresh Cherry Pie Filling
Fresh Cherry Crisp
Note:

This is NOT a sponsored post for OXO, I simply love the product and think that you might too!