I have been on quite the doughnut making binge these days. Ever since Eric and I made his grandma's Chocolate Glazed Doughnuts we simply can't get enough of them. There's something about a slow Sunday wake-up that just calls for freshly brewed coffee and homemade doughnuts. Whether they're glazed, frosted or rolled in cinnamon sugar, they're what we're craving each and every weekend.
As much as I love a good baked doughnut, there's just something a little more delicious about fried doughnuts. However, fried doughnuts can seem a bit overwhelming to some of my readers, so I thought I'd share this FREE eGuide for Delicious Doughnut Recipes from Craftsy.
If you are not familiar with Craftsy, let me tell you a little about them. Craftsy provides education and tools to help inspire your creativity. Whether you want to learn to knit, take better photos, or make a dozen delicious doughnuts, Craftsy has a class for you!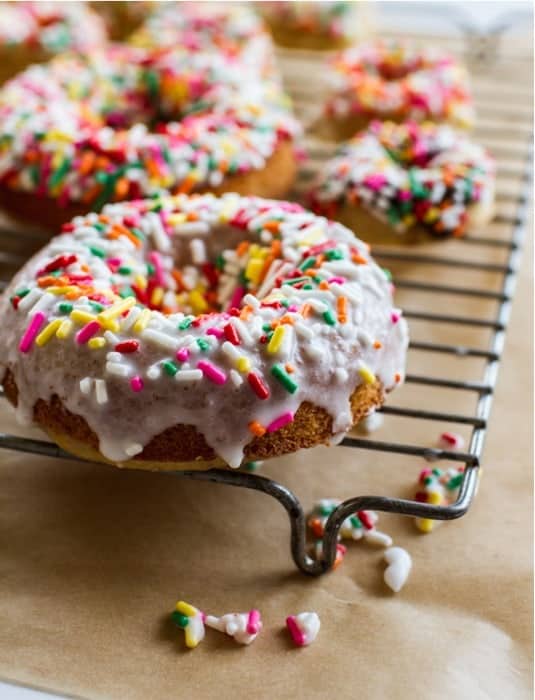 Delicious Doughnut Recipes is full of delectable doughnuts that are simple enough to make at home. The FREE 33 page eGuide was written by four amazingly talented food bloggers: Ashley McLaughlin of Edible Perspective, Ashley Rodriguez of Not Without Salt, Lyndsay Sung of Coco Cake Land, and Jessie Oleson Moore of Cakespy. And that friends, made me love this eGuide even more.
From Old Fashioned Doughnuts to Gluten Free Buttermilk Baked Doughnuts, Delicious Doughnut Recipes has something for every doughnut lover! There's even a recipe for Homemade Sprinkles – yes, you read that correctly – homemade sprinkles – which have been on my baking bucket list for years! And if I'm being honest, they look pretty darn simple to make.
Sprinkles on doughnuts have to be right up there with puppies and baby girls with bows on their heads on my list of favorite things. Are you with me on this? Sprinkles just make everything better.
You're totally craving a doughnut right now aren't you?
Head over to Craftsy and download
for FREE.
I can tell you one thing – Sunday morning breakfast time at your house just got way more delicious!
As the old adage goes, "Time to make the doughnuts!"
Disclosure: My Baking Addiction has partnered with Craftsy to share a variety of classes and resources with our readers. This post is sponsored by Craftsy; however, the views and opinions expressed by Jamie Lothridge on My Baking Addiction are my own, and based upon my experiences with the Delicious Doughnut Recipes eGuide .