Baked Chocolate Donuts are packed full of fresh strawberries and semi-sweet chocolate morsels and dipped in fresh strawberry icing. Perfectly sweet and great for breakfast or dessert!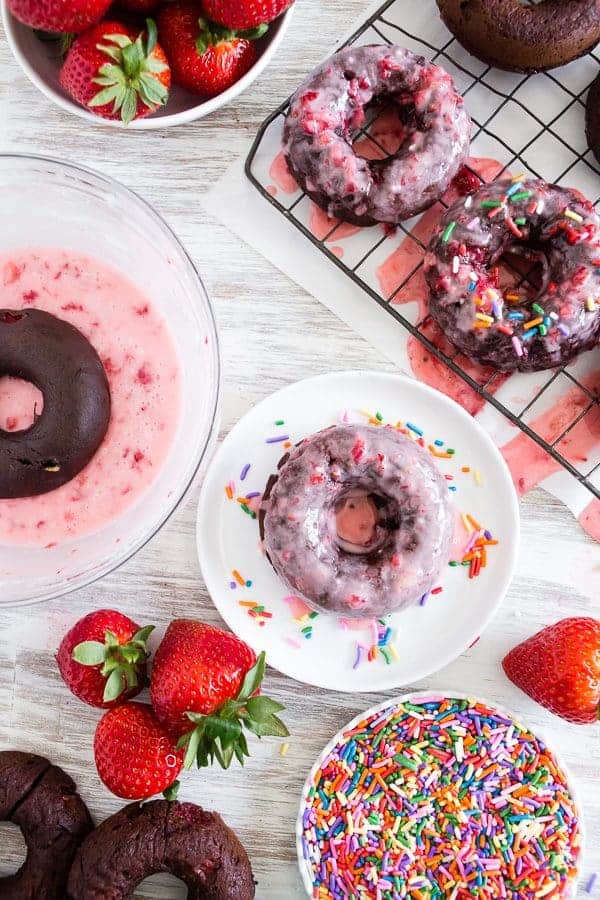 Hi, everyone! I'm Brandy from the blog Nutmeg Nanny! I'm super excited to be here on My Baking Addiction and sharing with you my guilty pleasure – donuts.
Donuts are basically the best thing on planet earth. I know there are a lot of people who disagree with my donut enthusiasm but that's ok.
I don't need the whole world to love donuts as much as I do. I also spell it donut so no emails about how it's supposed to be spelled doughnut. I like to believe we can live in a world where donut and doughnut spellers can live together in peace.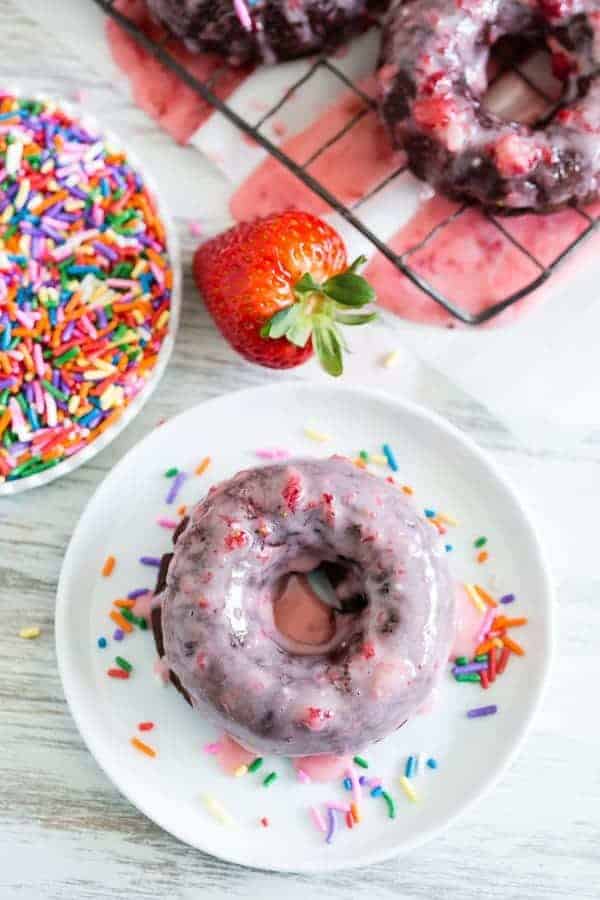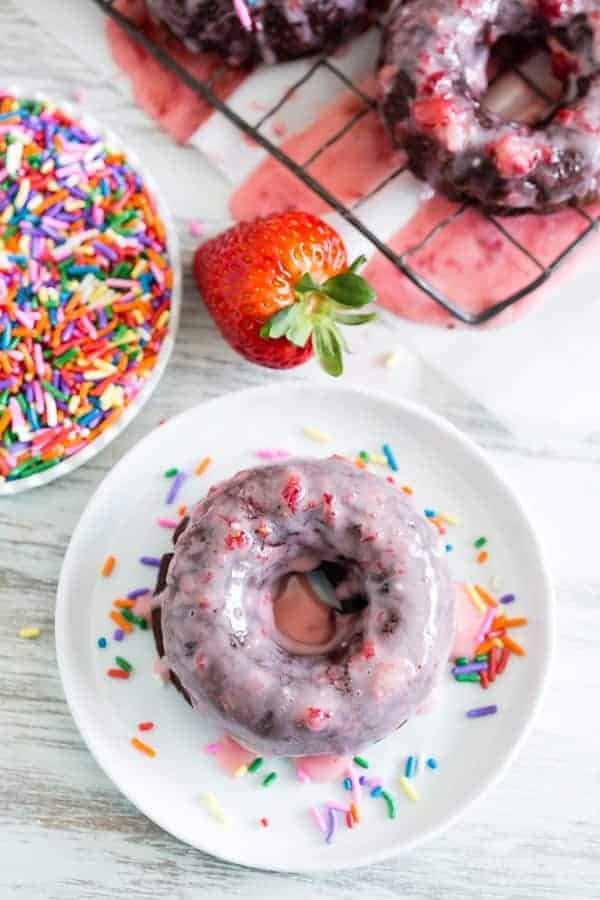 Now, I know a traditional donut is fried BUT I'm just not a fan of frying at my house. It's truthfully not even the added fat of frying that I hate. It's the smell.
There is seriously nothing worse than the smell of fried food. And I swear it just lingers in the house for days. So I've pretty much given up on my desire to fry. However, I can still get my donut love in baked form.
There are some people that think baked donuts is nothing more than a round muffin but I think they're awesome. Plus after I throw on the icing I'm not missing much.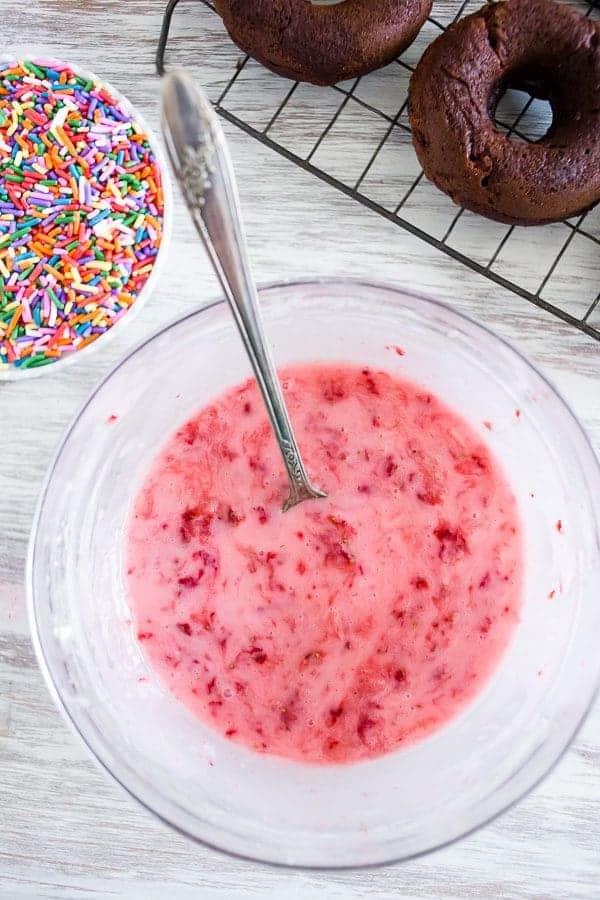 This version of baked chocolate donuts takes a simple chocolate base and fills it with fresh chopped strawberries and semi-sweet chocolate chips. I will warn you the plain donut is not super sweet but once you throw on the frosting you're set!
Oh and that frosting is on point. Not only is it beautiful (seriously, that color!) but it's made with just a few simple ingredients. I truthfully think the thing I love most about it is that it's made with fresh mashed strawberries. It's perfectly sweet and perfect for summer.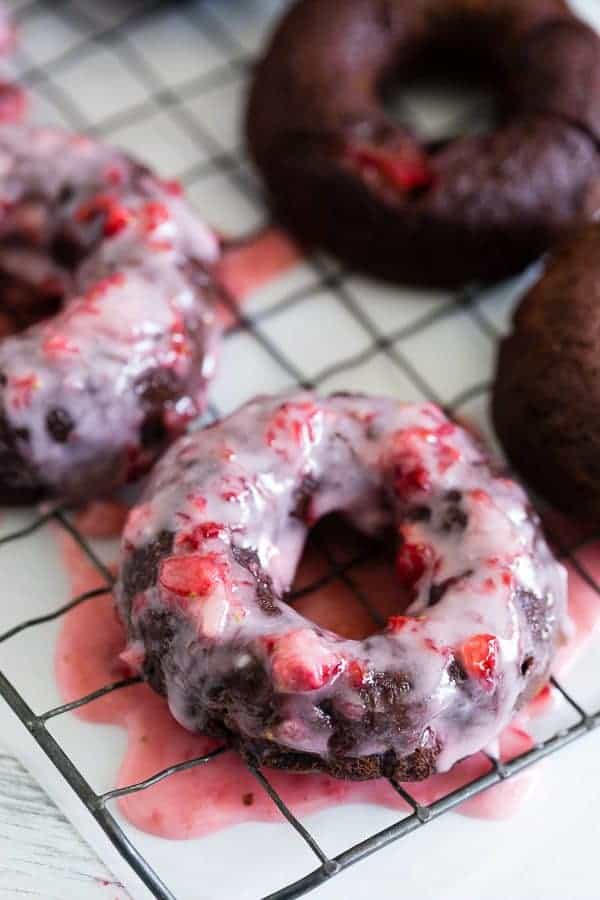 I also sprinkled a few of my baked chocolate donuts with sprinkles because I'm a firm believer that you are never too old for sprinkles on your donuts. Obviously, it's optional but where's the fun in that?
Looking for more delicious strawberry recipes? Try my cheesecake stuffed strawberries or my strawberry freezer jam! You can also check out Jamie's Strawberry Rhubarb Coffee Cake and Strawberry Oatmeal Bars.