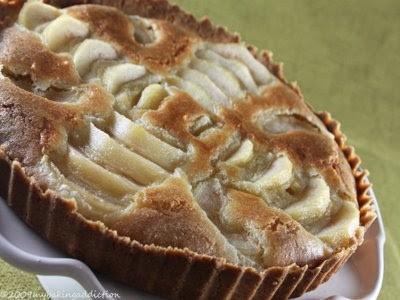 Okay, here is the deal…when I saw this recipe on the rotation for January 6th, it really did not appeal to me. Reason being…I am not a HUGE fan of pears, I mean I like them well enough to eat cold as a snack, but not so much in form of desserts. I knew that Dorie Greenspan had chosen this recipe, but that fact was not strong enough to compel me to buy the ingredients to make this French Pear Tart. However, I kept in tune with the P&Q on the Tuesdays with Dorie site and noticed that A.) no one was having issues with this recipe…well, other than the pan size and B.) everyone was raving about this damn tart. I will admit it crossed my mind that all the raving was due to the fact that Dorie had picked the recipe and since she wrote the book….well, you see my connection.
Fast forward to Tuesday…even though I did not make the tart, I still checked in with the other

bloggers

to see their results and reviews. AGAIN, everyone was raving! So, Wednesday night I stopped at the market, grabbed the ingredients and assembled this sucker that evening. It was easy enough, poach the pears, make the tart crust, make the almond cream, assemble, bake and done! My photos are less than fabulous, but I was in a hurry…AKA lazy and Top Chef was on! The tart cooled overnight; I sliced it the next morning and sent it off to the boyfriend's place of employment. Now mind you, I did not taste my creation because I was still on the fence about the pear component. Although it was quite pleasing to the eye, it was not calling my name PLUS it was 7:00am when I cut it into portions. I left for work and dismissed French Pear Tarts from my brain. At 9:00 I received a text message from the boyfriend…here is what it said, "This thing made me drool, it's amazing!" Seriously are you kidding me…he does not even like pears! Two minutes later, another text, "They (co-workers) all said this is one of the best, if not THE BEST thing you have ever made." Really…and not even ONE morsel of this baby crossed my lips!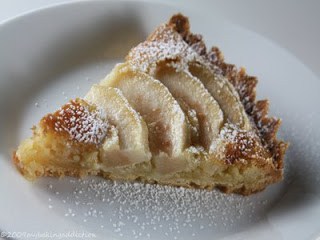 Well apparently all the raves were spot on and apparently I need to make this tart again in the very near future. Want the recipe? Head over to Dorie's site. Learn from me…if you make; taste it!