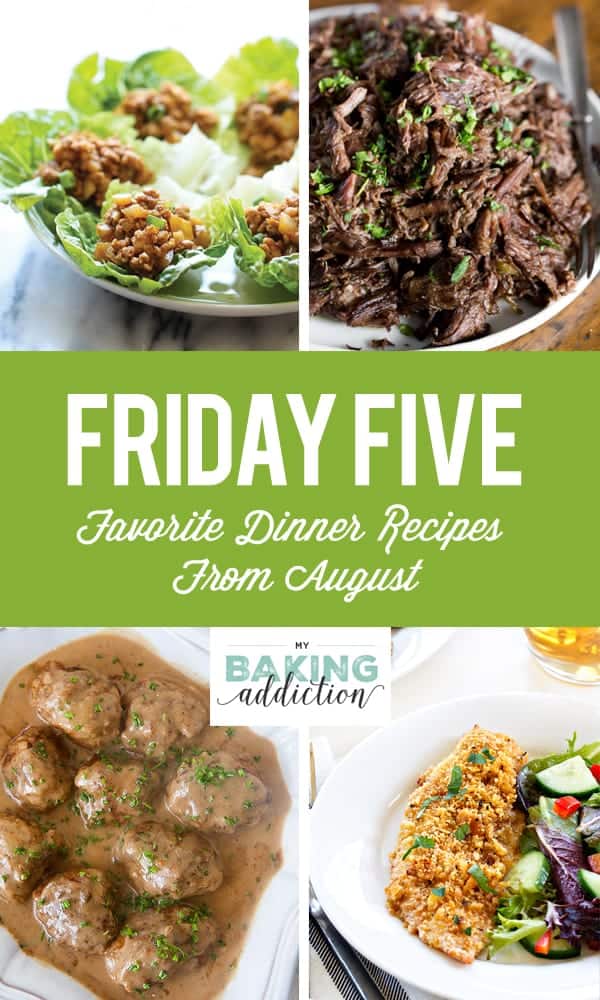 Hello and Happy Friday! Can you guys believe it is September already? I seriously don't know where summer went, but I will tell you that I am most definitely ready for fall. In my opinion, there's nothing better than cooler temps, comfort food, and pumpkin recipes galore.
Today I'm starting a new series that I'm calling the Friday Five. The series will feature five of my favorite things from varying topics like recipes, cookbooks, cookware, beauty products, home decor, and I may even throw in some fashion items and toddler gear from time to time. But today, we're starting out with our favorite dinner recipes from the month of August.
We've been trying to up our meal plan game, and although I love the weekly meal planning posts I see on other blogs, I'd fail miserably at those. So I decided to do something a little different by starting a Pinterest board to keep track of all the amazing recipes that I come across online and want to try. Then I made them for dinner and kept track of our favorites, and now I'm sharing them with you.
This way, I can give you a mini review, let you know my picky husband's thoughts, and even tell you if the recipe is toddler approved. Basically, I'm trying to take the guess work out of meal planning by testing recipes for you and then letting you know our thoughts. Easy peasy, right?
So, let's get into it.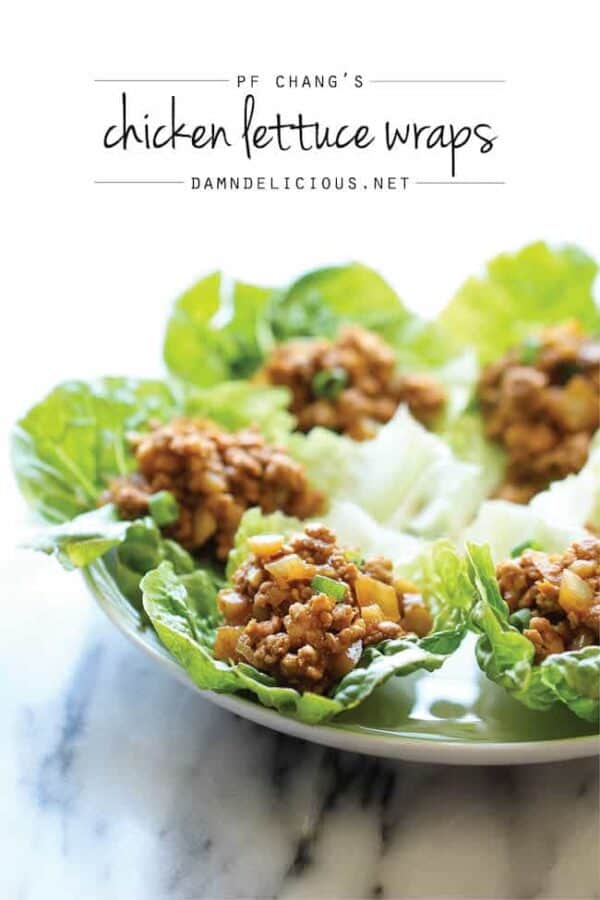 First up are these PF Chang's Lettuce Wraps from Damn Delicious. I love me some PF Chang's, but the closest one is almost an hour away and that road-trip just ain't happening for lettuce wraps. So, when I came across this recipe on Pinterest, it immediately flew to the top of my dinner must-make list.
They're so simple to make and there's even a video to accompany the recipe if you ya fancy recipe videos. I've made these twice, once for dinner and once for lunch. Both times I served them up with brown rice from Trader Joes and marinated cucumbers.
This recipe ranks as my favorite for the month. Eric loved them as well, but said he was hungry just a couple of hours later, so I may need to bulk them up a bit for him next time. Elle loved her "lettuce tacos" and even wanted them for lunch the following day. These were a total win!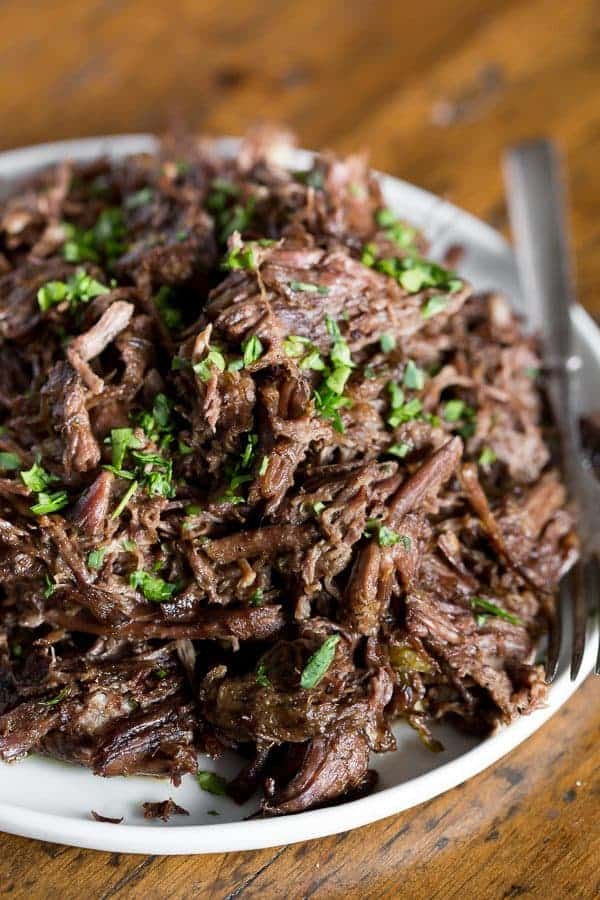 Next up is this Mississippi Roast from Nutmeg Nanny. But I have to be honest, I made this on a whim and changed up the recipe a bit because I didn't have time to run to store.
The recipe from Brandy's site calls for pepperoncini and a homemade ranch dressing. I didn't have pepperoncini on hand, so I tossed in banana peppers and a few tablespoons of Hidden Valley Ranch Dressing. We had a super busy day and by the time we got home for dinner, the house smelled amazing and the roast was super tender and falling apart.
I served this up over noodles and with a big salad and it was the perfect comfort food for a dreary, rainy day. This is definitely going to be in heavy rotation this fall – Eric gave it two thumbs up and even ate the leftovers, which rarely happens. I love the fact that it's simple, super flavorful and made in the slow cooker.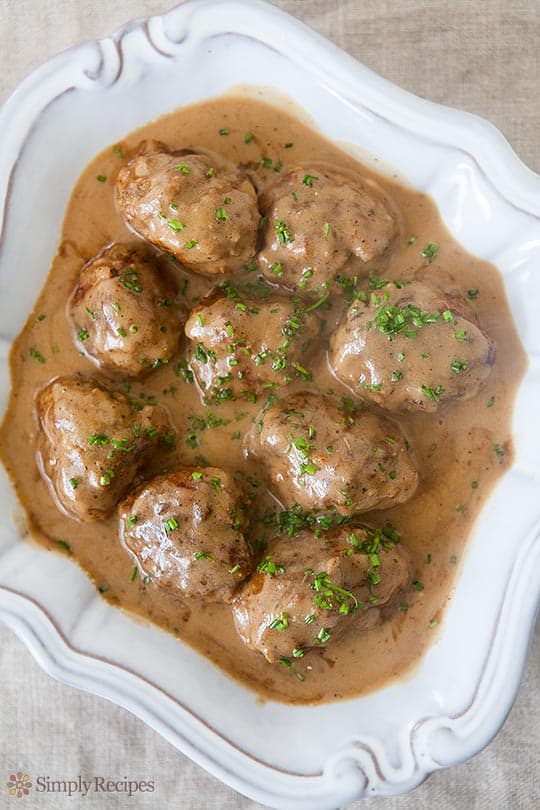 If I made these Swedish Meatballs a couple of times a week, Eric would be one happy husband. Since I came across this recipe on Elise's site earlier this year, I've made these Swedish Meatballs no less than 10 times.
Although the meatballs are super tender and flavorful, sometimes, he only wants the gravy and noodles. And if I'm being honest, I've even used frozen meatballs, or just made the recipe with seasoned ground beef, without actually forming the meatballs.
These Swedish Meatballs are one of our absolute favorite meals and the leftovers are even better. A definite must-try – they're so much better than the Ikea version, you guys!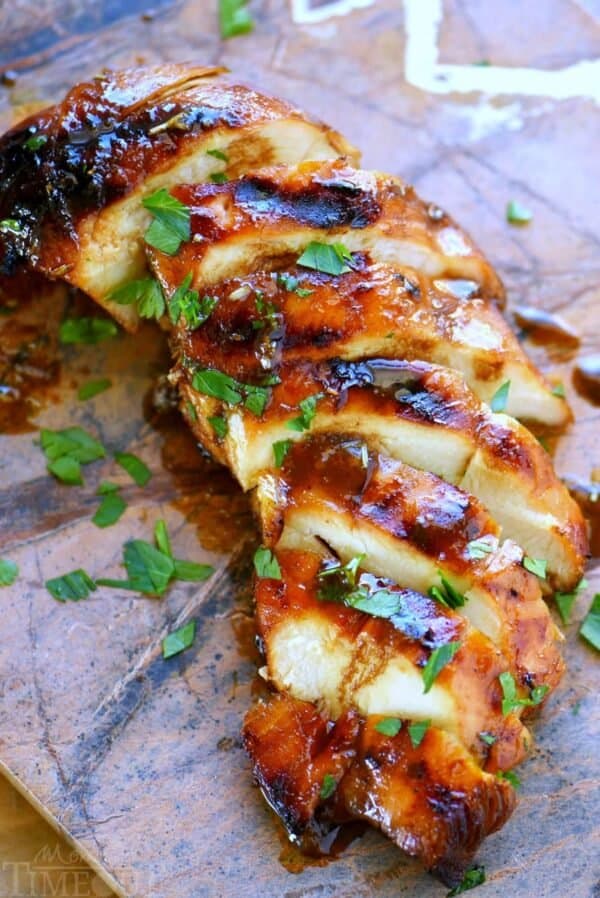 We eat a lot of chicken around here – especially in the summer, when most of our meals come off the grill. My stand-by chicken marinade is Italian dressing made from the Good Seasonings packet, but I thought we'd switch things up a bit this month by giving this chicken marinade from Mom on Timeout a try.
It comes together in minutes with ingredients that I always have on hand. I typically marinate the chicken for at least 6 hours, but I've marinated it for less than two hours and it's still super delish. We usually pair this marinated chicken with a big green salad and corn on the cob for the ultimate summer dinner.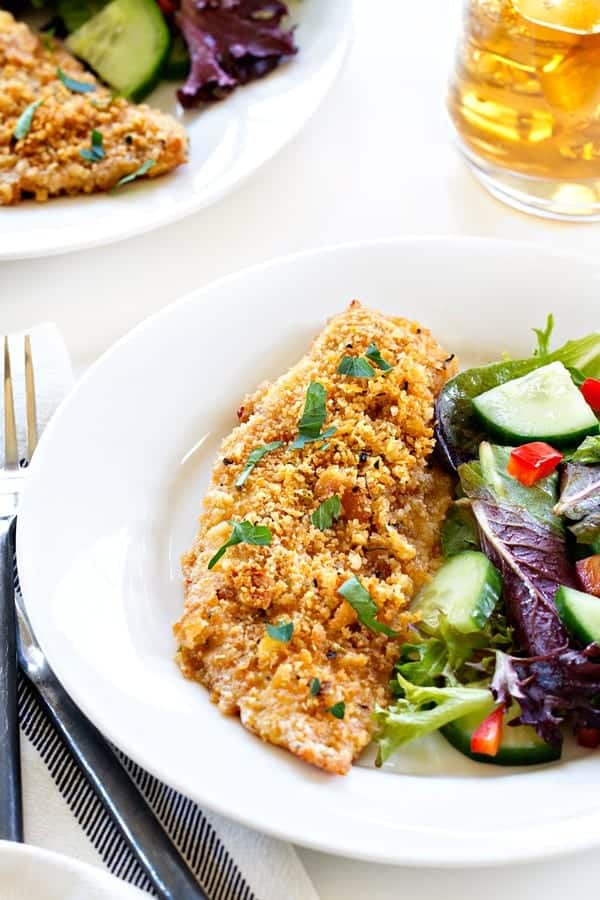 Last but not least, I had to include this Ritz Cracker Chicken because it's always in heavy rotation around here. On days when we're scrambling at 6:00 to whip up dinner, this is often our go-to meal because we always have chicken and Ritz crackers on hand.
The simple combination of buttery Ritz Crackers and real butter creates a wonderfully crispy outside, but an incredibly juicy and tender inside. It's exactly what you want baked chicken to be. There's nothing dried out or lacking in flavor here! We typically serve this up with garlic butter noodles and Eric always scrapes the leftover pan crumbs onto his noodles for a little extra flavor and texture. This one is so perfect for busy weeknights!
And there you have it, our five favorite dinner recipes from the month August. If you give any of these a try, be sure to tell me your thoughts in the comment section below. I'd also love to hear about some of your favorites!