When it comes to the holidays, from the last two weeks of September right through to January 1st, I simply can't be held responsible for my impulse purchases. I mean, how can anyone resist Candy Corn, Gingerbread or Candy Cane Oreos, White Chocolate Peppermint M&Ms, or the cutest little edible toppers I've ever seen in my life: these Gingerbread Men from Wilton.
I found these beyond adorable little guys in the seasonal aisle at Target. And if I'm honest, the seasonal aisle at Target is where my problems start. It's like my own personal kryptonite. I want to buy every single thing I find there!
The good news is, I've put at least two out of the last seven impulse purchases to use in one adorable dessert that's perfect for intimate holiday get-togethers without hardly any work at all.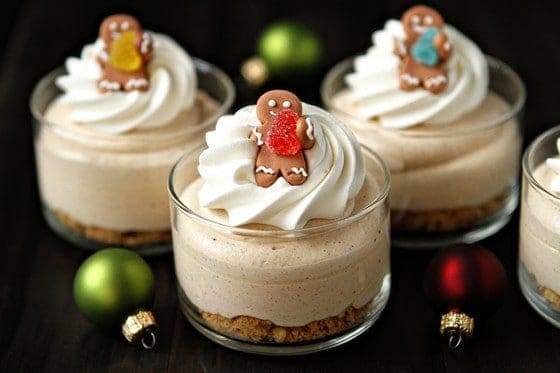 Everyone loves cheesecake, right? (I know it's my favorite!) But present Gingerbread Oreo No Bake Mini Cheesecakes to someone in their own individual glass, with these Wilton Gingerbread men on top? I'm pretty sure you'd end up nominated Best-Ever Christmas Party Thrower.
Gingerbread Oreos are pretty fantastic all on their own. But make them the base of a no-bake cheesecake, and you've catapulted them into dessert legend. You think I'm overstating things, maybe. You'd be wrong. I could not stop eating these bad boys!
Do you love shopping for seasonal items as much as I do?
[pinit]

Gingerbread Oreo No Bake Mini Cheesecakes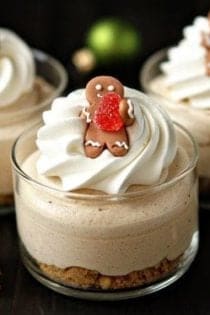 Ingredients:
Directions:
1. Place the Gingerbread Oreos in the food processor and pulse a few times, until you have fine crumbs for the crust.
2. Divide the crumbs between six parfait cups or small canning jars. Gently press the crumbs into the bottom of each serving dish
3. In the bowl of a stand mixer fitted with the paddle attachment, or in a medium bowl with a hand mixer, combine cream cheese, confectioners' sugar, pumpkin pie spice, vanilla extract, Gingerbread Pudding. Mix on low speed until all ingredients are well combined.
4. Using a rubber spatula, fold in Cool Whip until completely incorporated.
5. Spoon or pipe cheesecake filling into each serving cup.
6. If desired, pipe additional Cool Whip onto each mini cheesecake, then place one Wilton Gingerbread Man on top of the whipped cream for a festive look.
7. Store in refrigerator until ready to serve.
Notes:
- If you can't find the Wilton Gingerbread Men, or want to make these cheesecakes for a different occasion, simply sprinkle the whipped cream on top of each mini cheesecake with a little pumpkin pie spice.
- I have not attempted to make this recipe using fresh whipped cream, so I cannot attest to the outcome.
- Cheesecakes are best served the day the are made, but will store in refrigerator for up to one day
- Gingerbread Oreos were purchased from Walmart.
All images and text ©
Follow Jamie on Instagram. We love to see what you're baking from MBA! Be sure to tag @jamiemba and use the hashtag #mbarecipes!