I've had love affair with my Keurig since the moment it landed on my doorstep, so of course I am super excited to share this month's post with you.
I have pretty sweet coupon code for all of my lovely MBA readers that will get you 15% off storewide plus standard shipping on orders of $30 or more.
Since it finally feels like Spring here in Ohio, I thought I'd share some of my absolute favorite spring/summer flavors from GreenMountainCoffee.com. That way you can load up your online cart on GreenMountainCoffee.com and save 15% off! And if you've had your eye on a Keurig K-Cup Brewing System – now is the perfect time to place your order – what's better than a discount code, free shipping, and incredible coffee?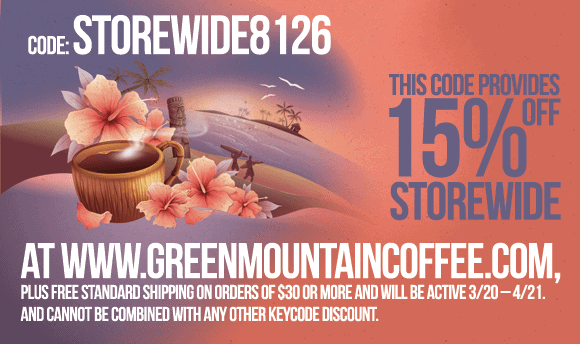 My Baking Addiction's Favorite Spring Flavors
– Lemonade: Deliciously refreshing and perfect for those warm Spring days.
– Unsweetened Black Iced Tea: I drink more iced tea than I care to admit and these awesome K-Cup packs allow me to skip my daily iced tea run!
– Iced French Vanilla Coffee: Plain and simple – I'm addicted and this is definitely by go-to beverage during Spring in Summer.
Be sure to check out this month's featured flavor – Tully's Hawaiian Blend. After just one sip, it will transport you to a beachside paradise in under a minute – the time it takes to brew a cup. Made from 10% Hawaiian and other fine Arabica beans, Hawaiian Blend is a delicious, mildly sweet coffee, that's slow-roasted (a Tully's signature) to capture subtle tasting notes.
Disclosure: I am a compensated Keurig K-Cup Ambassador, and this post is written as part of that program. All opinions about Green Mountain Coffee and Keurig K-Cup packs are my own. Some photos are provided by Green Mountain Coffee.