If you missed yesterday's post for homemade chili and taco seasoning, you may want to check it out because today I am using it in my favorite chili recipe. I am a big chili fan, but I am very particular about my chili. I like it to be thick and hearty; none of that watery gruel will be seen in my kitchen. I also like it spicy, not nose running, tears in your eyes hot, just enough kick to awaken your senses.
I also like to load my chili with vegetables such as bell peppers, onion, jalapeno, corn and potatoes. Yes, you read that right, I always toss a large Idaho potato into my chili. I can't recall what prompted me to place a potato in my chili, but I have been doing it for years and chili just isn't the same without out it this random addition. That's one of the great things about chili; you can totally personalize it by adding your own special twist.
One variation that I have been known to do is picking up bread bowls from Panera, or any bakery, and filling them with this chili. Add a sprinkling of shredded cheddar cheese and a dollop of sour cream and you have the perfect meal for a cool, crisp evening. Whether it's for the big game or a quiet weekend at home, this chili is sure to satisfy even the biggest of appetites.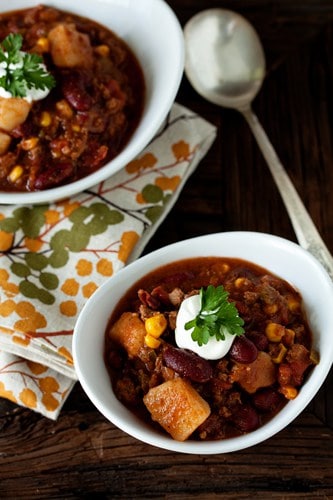 Hearty Chili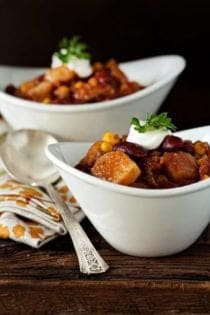 Ingredients:
1 ½ pounds lean ground beef
1 cup chopped sweet onion
1 cup chopped green pepper
1 clove garlic, minced
1 jalapeno, seeded and diced
2 tablespoons homemade chili seasoning (or one envelope chili seasoning)
2 (14.5 ounce) cans diced tomatoes (I use the ones that specify "for chili")
2 (15 ounce) can kidney beans, undrained
1-2 teaspoons Sriracha or hot sauce of your choice
1 large Idaho potato, peeled and cubed
1 cup frozen corn
Garnish
-shredded cheese
-sour cream
Directions:
1. In a large Dutch oven, cook ground beef over medium-high heat until evenly browned. Drain excess grease.
2. Add onion, green pepper, garlic, and jalapeno and cook for 5 minutes, stirring often. Sprinkle meat mixture with homemade chili seasoning (or contents of chili seasoning envelope). Mix seasoning with the meat and vegetable mixture and cook for about 3 minutes, stirring constantly.
3. Add in diced tomatoes, kidney beans, hot sauce and potatoes, stirring to combine. Bring to a boil, then reduce heat to low. Simmer for 1 1/2 hours. Stir in corn the last 15 minutes of cooking.
4. Garnish chili with shredded cheese and sour cream.
All images and text ©
Follow Jamie on Instagram. We love to see what you're baking from MBA! Be sure to tag @jamiemba and use the hashtag #mbarecipes!