I cried a little this morning. Seriously. Today marks my first day back to work for the 2012 school year and although I know that I shouldn't be complaining about 2.5 months off, I'm still going to.
I've mentioned before that I not a morning person, in fact, I don't think I really utter full sentences until I've been up for at least a couple of hours. I like my sleep and I loathe waking up to alarms – yes, that's more whining.
Since I don't get a ton of sleep during the school days, I'm self-professed serial snoozer. Meaning I hit the snooze buttons about 10 times each morning. This annoying habit means that I am always in a hurry and can barely brew a cup of coffee before I have to literally run out the door.
This means that my breakfasts and lunches need to be prepared the night before or I'll end up noshing on cheese curls and gummy bears at 9 am – not that I've ever done such a thing.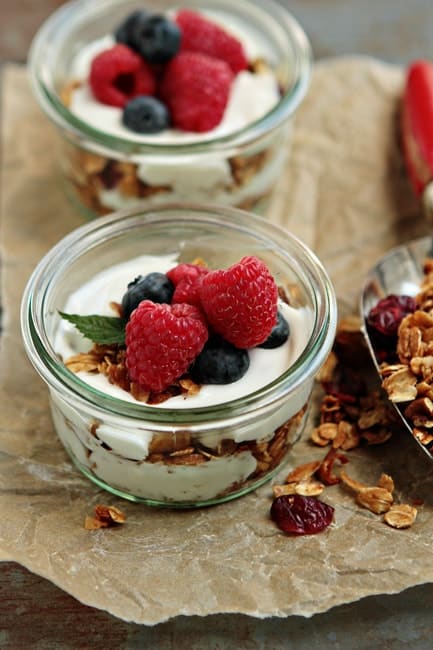 When the lovely folks at Become A Better Baker asked me to create a back to school breakfast recipe, I knew I had to share my favorite meal for rushed, school day mornings.
Rolled oats are flavored with honey, pure maple syrup, and pumpkin pie spice, then tossed with pecans and dried fruit to create a delectable breakfast. The intoxicating aroma and flavors of pumpkin pie spice are perfect for the upcoming, brisk fall mornings.
Homemade granola is perfect for munching on straight from the jar, served with fresh fruit and a splash of low-fat milk or my personal favorite – homemade fruit and yogurt parfaits.
Simply package fresh fruit, granola and your favorite yogurt into reusable containers and mix them at your desk or in the lunchroom for a satisfying, delicious breakfast or lunch.
Be sure to join Become A Better Baker on Facebook for more back to school ideas, tips and fantastic recipes.
[pinit]

Pumpkin Pie Granola
Ingredients:
4 cups old-fashioned oats
1/2 cup chopped pecans
3/4 cup shredded coconut such as Durkee Flaked Coconut
1/4 cup packed light brown sugar
2 tablespoons vegetable oil
1/4 cup honey
3 tablespoons pure maple syrup
1 1/2 teaspoons pumpkin pie spice
1 1/2 teaspoons pure vanilla extract
1/2 cup raisins
1/2 cup dried cranberries
Directions:
1. In a large bowl, combine oats, pecans and coconut; set aside.
2. In a saucepan, combine brown sugar, oil, honey, maple syrup and pumpkin pie spice; bring to a boil. Remove from the heat and stir in vanilla.
3. Pour over oat mixture; stir to coat. Spread in a large shallow baking pan.
4. Bake at 350°F for 15 to 20 minutes, stirring occasionally. Cool.
5. Add raisins and dried cranberries. Store in an airtight container.
Notes:
- You can use any combination of dried fruit in this granola. Dried cherries, bluberries and dates are a fantastic addition.
All images and text ©
Follow Jamie on Instagram. We love to see what you're baking from MBA! Be sure to tag @jamiemba and use the hashtag #mbarecipes!
DISCLOSURE
This is a sponsored post written by My Baking Addiction on behalf of Become A Better Baker™. The views and opinions expressed on My Baking Addiction are purely my own.