Honey Nut Bars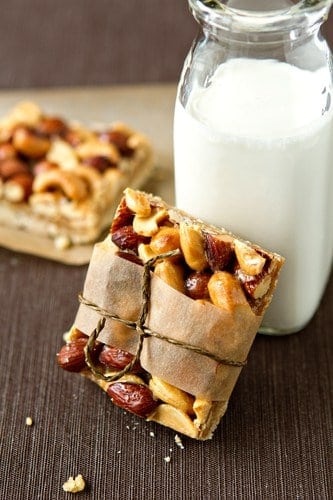 Every once in a while I come across a recipe that stops me in my tracks and forces me to put all of the other "must make" recipes aside. Earlier in the week I came across a Facebook post from Fine Cooking that mentioned Honey Nut Bars.
In my opinion, honey and nuts go together like peanut butter and jelly and cookies and milk, so this recipe pretty much superceded everything else on my agenda. It's also the combination of one of my favorite cereals. I'm kind of a cereal addict, but that's a subject for another post, another time – maybe.
I promptly picked up the required nuts on my weekly grocery shopping trip, and I was ready to roll. The recipe starts with a buttery crust flecked with ground almonds and sugar. Its shortbread-like texture is the perfect base for an ooey-gooey layer of toasted salty nuts.
Although the recipe calls for unsalted nuts, I used salted because I am a rebel like that. Stop rolling your eyes, I know I'm not that much of a rebel – but I AM a sucker for a sweet and salty combination.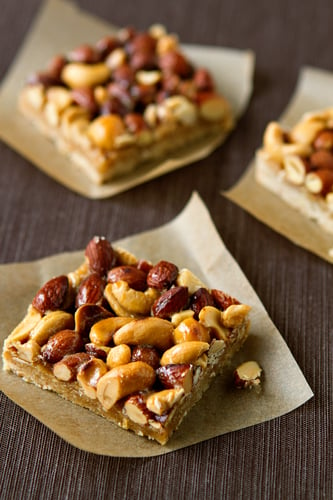 These bars were insanely good and reminded me my favorite fruit and nut granola bars, obviously sans the fruit. But hey, that may just be a splendid idea the for the next time I give these babies a whirl, or the first time you do.
These Honey Nut Bars call for the nuts to be toasted, so be sure to check out my Fundamentals post on How To Toast Nuts if you're a little unsure of the process.

Honey Nut Bars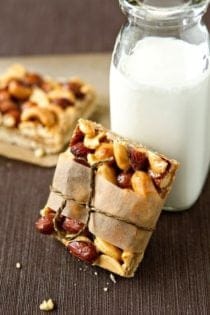 Ingredients:
For the Crust:
1/2 cup whole blanched almonds, toasted
1/2 cup granulated sugar
11-1/4 oz. (2-1/2 cups) unbleached all-purpose flour
1/2 tsp. baking powder
1/2 tsp. kosher salt
6 oz. (3/4 cup) cold unsalted butter, cut into 1/2-inch pieces
1 large egg, lightly beaten
For the Topping:
3/4 cup packed light brown sugar
3 oz. (6 Tbs.) unsalted butter
1/3 cup clover honey
1/2 tsp. table salt
2 Tbs. heavy cream
1 teaspoon pure vanilla extract
3 cups whole salted mixed nuts, toasted
Directions:
Make the crust:
1. Position a rack in the center of the oven and heat the oven to 350°F. Line a 9x13-inch baking pan with aluminum foil and spray the foil with cooking spray. Be sure to leave a a bit of foil extending on the shorter sides of the pan, the foil will act as "handles" when you remove the finished bars from the pan.
2. In a food processor, finely grind the almonds and sugar. Add the flour, baking powder, and salt and pulse to blend. Add the butter and pulse until it's the size of small peas, 5 to 6 one-second pulses. Add the egg and pulse just until the dough begins to gather into large clumps.
3. Using your fingertips, press the dough into the bottom of the prepared pan and about 1 inch up the sides to form a 1/4-inch-thick side crust. Using the tines of a fork, dock the crust evenly all over.
4. Bake until light golden brown on the edges and the center looks dry, 15 to 20 minutes. Cool the crust on a rack.
Make the topping:
1. Bring the sugar, butter, honey, and salt to a boil in a medium saucepan over medium-high heat, stirring often. Slowly and carefully add the cream and return to a boil. Remove from the heat and carefully add the vanilla and nuts, stirring to coat.
2. Pour the nut mixture over the crust and spread evenly with a spatula. Tilt the pan to help spread the liquid to the edges and corners. Bake until the topping has just started to bubble slowly in the center, about 20 minutes.
3. Use the foil "handles" to remove the bars from the pan and place on a wire rack to cool completely.
4. Place bars onto a cutting board and cut into 16 bars with a sharp knife. Take care to peel the foil away from the bars before serving.
Notes:
- Bars will keep in an airtight container at room temperature for 3 to 5 days.
- Recipe slightly adapted from Fine Cooking
All images and text ©
Follow Jamie on Instagram. We love to see what you're baking from MBA! Be sure to tag @jamiemba and use the hashtag #mbarecipes!
This post may contain affiliate links. We are a participant in the Amazon Services LLC Associates Program, an affiliate advertising program designed to provide a means for us to earn fees by linking to Amazon.com and affiliated sites.