I am pretty excited about the K-Cup Ambassador March code for Green Mountain Coffee. One of the very first flavors that I fell head over heels in love with was Donut House Collection Cinnamon Roll. In fact, I'm pretty certain that I drank it every morning with a splash of vanilla creamer for about two months straight. That's love, folks.
Flavors such as Chocolate Glazed Donut and Cinnamon Roll are rich, flavorful coffees that you can indulge in to satisfy that Sunday morning pastry craving without all the guilt.
Whether you're looking for a straightforward cup o' joe or a delicious pastry-inspired treat after a long day of work, I'm pretty confident that you'll find the perfect K-Cup packs in the Donut House Collection.
Donut House Collection K-Cup packs are available online at GreenMountainCoffee.com, in grocery stores, in national retailers like Bed Bath and Beyond, an in club stores like Costco.
Use the code DONUTHOUSE8126 to save 15% off the entire Donut House Collection on GreenMountainCoffee.com!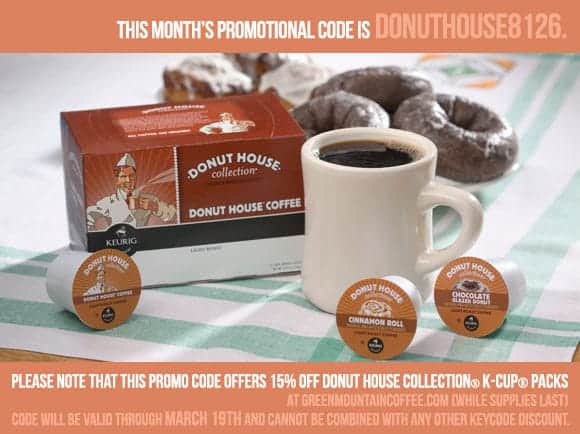 Disclosure: I am a compensated Keurig K-Cup Ambassador, and this post is written as part of that program. All opinions about Green Mountain Coffee and Keurig K-Cup packs are my own. Some photos are provided by Green Mountain Coffee.