Since I've pretty much become synonymous with baked goods, people will start to assume that something is wrong with me if I haven't offered up any sweet treats in a few days. I'll get questions such as, "Are you not feeling well?" or "Are you sick of blogging?" Seriously people, it's been a week, not a month – I'm just lazy.
However, my laziness was temporarily quelled when I got a hankering for blueberries. Random, right? Now of course I didn't have any blueberries in the fridge, only apples and a whole pineapple, which was in the fridge due to an ant issue we had earlier in the week. Thankfully, the ants are gone. And well, so is the pineapple, because due to my laziness it went bad before I felt like cutting it.
After scanning the fridge, I remembered that I had picked up a jar of blueberry preserves and for a brief moment thought about eating a piece of toast, but clearly I cannot blog toast! Well I guess I could, but I'm thinking it wouldn't be too popular.
Anyway, after a few minutes on the computer, I decided on this simple recipe for Lemon-Blueberry Coffee Cake. You can literally throw it together within 10 minutes and after about 25 minutes in the oven I was enjoying warm blueberry goodness with very little effort involved.
If you're feeling a bit on the lazy side, stay tuned for tomorrow's recipe for ridiculously simple chocolate cookies.
Lemon Blueberry Coffee Cake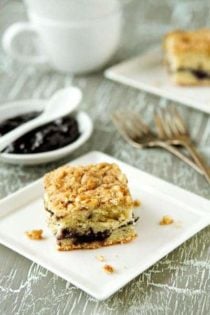 Ingredients:
For the Cake
zest of one lemon
1/4 cup granulated sugar
1 1/2 cups all-purpose flour
2 1/2 teaspoons baking powder
1/2 teaspoon salt
1/3 cup butter, melted
1 large egg
2/3 cup milk
1 teaspoon pure vanilla extract
3/4 cup blueberry preserves
For the Topping
1/4 cup firmly packed brown sugar
1/4 cup almonds, finely chopped
2 tablespoons flour
1 tablespoon cold butter
Directions:
1. Preheat oven to 400°F. Spray an 8 inch square baking pan with non-stick cooking spray.
2. In a medium bowl, combine sugar and lemon zest; mix with your fingers until the sugar is slightly moistened and fragrant. Add flour, baking powder, salt to the sugar and mix until thoroughly combined. Add butter, egg, milk and vanilla, mix to combine.
3. Pour half of batter into prepared pan; take care to spread evenly. Stir the preserves and spread it evenly over batter. Top with remaining batter, again spreading evenly.
4. In a small bowl, combine topping ingredients; mix until crumbly. Sprinkle over top of the batter.
5. Bake in preheated oven for 20 to 25 minutes.
Notes:
- adapted from Smuckers

All images and text ©

Follow Jamie on Instagram. We love to see what you're baking from MBA! Be sure to tag @jamiemba and use the hashtag #mbarecipes!

I've been extremely lazy this week. I've really had no desire to do much of anything once I get home from work. The laundry pile is larger than normal, dinners have been no-fuss grilled items (because I can totally pawn that off to Brian) and I haven't really baked much of anything.