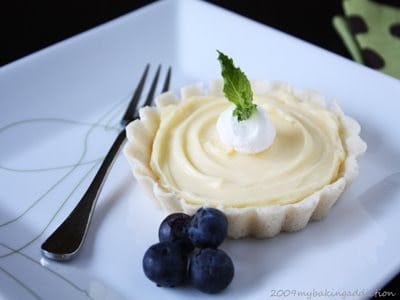 Okay I know it's not Tuesday and I now know this was not this week's Tuesdays with Dorie recipe, but I figured I would still post it! I am a huge procrastinator by nature…I have a theory that I work better under pressure although this hypothesis in completely unproven and this post will attest to that fact.
On Monday I was scrambling around attempting to take care of random tasks when I tried to fit in the TwD recipe. I knew it was a lemon tart and I was too lazy to check the site, so I flipped to the index and located the lemon tart recipe. I cut the recipe in half and ended up with (6) 4 inch tartlettes. After I made the lemon cream and realized it needed to be chilled for at least four hours, I gave up on the recipe and figured I would tie up the loose ends i.e., plate, garnish, photograph on Tuesday afternoon and get it posted. On Tuesday morning I started checking out the TwD posts and thought my filling looked a tad bit different…mine was creamy looking and the photos of this week's recipe looked almost like lemon curd. I headed over to the TwD site and realized that I had made the wrong recipe. Turns out I had whipped together The Most Extraordinary Lemon Cream Tart instead of the Tartest Lemon Tart…my bad (yeah I just said my bad)!
For the recipe I used Meyer Lemons because that is what I had on hand…Honestly I was not a huge fan the tart I made; however, my co-workers raved over this dessert and requested I bring in the rest of tartlettes the following day! You can rest assured that next week's recipe will be accurate and posted on time…well…maybe!
If you are interested in this recipe, click here to be linked. Also don't forget to enter my giveaway by clicking here! Have a great day and thanks for stopping by!