A Little Peace…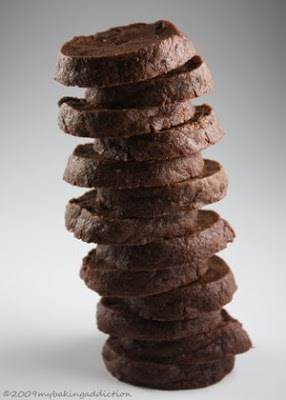 This week's Tuesdays with Dorie recipe is hosted by Jessica of cookbookhabit. Jessica chose Dorie's recipe for World Peace Cookies found on pages 138-139 of Baking: From My Home to Yours. I have read a lot of blog entries on these World Peace Cookies and every time I saw one I thought of a bumper sticker that graced a car in my high school parking lot that read, "Visualize Whirled Peas." That was a slightly random thought, so back to the cookies…for the most part this is a well-liked chocolate cookie recipe, so I excited to give it a try. I read some complaints of the dough being crumbly and difficult to cut, so I decided to do some recipe manipulation. I increased the butter by 1 TBS and decreased the flour by 1 TBS. Once I whipped this super easy recipe together, I had no problems with the dough rolling into logs or it being too crumbly. I snagged a taste of the dough off my paddle attachment and I must admit, it was quite scrumptious! After I rolled them into logs, I chucked them into the freezer for about an hour. Once out of the freezer, I let them sit on the counter for 5 minutes and cut them into 1/2 inch slices. This process also went very smoothly and took about 3 minutes total. These cookies are incredibly easy and the end result is a super deliciously addictive chocolate gem that is sure to please! So grab a cookie, a glass of ice cold milk and visualize whirled peas!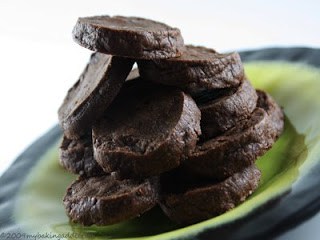 For the recipe, check out Jessica's blog or go grab a copy of Dorie's book. Have a beautiful and delicious day!
Up Next…Eclair Cake

This post may contain affiliate links. We are a participant in the Amazon Services LLC Associates Program, an affiliate advertising program designed to provide a means for us to earn fees by linking to Amazon.com and affiliated sites.