This is a sponsored post written on behalf of Campfire® Marshmallows. All thoughts and opinions are 100% my own.
With Christmas just around the corner, Emily and I thought we'd get together and create a fun holiday inspired craft using Campfire® Marshmallows.
We're well aware that marshmallow wreaths may be a little out of the ordinary, but they're super fun to make and if I'm being honest, I kinda adore the all white wreath with a bright pop of red ribbon. It's such a festive color combination that looks pretty amazing against a dark surface.
With just a few items including a foam wreath form, toothpicks, a few bags of Campfire® Marshmallows and a little time, you can create a homemade marshmallow wreath of your own.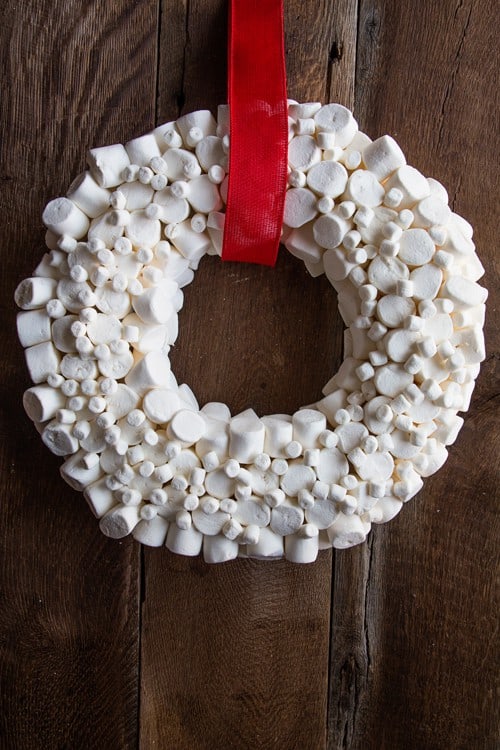 Emily's kiddos even got in on the action and I must say, they were totally diggin' it. This got us thinking that a marshmallow wreath would be a great craft to create with your little ones once school is out for winter break. Warm up a few mugs of homemade hot cocoa (don't forget the Campfire® Mini Marshmallows) and get to crafting. Just be sure to closely monitor the little ones with toothpicks, I poked myself more times than I care to admit.
Emily and I even created a quick how to video for you. We pretty much laughed the entire time because it got hilariously awkward at some points. Let's just say we had about 20 takes of me placing the toothpicks on the table because I repeatedly placed them out of the frame.
If you're feeling extra festive, you can use a hot glue gun to affix lightweight plastic bulbs to the wreath. We loved this colorful option, but we both agreed that we liked the plain white wreath and red ribbon a little more.
Keep in mind, this wreath is meant as a fun holiday craft, if you live in a hot or warm climate, I would suggest looking for another homemade wreath to create.
As you may remember from my Cranberry Fluff post, I've teamed up with Emily from Jelly Toast and Campfire® Marshmallows. You'll see more recipes from us, and a couple more posts from us this holiday season. Be sure to check out Emily's recipe for Marshmallow Fudge Bark – I got to taste a little piece of it and it was amazing!
We even created a Marshmallow Madness Pin Board where we'll pinning loads of delicious marshmallow recipes from our favorite food sites.
For more information about Campfire® Marshmallows, find them on them on Facebook and Twitter.
Marshmallow Wreath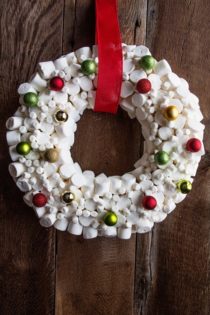 Ingredients:
12 inch flat foam wreath form
3 16-ounce bags regular Campfire® Marshmallows
1 16-ounce bag Campfire® Mini Marshmallows
toothpicks
Optional
ribbon
lightweight plastic bulbs
hot glue gun
Directions:
1. Insert toothpicks about halfway into the foam wreath form. Add a regular Campfire® Marshmallow to each toothpick. Fill in the entire wreath except for the back.
2. Add Campfire® Mini Marshmallows in a clustered design to fill in gaps between the regular marshmallows.
3. Once your wreath is completely filled with marshmallows, place the wreath in a cool place such as refrigerator or cold garage for about 24 hours to let the wreath set up.
4. If desired, add a festive ribbon and affix small, lightweight plastic bulbs with a hot glue gun for a little pop of color.
Notes:
Since this wreath is made of marshmallows, we recommend displaying it indoors, that way it will be safe from little critters.
We have not attempted to preserve our wreath for upcoming holiday seasons; therefore, we cannot comment on that matter. However, we may try spraying it with craft shallac to see how it will hold up in a cool place.
Marshmallow Wreath inspired from Food Network
All images and text ©
Follow Jamie on Instagram. We love to see what you're baking from MBA! Be sure to tag @jamiemba and use the hashtag #mbarecipes!
Disclosure: My Baking Addiction has teamed up with Campfire® marshmallows to share recipes using their products. This is a sponsored post written as part of that program. All opinions about Campfire® marshmallows are 100% my own.