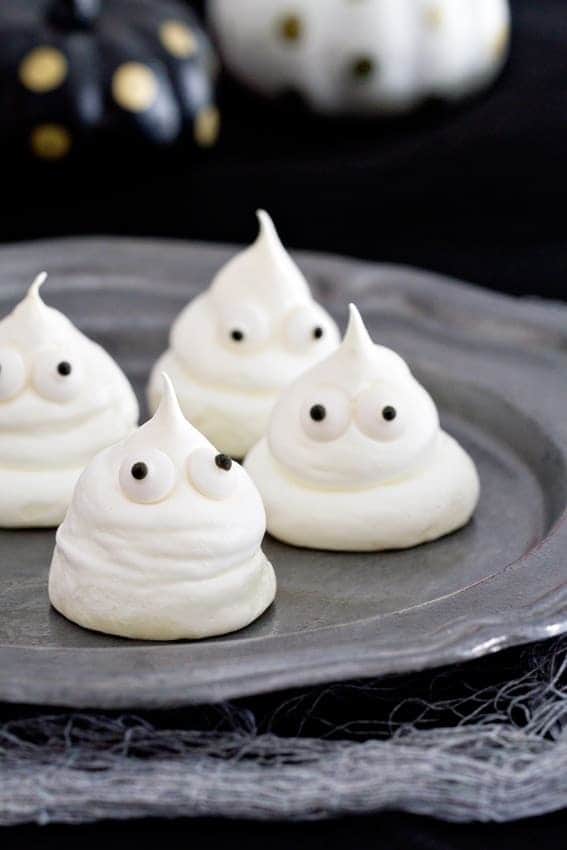 Meringue Ghosts couldn't be easier or cuter! Little swirls of sweetened egg whites are studded candy eyes to create a boo-rrific Halloween treat.
I've never been one to get very excited about Halloween – it's just not my thing. And if I'm being honest, any Halloween party invitations that I've ever received with the words costume required were immediately tossed, with an excuse at the ready.
Sorry, real-life friends! Introvert, right here.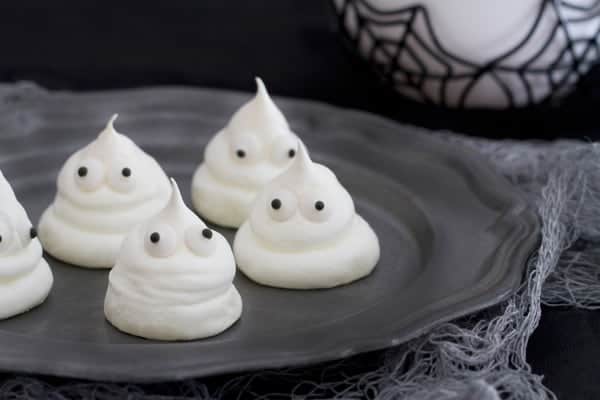 I hate scary movies and if it weren't for a DVR, I'd probably never watch television. If I see a horror movie trailer commercial, it's almost guaranteed that I won't be sleeping for at least two nights.
I won't even watch Law & Order if it's not daylight and I've checked to make sure all of our doors are locked. Totally not kidding.
Don't even get me started on haunted houses. No. Thank. You.
However, now that we have a toddler, my stance on Halloween is changing just a bit. While I doubt we'll ever be the family with a fog machine and faux coffin on our porch, I do want to create fun memories for Elle that include parties decked out with cute décor and loads of sweet treats – just like these meringue ghosts.
And I might just be dressing up as Cookie Monster this year, but only because I can't find a Snuffleupagus costume. Help a girl out if you know where I can score one!
This meringue ghosts cookie recipe really couldn't be easier. They're totally adorable and boo-rrific, too!
They look great arranged on a festive platter and are perfect for Halloween potlucks because you can make them a couple of days in advance. You can add in flavored extracts like almond, butter or even mint to change of the flavor.
And if you can't find those cute candy eyes, just use mini chocolate chips, but put them onto the meringue upside down.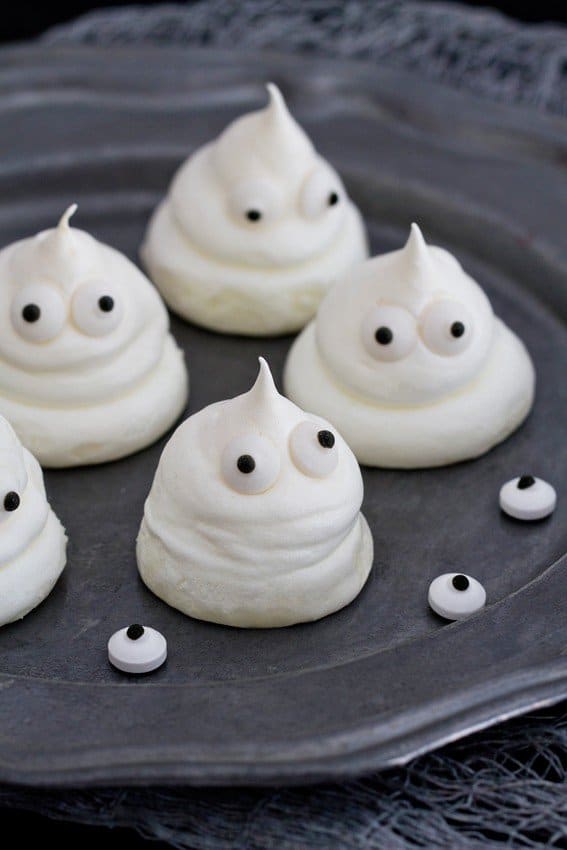 Whether you're celebrating Halloween decked out as a zombie, or dressing up as Cookie Monster, these meringue ghosts are a simple and creative dessert for any Halloween party. Time to get your spooky dessert table on!
Looking for more Halloween inspired treats? Be sure to check out my Halloween Chocolate Chip Cookies and Halloween Marshmallow Pops!