One of the best things about Spring? Meyer Lemons. Seriously, there's nothing that speaks to the epitome of spring to me like Meyer lemons. Sweet, bright, and the perfect blend of lemons and mandarin oranges, they make anything taste amazing.
From iced tea to cupcakes, Meyer Lemons add a citrus-y kick to all that you love. That's why I made Meyer Lemon Cookies for Food Fanatic today. They're so good – light, sweet, and with an added spring kick of chewy coconut flavor. What more could you ask for, I tell ya.
This Meyer Lemon Cookies recipe couldn't be simpler, or sweeter. It's a riff off a cookie that's been on my site for a while, and been a favorite for just as long. Chewy Lime Coconut Cookies are fantastic, but if you aren't aware, there's actually a lime shortage right now! This crazy weather over the last year caused a huge shortage, and in most places, one little lime is running over a $1.19 each. That. Is. Crazytalk.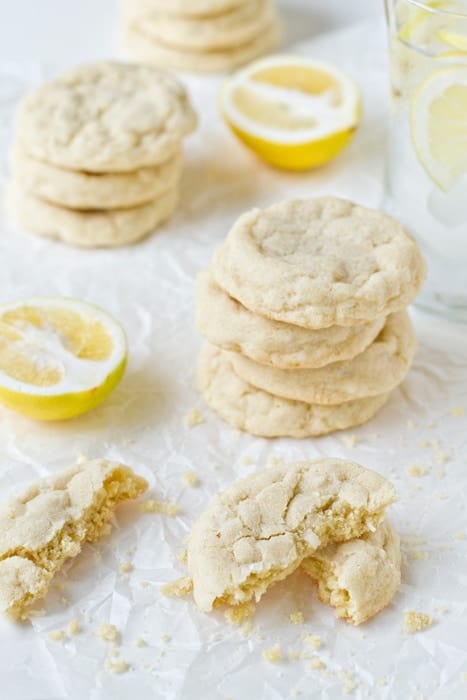 Solve your citrus craving instead by making Meyer Lemon cookies. And Meyer Lemon Cake. Because we need citrus-y sweet things to celebrate the gorgeous weather we're finally having. They're perfect with a cup of tea, so why not plan an impromptu tea party with your favorite little girls?
I can't tell you how nice it is to finally be able to take my baby outside, and these cookies put me in mind of the Springs in her future. I can't wait to be able to have picnics and tea parties with her too. I can just imagine her sweet face while we play outside on a blanket, stuffed animals in attendance for the finest tea party in the land.
Elle may be a little young for tea parties this Spring, but Mama's not. I'll be enjoying a few of these babies this afternoon with a steaming cup of Earl Grey tea, thank you very much. Won't you join me?