The weather is simply gorgeous here in Ohio, today was almost 80 degrees. Although I'm sure these temperatures will not hold steady, I am definitely enjoying it while I can. Lemons and warm weather seem to go hand in hand, which is why Meyer Lemon desserts have seemed to be making appearances all over the food blog world.
Meyer Lemons are so visually interesting to me, alone they may not seem so different, but place them side by side with a regular lemon and you will definitely notice a difference. The hue of yellow is much more orange and the intoxicating smell is much sweeter.
Don't know what a Meyer Lemon is? According to Wiki, a Meyer Lemon is a cross between a true lemon and a mandarin orange. The Meyer Lemon was introduced to the United States in 1908 by the agricultural explorer Frank Nicholas Meyer. Popularity of this lemon variety began to climb when the uber influential Martha Stewart started featuring them in her recipes.
When I purchased my Meyer Lemons I also picked up some gorgeous strawberries which I decided to use together to create a delicious spring muffin. In my opinion, the flavors of the Meyer Lemons and strawberries pair together harmoniously and the texture of the muffins are outstanding. I think I am going to makes these again very soon with blueberries instead of strawberries…how delectable does that combo sound? Many thanks to Becca for pointing out a muffin base that produces a beautiful crown! These muffins would be a great addition to your Easter breakfast or brunch.
Looking for more Meyer Lemon recipes? Check out these links…
Meyer Lemon Sticky Rolls from GoodLife {eats}
Berry Meyer Lemon Pancakes from The Novice Chef
Meyer Lemon Meringue Pie from Zen Can Cook
Meyer Lemon Bars from White on Rice Couple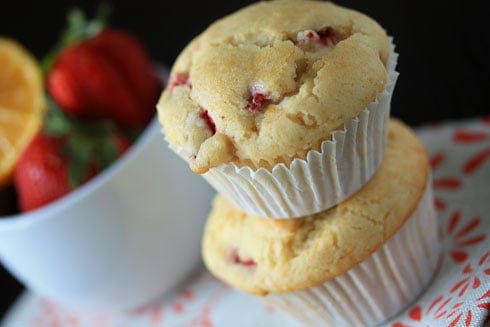 [pinit]