Milk Chocolate Tart with Pretzel Crust…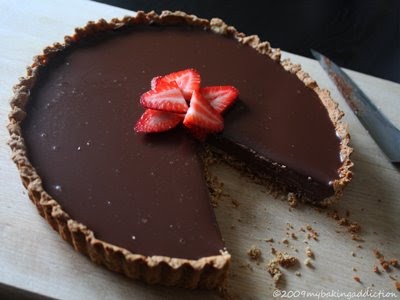 Last week, I came across a recipe in Food and Wine Magazine for a Milk Chocolate Tart with a Pretzel Crust. Although I am not a huge chocolate fan, I do really enjoy snacking on pretzels…especially of the chocolate dipped variety! I usually have the 100 calorie Mr. Salty packs stocked in my desk drawer at work for when that sweet/salty craving arises. I thought about baking this tart for two full days, then finally made it over the weekend. The dough was super easy to roll out tasted delicious! I used Pretzel Crisps because I had them in my pantry and they are my absolute favorite pretzels. I used Ghirardelli milk chocolate to make the filling. Everything about this tart is simple to make, but I would definitely make it the day before you serve it because there is a four hour chilling time. The outcome is superb and seriously delicious., so if you love milk chocolate and pretzels, head over to the Food and Wine website for the recipe by clicking here.

This post may contain affiliate links. We are a participant in the Amazon Services LLC Associates Program, an affiliate advertising program designed to provide a means for us to earn fees by linking to Amazon.com and affiliated sites.