Decadent Nutella Cheesecake filling layered with rich brownies and whipped topping – simple and so delicious.
I made Nutella Trifles the week before I had Elle with every intention of posting them for Valentine's Day – clearly that didn't happen. In fact, not much is happening these days. I blame Elle. She's pretty much the most amazing baby ever, and I simply can't take my eyes off of her. I truly have no idea how I am going to go back to work in 4 weeks.
We've become really comfortable taking her on short excursions to places like the grocery store and Target. And our level of anxiety has definitely lessened on mini road trips to visit family. Since she loves the car so much, she's completely content being nestled into her car seat, staring out the windows and sunroof. This happens to be a bonus because I can do a little work on the road using my Lenovo Yoga 2 Pro and hotspot on my iPhone.
One of our first road trips was with a purpose. My mom volunteered to watch Elle for a few hours while Eric and I went out for a belated Valentine's Day dinner. We were a little apprehensive to leave her at first, but we warmed up to the idea pretty quickly. We ended up at Pier W in Lakewood, Ohio which was pretty amazing. If you're from Northeastern Ohio, or happen to visit the area, definitely check this place out and be sure to order the Braised Short Rib Pierogies. Seriously – they're incredible.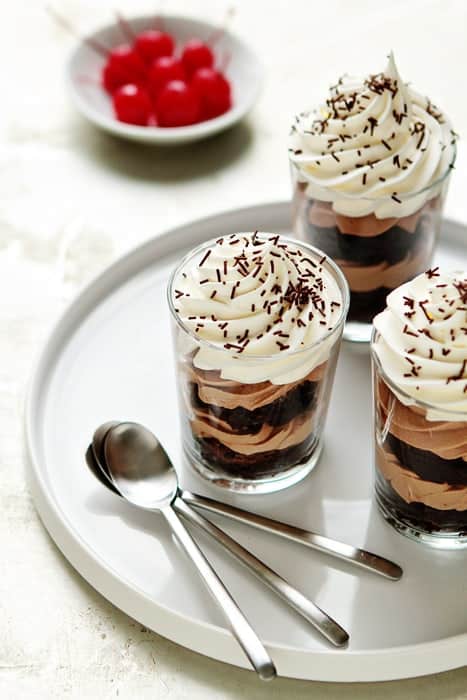 So anyway, back to the trifles. My eleventy-million-week pregnant self could not get enough of these babies. They're a playful spin on my No Bake Nutella Cheesecake recipe and they're perfect for your valentine. In fact, I think they're even more perfect now that it's not Valentine's day, because you'd be surprising your sweetheart with these decadent little nibbles just because.
If you or your honey love brownies, nutella, and creamy whipped topping…these are pretty much your most perfect trifle ever. They come together super easy, and they keep in the fridge for a few days. They might even get better after a solid day of chilling. Not that I could wait that long for my first bite. And I'm not expecting you to either – just make extra!
About that Lenovo Yoga Tablet:
I was sent the Lenovo Yoga Pro 2; however, I was not required to mention the product in a post – I honestly just really dig it for travel. It's A PC when you need it and a tablet when you want it – which makes it perfect for traveling. It's ultra light, weighing only 3.1 pounds, and has a battery life of 8+ hours.
Although I'm constantly turning around to check on Elle in the backseat, it's nice to be able to approve comments, respond to emails, and write posts while on the road. Plus, it's easy to prop up on a pillow do some one hand typing when Elle is asleep in my left arm. I haven't been asked to recommend it, but I am, because I think it's awesome!
Nutella Cheesecake Trifles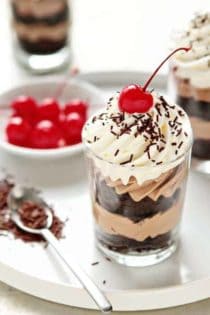 Ingredients:
9x9 pan of brownies, baked and cooled completely (use your favorite box mix for a short cut)
1 (8 ounce) package cream cheese, softened
2/3 cup Nutella
1 teaspoon pure vanilla extract
1 (8 ounce) tub frozen whipped topping, thawed
For the Garnish
whipped topping, optional
chocolate sprinkles, optional
maraschino cherries, optional
Directions:
1. Use a small glass or round biscuit cutter to cut the brownies into circular shapes. You will need 8-12 brownie cut outs depending on the size of your trifle dishes or glasses.
2. In a large bowl, with an electric mixer, beat the cream cheese and Nutella until smooth. Add vanilla and mix to combine. Using a rubber spatula, fold in the whipped topping until well blended and no streaks remain.
3. Place a brownie at the bottom of each of the trifle dishes or small glasses. Evenly pipe or spoon the filling onto the brownies and repeat layers until you reach the top of the dishes. Cover with plastic wrap and refrigerate for at least 2 hours before serving.
4. If desired, garnish with additional whipped topping, chocolate sprinkles, and maraschino cherries.
All images and text ©
Follow Jamie on Instagram. We love to see what you're baking from MBA! Be sure to tag @jamiemba and use the hashtag #mbarecipes!