For breakfast or dessert, Orange Chocolate Chunk Quick Bread is perfect slathered with butter and paired with a hot cup of coffee.
I'm all about citrus this month and I can not get enough of it. I find myself snacking on grapefruits, grabbing clementines every time I pass the fruit bowl and sneaking flavorful zest into everything I make. Salads, seafood and sweets are all perfect canvases to showcase the season's bounty of citrus. I guess there could be worse things to be focused on, so at least there's that. This week, I am all about the oranges. Oranges and chocolate, specifically. Orange and chocolate have been a favorite combination of mine for a while, specifically dark chocolate.
Is it just me, or is it delightful when you can pass sweet baked goods off as breakfast food? Scones, muffins, cinnamon rolls and quick bread – they all fall under the category of sweet baked good, but are all perfectly acceptable to eat in the morning. Oh, and I almost forgot about doughnuts! Doughnuts are the classic breakfast sweet treat, I can't believe that I almost forgot about them. I must be off my game.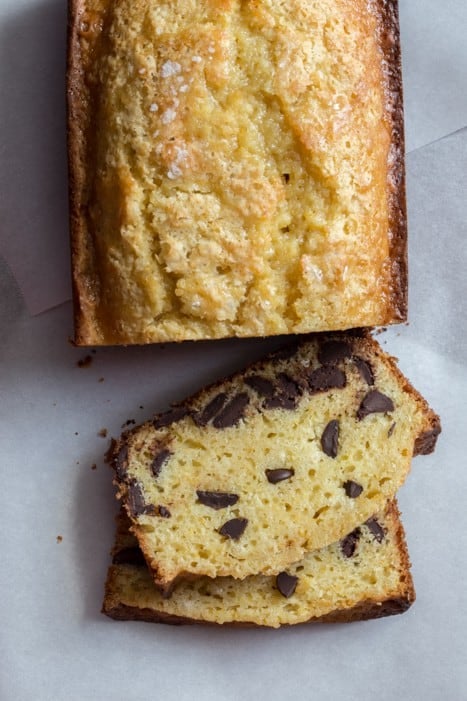 I'll tell you what's not off it's game, is this Orange Chocolate Chunk Quick Bread. Oh yes, this stuff is everything you'd want a quick bread to be. Simple to put together, you don't even need to dirty your mixer. Plus it's filled sweet and citrusy flavors that all reside in a sweet, moist and cake-like loaf. I even added a bit of ginger to the batter for an extra burst of flavor. The great thing about this recipe is that you could mix and match flavors to suit your taste. A combination of lemon and blueberry would be great or even lemon and raspberry.
A slice of this Orange Chocolate Chunk Quick Bread along with a cup of coffee is my idea of the perfect breakfast. Honestly, it's been my late night snack of choice, too.
If you are on a citrus kick like me, you'll love these Meyer Lemon Scones and Citrus Rosemary Vodka Spritzers.
Orange Chocolate Chunk Quick Bread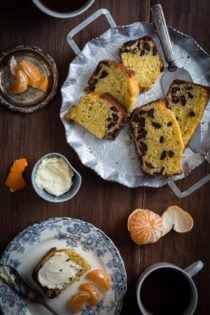 Ingredients:
1 1/2 cups all-purpose flour + 2 tablespoons
1 teaspoon baking powder
1 teaspoon ground ginger
1 cup granulated sugar
2 large eggs, lightly beaten
1/4 cup vegetable oil
1 1/2 teaspoon pure vanilla extract
1 cup milk
zest of 1 orange
3/4 cup dark chocolate chunks
Directions:
1. Preheat oven to 350 degrees F. Spray a glass loaf pan with non stick spray and set aside.
2. In a large large bowl, whisk together 1 1/2 cups all-purpose flour, baking powder and ground ginger. In a second bowl, whisk together sugar, eggs, oil, vanilla, milk and orange zest. Pour wet mixture into the dry and stir until combined. Toss dark chocolate chunks with remaining 2 tablespoons of flour then gently fold them into batter.
3. Pour batter into loaf pan and bake for 55-65 minutes, or until toothpick inserted into the center comes out clean.
4. Allow bread to cool completely before removing from the pan. Slice and serve!
All images and text ©
Follow Jamie on Instagram. We love to see what you're baking from MBA! Be sure to tag @jamiemba and use the hashtag #mbarecipes!