Oreo cookies combine with Peppermint Mocha Kahlua and peppermint bark to create festive and delicious Oreo Cookie Balls.
If you follow MBA on Facebook, you know that I'm pretty much obsessed with all things chocolate-peppermint right now. From Dark Chocolate Candy Brownies and Crème de Menthe Stuffed Chocolate Cookies to Peppermint Kahlua Truffles – this girl has chocolate-peppermint issues.
Our candy dish is brimming with Hershey's Candy Cane Kisses (yes, I totally bought that ginormous bag) and Ghiradelli Peppermint Bark Squares.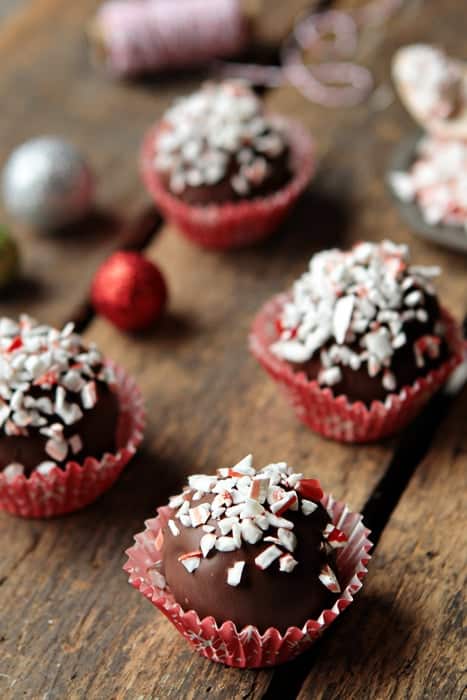 I could definitely take the easy way out and blame being pregnant or Eric, but I'm completely cool with being a peppermint candy hoarder. And truth be told, Eric's not all that into the chocolate-peppermint combo – which means more for me (insert greedy laugh here)!
When the lovely folks at Oreo asked me to create a festive Oreo Cookie Ball recipe for the holidays, I knew exactly what to make. Obviously, I've been hoarding more than my share of peppermint-chocolate things, so I decided it was time to make something for everyone else to enjoy. Peppermint Kahlua Oreo Cookie Balls full of boozy goodness (which also ensures I wouldn't be tempted to eat my weight in them).
They're incredibly simple and full of peppermint flavor which makes them the perfect addition to any holiday party or cookie tray. I'm thinking Santa might totally dig these as well! Or your Secret Santa. Pretty much anyone that needs chocolate, peppermint, and a little boozy goodness in their holiday.
Peppermint Oreo Cookie Balls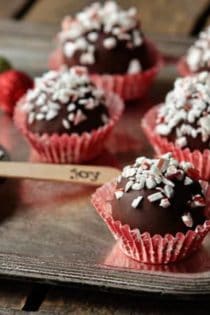 Ingredients:
36 Oreo Cookies, finely crushed
1 package (8 ounce) brick cream cheese, softened
2 tablespoons Peppermint Mocha Kahlua, optional
1/2 cup finely chopped peppermint bark (I used Ghiradelli Peppermint Bark Squares)
16 ounces semi-sweet baking chocolate, melted
crushed candy canes for topping, optional
Directions:
1. In the bowl of a food processor, pulse the Oreo cookies until finely crushed. Add in cream cheese and Peppermint Mocha Kahlua and pulse until combined.
2. Remove Oreo mixture to a medium bowl. Mix in finely chopped peppermint bark until evenly distributed.
3. Shape into 48 (1-inch) balls. Freeze balls for 10 minutes. Dip balls in melted chocolate; place in single layer in shallow waxed paper-lined pan. If desired, sprinkle with crushed candy. Refrigerate for 1 hour or until firm.
Notes:
- Peppermint Oreo Balls are just as amazing without the Kahlua, so if you don't have any on hand, or you're not fond of alcohol, simply omit it.
Peppermint Oreo Balls adapted from Oreo
All images and text ©
Follow Jamie on Instagram. We love to see what you're baking from MBA! Be sure to tag @jamiemba and use the hashtag #mbarecipes!
Disclosure: My Baking Addiction has teamed up with Oreo to develop an Oreo Cookie Ball recipe for a sponsored post. All opinions are my own. The links above are provided for your reference and several are from My Baking Addiction's Amazon affiliate account. If items are purchased via these Amazon links, My Baking Addiction will receive a small commission.