Peanut Butter Brownie Parfaits combine my new two favorite things – Peanut Butter Cup Brownies and Peanut Butter "Mousse" – into one amazing Valentine's treat, covered in chocolate ganache to make things crazy good. Make these mini desserts for the ones you love!
This may be it, you guys. The last out-of-the-park, over-the-top recipe I have in me until after we're moved in and settled in the new place. I'm not saying that it is, just that it might be.
The good news is that Peanut Butter Brownie Parfaits are pretty much a peanut butter and chocolate lover's dream, and the best idea you've ever had when it comes to surprising your sweetheart this Valentine's day.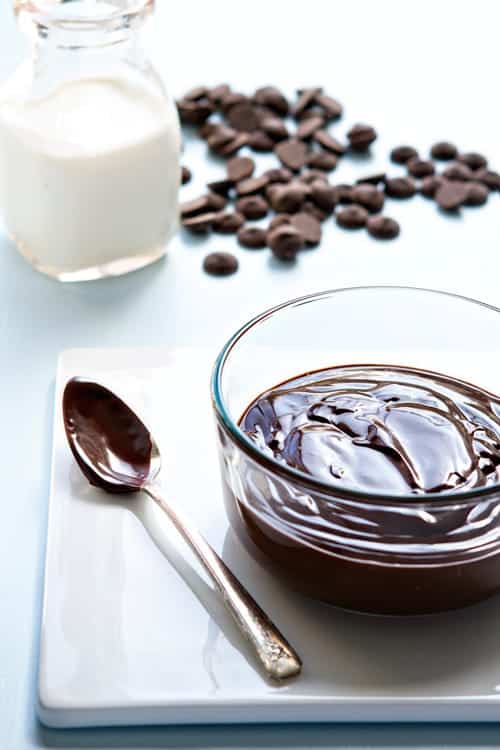 I started with Peanut Butter Cup Brownies, made extra fudgy with indulgent dark chocolate melted into the batter. I mean, I can't really go wrong there, can I?
Once those brownies are baked up and cooled, cut them into circular shapes and layer in your parfaits.
Then, you'll whip up a light and fluffy peanut butter "mousse", which I'll admit is fantastic on its own. However, I'm using it here simply as a vehicle for more chocolate; chocolate ganache you'll drizzle onto each layer of your parfaits. Chocolate two ways, folks. That's what we're doing. And it's going to be amazing.
February, and Valentine's Day, are the best time of year to experiment with every kind of chocolate the world can throw at you. From ganache to chopped chunks of 60% dark, cocoa powder both sweetened and unsweetened, this is the time to figure out your favorite combination and share it with your sweetheart.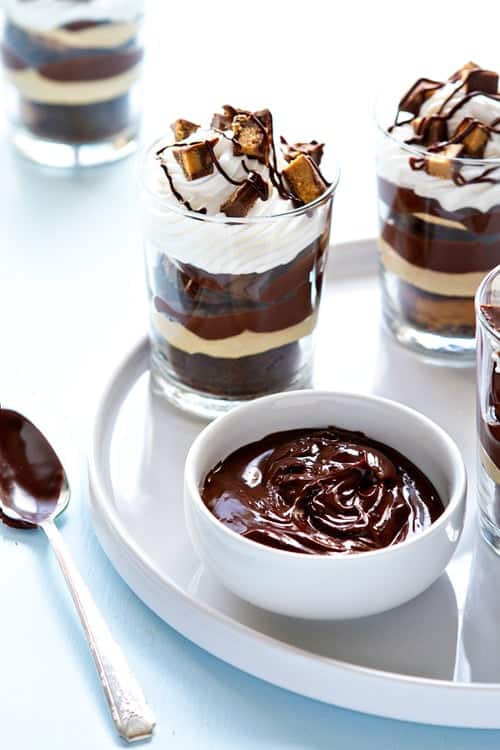 I wandered the length of Whole Foods Market for a good long while, picking up my favorite peanut butter, and a bunch of different kinds of dark and milk chocolate – and let's face it, avoiding the boxes and packing at my house. But finally, I couldn't avoid the check out lane anymore.
Eric and I decided we're going to spend at least 20 minutes with our feet up on a packed box, enjoying a Peanut Butter Brownie Parfait each. That's as indulgent as it gets around here right now, but that's okay – next year, Valentine's Day will be celebrated in our own house, with the whole nine yards. And maybe even these parfaits again – because they're just that good!
What's your favorite chocolate combination? I'd love for you to share with me on Facebook and Twitter – make sure to use the hashtag #2Ways2Percent so I can find it!
For more info & terms, and to enroll in this offer, click here.
Disclosure: I was selected by American Express to contribute to the Blue Cash Card #2Ways2Percent campaign. As such I was paid for my services, but all opinions in general and about American Express are my own.