Pecan Pie Vodka is sweet, nutty, and everything you'd want a drink like this to be. It's the perfect addition to any of your favorite vodka cocktails.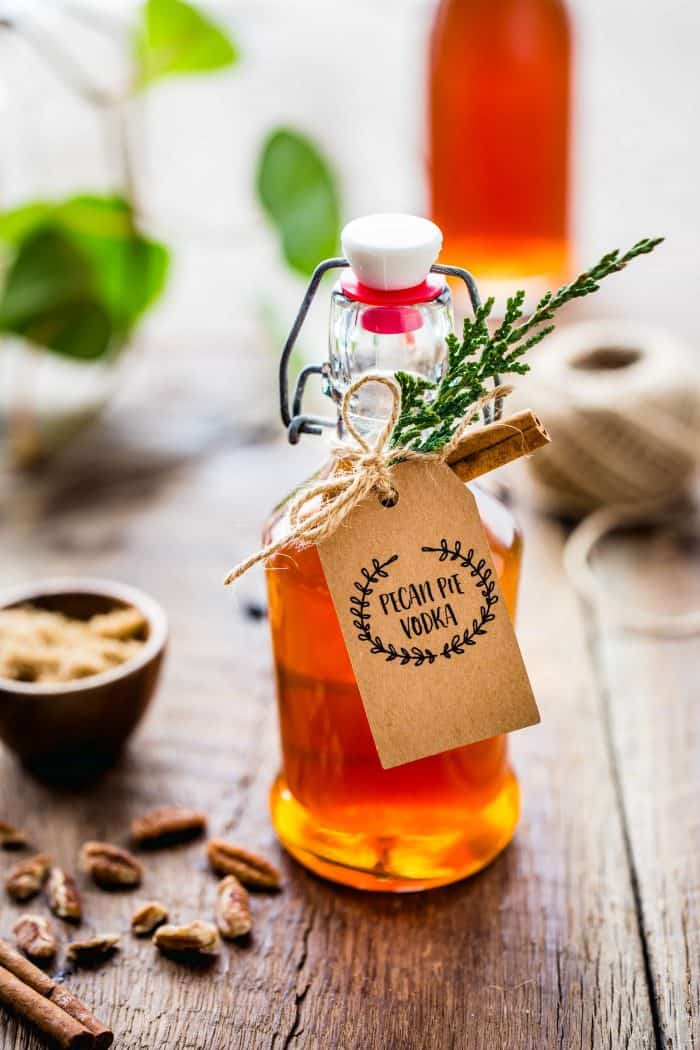 We're gearing up for some pretty epic holiday celebrations around here. As I've mentioned before, I'm sort of a control freak when it comes to the holidays.
We host, and I'm in charge of execution of pretty much every aspect, because, well, because I have control issues. But we all seem to have a good time, so I think it's okay.
Dear Family: Tell me when it's not okay! (Or maybe let me live in blissful ignorance.)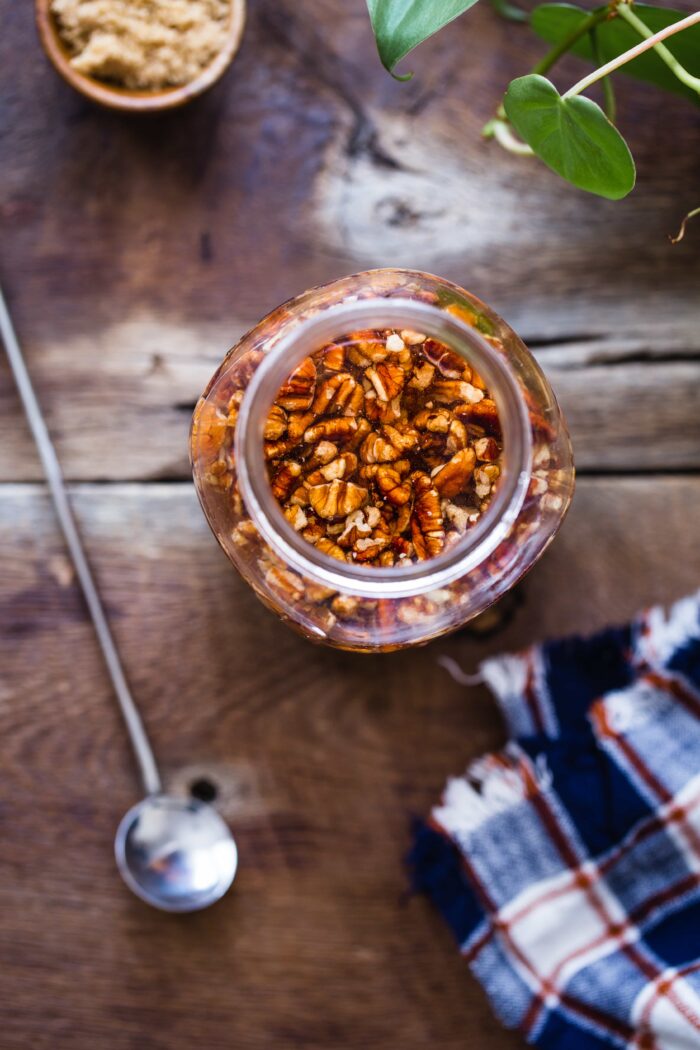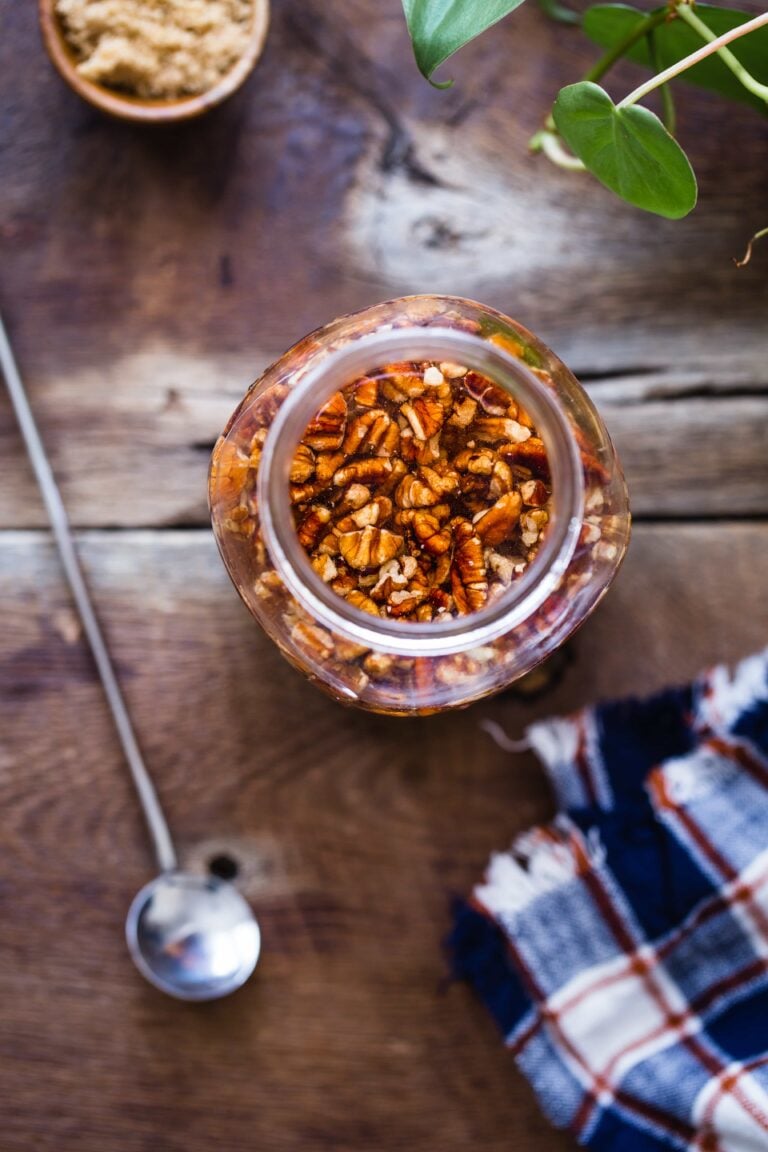 One thing you can count on me for is a festive cocktail. And that's where this Pecan Pie Vodka comes in.
I love planning for a cocktail I know the whole crew will love, but that is also special and unique. And of course, it's got to match the season we're in.
What can I say. That's just who I am.
You guys. It is so dang delicious.
Nutty, and sweet, and everything you love about pecan pie. Without the stickyness. Which is kind of important in a cocktail.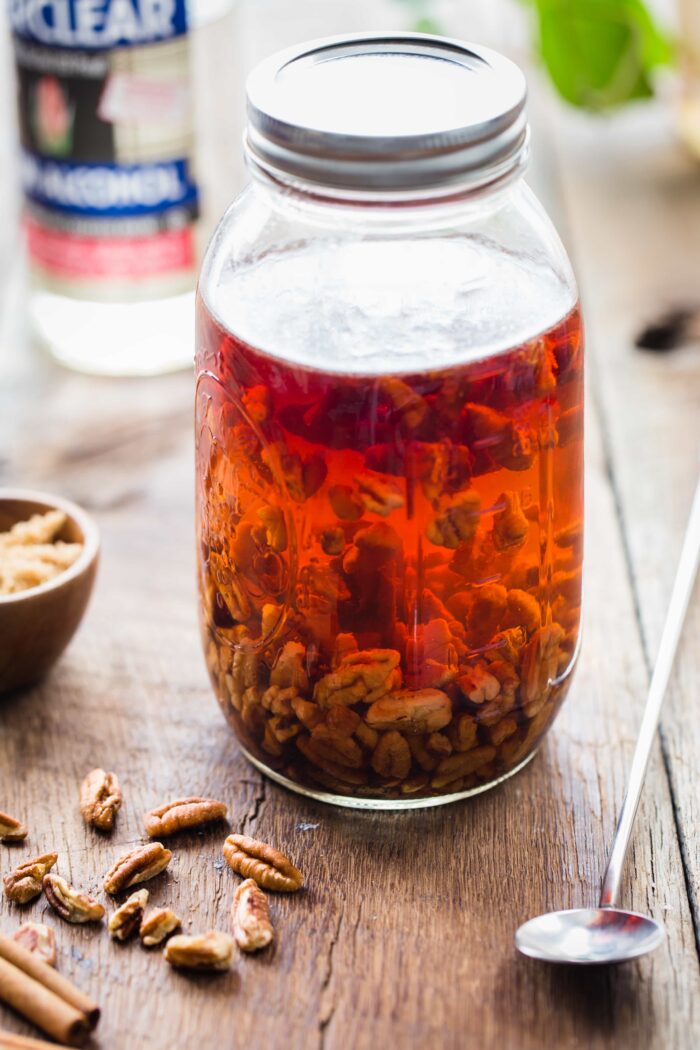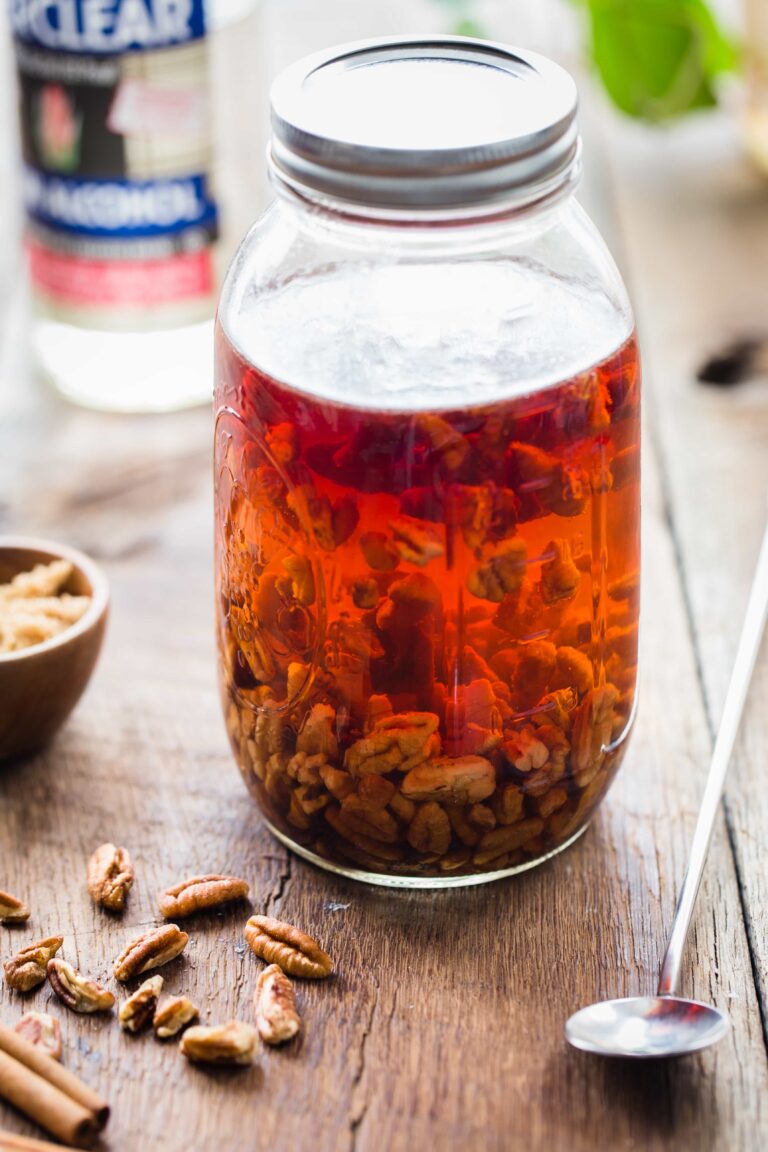 You can use it to make an epic version of a White Russian. Or add it to your post-dinner coffee. The possibilities are endless.
I use Everclear® to make this infusion, because it provides a completely neutral profile. It'll take on any of the flavors you want to infuse it with. I even used it to make Mulling Spiced Vodka a few months ago.
You've got to start with toasted (or roasted) pecans, because doing that will bring out their flavors in the final product.
This is kind of a rule for life. If you're baking or cooking with nuts, always make sure to toast them first.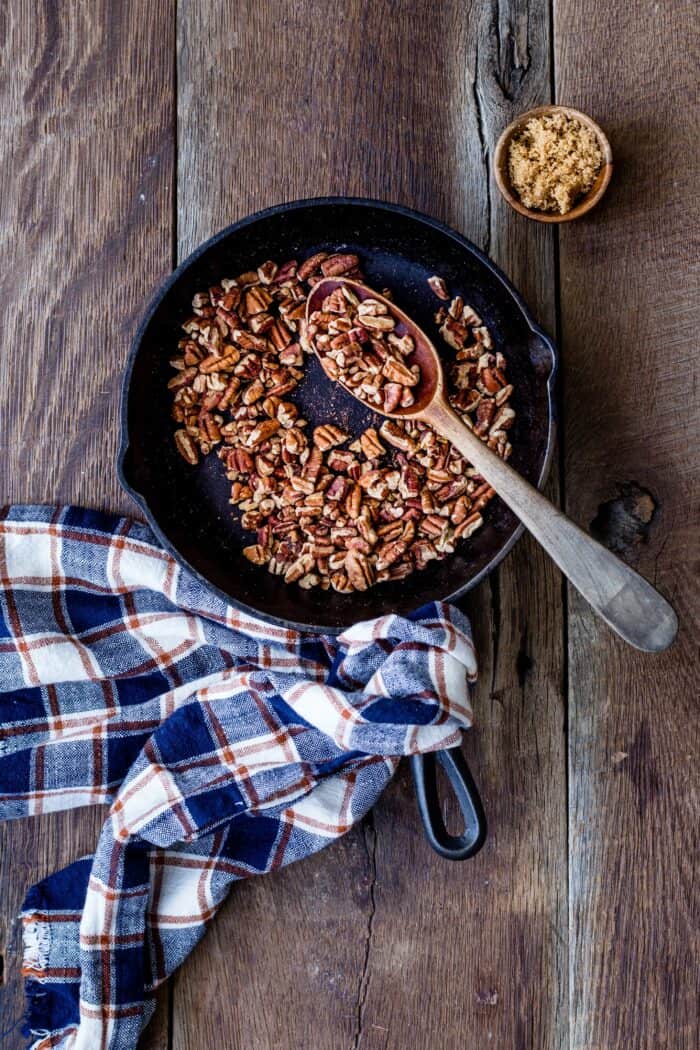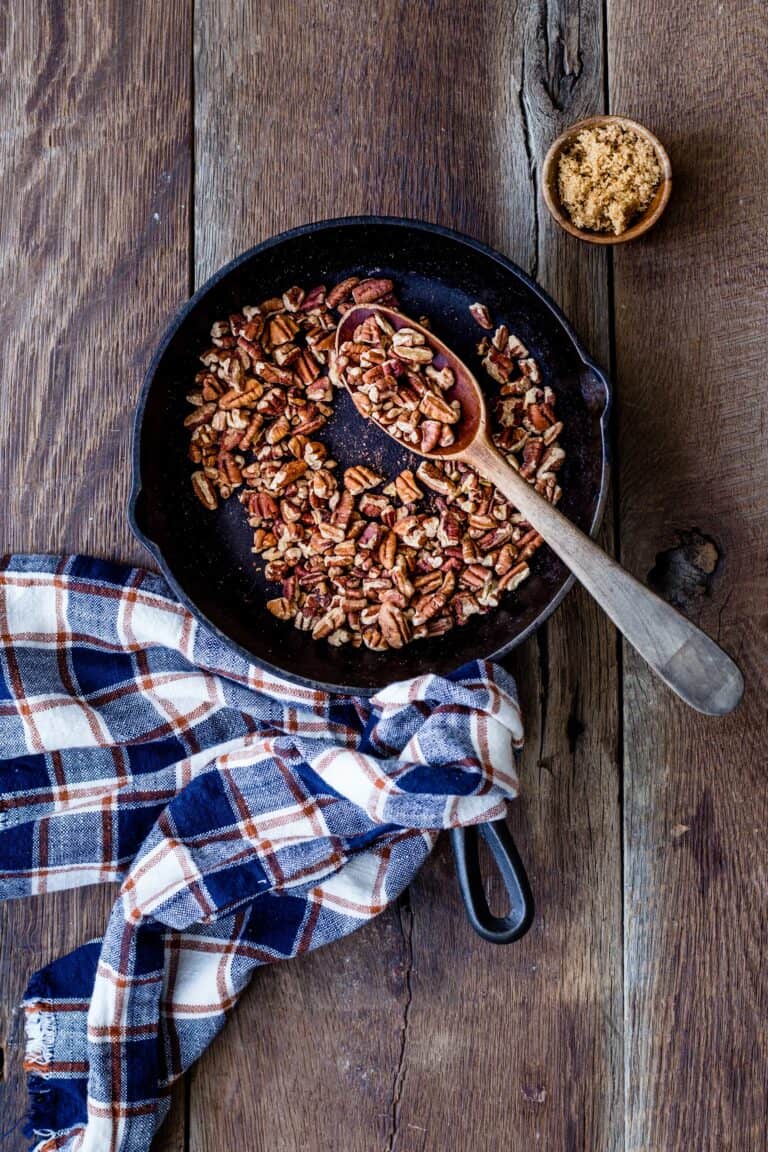 Once the pecans are perfectly roasted (watch them closely – they go from toasted to burnt in a flash!) and fragrant, you'll put them in a large mason jar with a large cinnamon stick and Everclear. Leave it to infuse for a full 24 hours.
After 24 hours, strain the vodka with a cheesecloth, or a fine mesh strainer. Then you're going to mix simple syrup into the infusion, and you're done!
I used brown sugar simple syrup for this Pecan Pie Vodka, which provides a more complex, sweeter flavor than regular granulated sugar would.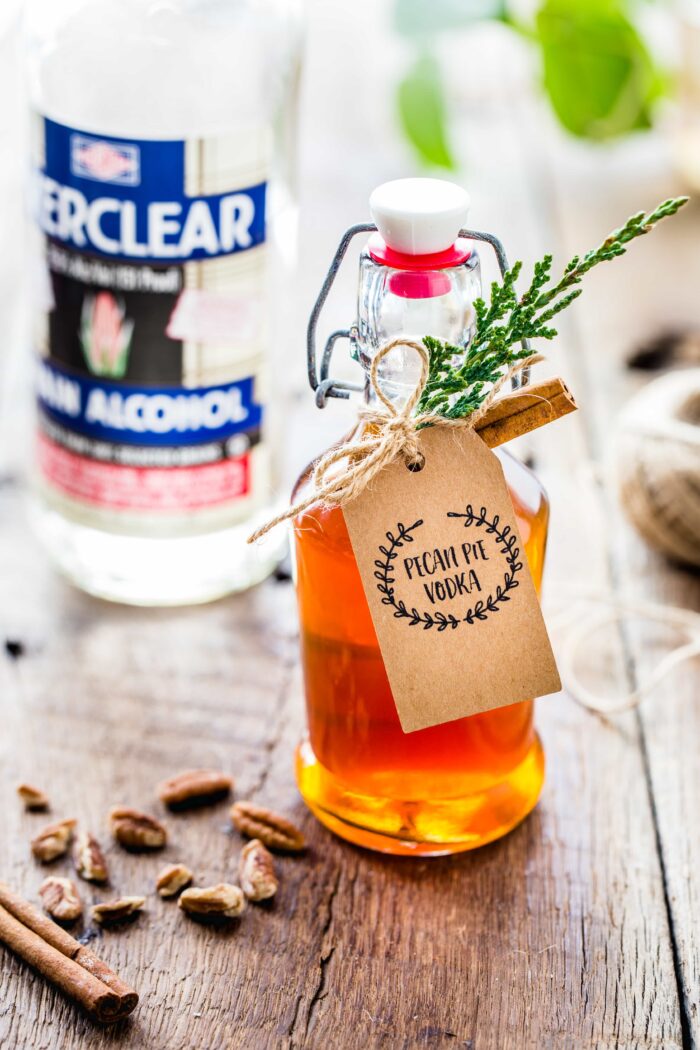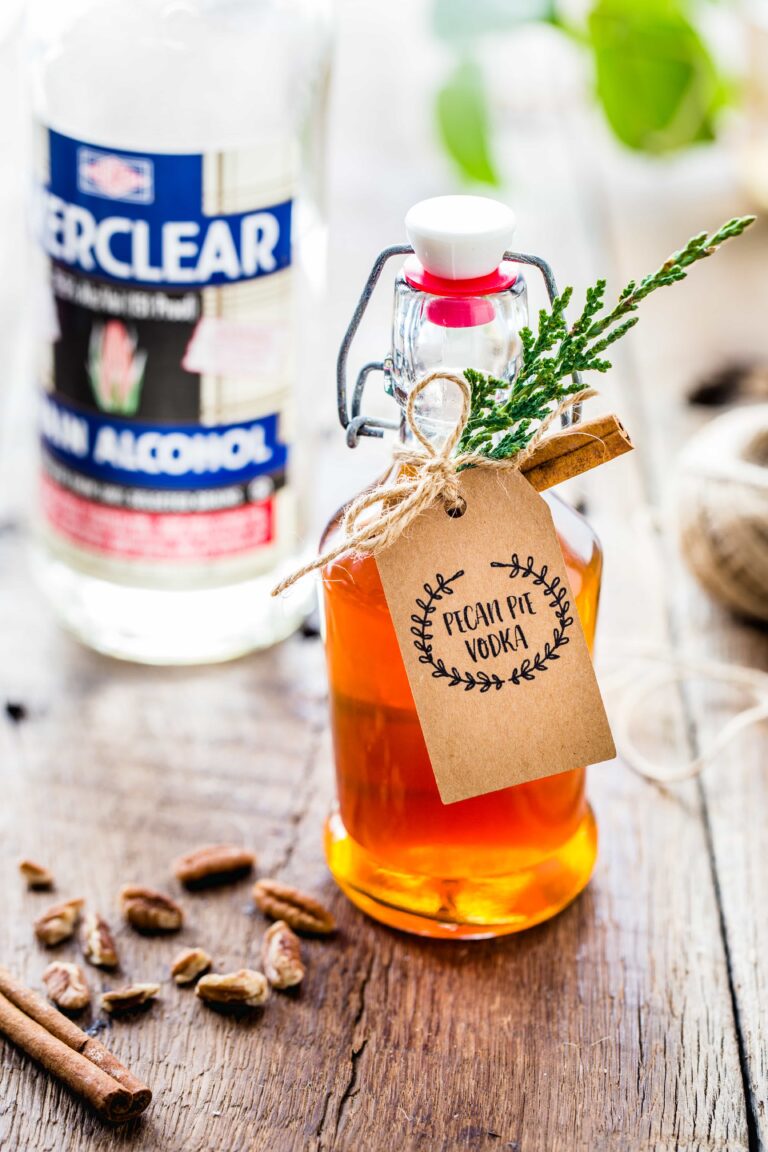 Put it all in a capped bottle. Add a festive tag, and it makes a fantastic gift for your favorite vodka drinkers.
When my guests arrive this Thanksgiving, I'll be serving up Pecan Pie White Russians and topping off after dinner coffees with a splash of Pecan Pie Vodka. I know it'll be a hit at my party, and yours too.
You can infuse Everclear® with any kind of spice and flavor. I'd love to see what you do with it. What flavors are you inspired to make?