This will be one short blog post because I am short on time. Allow me to explain. I may be the biggest procrastinator any of you will ever meet or know via the online world. I find that I work best under pressure and function at a high level when the clock is past midnight.
Ya see, I am finishing my comp exam for my Masters in special education and folks, it has come down to wire. I am talking around thirty five hours and counting! If I told you how long I have had to do this project and when I actually started it, you would probably gasp and think much less of me, so I will be refraining from publishing that information.
I have barricaded myself in my bedroom with nothing more than a computer, printer, Polar Pop and a sack full of sour gummy worms. I am exhausted and have not left the house in days, although I have showered, and I think my neighbors may be concerned of my whereabouts.
Now that you have a little bit of background into my procrastinating personality, I shall cease my incessant rambling and move along to Dorie's Perfect Party Cake.
Bottom line is this, MAKE THIS CAKE!
I love this cake. It is my favorite cake, I have made this cake more times than I can count. The texture is perfect, the crumb is perfect, the flavor is perfect… well, at least in my opinion.
If you do not own Dorie's book, Baking: From My Home to Yours, buy it for this recipe! Or, you head over to Carol's blog, mix, mix… stir, stir for the recipe.
Have a beautiful day and thanks for stopping by! I should be back to the blogging world by 4:00 PM on Wednesday! I guess this really was not short after all…procrastination at it's best! :)
Oh, one more thing! If you haven't entered my giveaway, make sure you do so. Ya may just end up with the cheery cupcakes liners pictured in these photos – hint hint!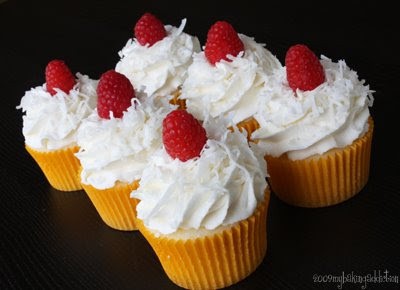 Notes: I did not use Dorie's buttercream recipe, instead I chose to use buttercream dream, found on my Mocha Cupcakes recipe.