Jamie asked me to guest post a while back, and then slipped casually into conversation, "Oh, by the way, I'm thinking of doing a Rolo week, so can you include those in your post?". Hah. Hahahaha. I just had to laugh, because Jamie didn't know that we have Rolos in our house *all* the time. They're my husband's favorite chocolate candy. This would hardly be a hardship.
Developing a recipe around Rolos proved to be the best hobby I could ever take up as far as my husband was concerned. I knew I wanted to make some sort of bar cookie, because normal cookies are never going to top Jamie's Rolo Stuffed Chocolate Chip Cookies (which happen to be his favorite cookies ever – are you seeing a theme?).

I recently returned from a few days of taking classes at King Arthur Flour's Baking Education Center, and came back with their King Arthur Flour Baker's Companion Cookbook. If you love baking, I highly recommend this book. It's full of tips and tricks every baker should know, such as the proper way to measure flour, and which flour is best for certain types of baked goods, as well as tons of yummy recipes.
In the cookie section of this book is a recipe called "Dream Bars". Full of brown sugar, coconut, and the nuts of your choice, they certainly sounded like a dream to me! Add some Rolos, and I think we've got a party, people.
My first attempt at the Dream Bars were good – very rich, chocolately, and dense. I liked them, but for you guys, I imagined a different sort of dream, one that started with a base of shortbread. It turned out to be the right choice.
The near-savory flavor of shortbread matches perfectly with the Rolo-Dream topping. Think shortbread meets German Chocolate Cake. It's pretty spectacular.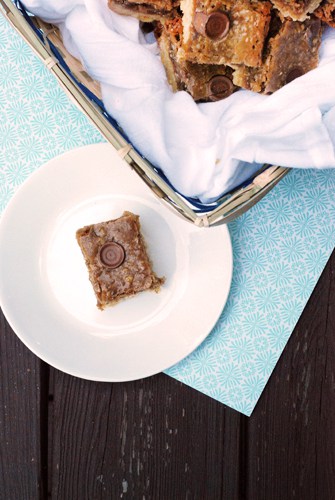 German Chocolate Cake is a favorite where I come from in South Texas, and I really enjoyed them with chopped pecans. You can use any nut you want to, or no nuts at all. Sunflower seeds would add a great crunch, and so would crisp rice cereal.
Make sure to make these at least a day in advance, because they get better when they have a chance to sit.
Thanks, Jamie, for letting me guest post today. I hope y'all enjoy the Rolo Dream Bars, and stop on by my blog, Bluebonnets & Brownies, when you get a chance.
Rolo Dream Bars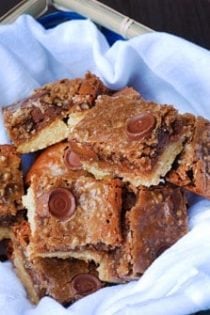 Ingredients:
For the Shortbread Base
1 cup butter (2 sticks), room temperature
1 teaspoon salt
3/4 cup sugar
2 cups unbleached all-purpose flour (I used King Arthur)
For the Dream Bar Topping
2 cups dark brown sugar
1 tablespoon unbleached all-purpose flour (I used King Arthur)
1/4 teaspoon baking powder
2 large eggs, well-beaten
1 cup shredded sweetened coconut, toasted (toasting is optional)
1 cup diced nuts: walnuts, pecans, hazelnuts, sunflower seeds or crisp rice cereal
26 Rolos, frozen and unwrapped
Directions:
Start by freezing a bag of Rolos for 2-24 hours
For the Shortbread Base
Preheat oven to 300F.
Cream together the butter, sugar, and salt with a mixer on medium speed. Add flour and mix again until fully combined. Dough may be crumbly. This is okay.
Spray a 9" x 13" casserole dish with baking or cooking spray. Press dough into the dish, creating an evenly distributed crust.
Bake for 30 minutes, until cookie begins to look lightly brown around the edges. Remove from the oven and allow to cool for at least an hour.
When cookie is cool to the touch, prepare the topping.
For the Dream Bar Topping
Preheat oven to 325F.
In a large mixing bowl, combine brown sugar, flour and baking powder. Mix until evenly combined with a mixer on medium speed.
In a separate bowl, crack and then whisk eggs until yolks are broken and fully mixed into the whites. Add to brown sugar mixture and mix on medium speed again.
Add coconut and nuts, mixing until fully incorporated. Set aside.
Place 12-14 Rolos directly on top of Shorbread base in casserole dish. Spoon brown sugar-coconut mixture on top of shortbread/rolos, covering base completely.
Press the remaining Rolos into the topping. (By doing this separately, you'll get some Rolos that melt inside the topping, and others that stay intact, which adds great texture.)
Bake for 30-35 minutes until topping is golden brown. Remove from oven and allow to cool overnight. When you first remove from the oven, the topping will be unset. It will set completely as it cools, and create an almost "brownie" like crust. Cut into bars once completely cooled.
These bars are incredibly rich, so small bars (2" x 2") are appropriate.
All images and text ©
Follow Jamie on Instagram. We love to see what you're baking from MBA! Be sure to tag @jamiemba and use the hashtag #mbarecipes!