If you follow My Baking Addiction on a regular basis, you may remember that Brian and I traveled to St. Lucia back in April. Immediately following a couple of Facebook posts and Instagram photos, my inbox was filled with questions from readers about Sandals La Toc and St. Lucia in general. Vacations are expensive, and it can be hard to know if you'll get your money's worth, so I thought I'd do a couple of posts to tell you about our personal experience on the island.
About a month ago, I sat down to retrieve all of the images from our island vacation when disaster struck – I dropped the external hard drive they were on, and when I went to plug it back in, it would only blink sadly at me, and the computer didn't see it. I cried – seriously – I did.
About a week ago, I thought I'd try again, thinking maybe it miraculously healed itself from the fatal fall. While crawling around under my desk I realized after the hard drive tumbled to the floor, I plugged it into the Neat Desk instead of the computer. I swapped the cords and I was back in business, minus one folder of pics that disappeared. This is why some of the photos in this post are not my own.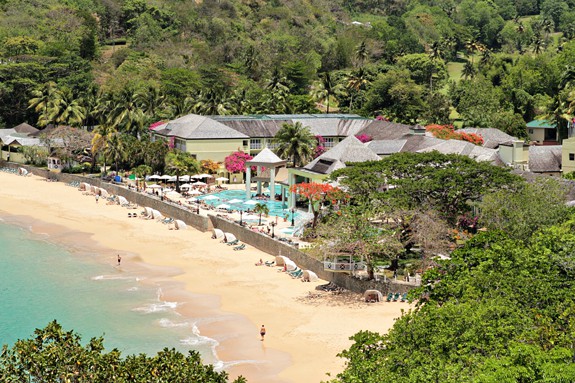 Since neither of us had been on a proper vacation in years, we decided to enlist assistance from a highly recommended travel agency in our area. We didn't really have a game plan, and our list of demands was quite simple: sun, sand, gorgeous water and of course – great food. When we mentioned St. Lucia as a destination interest, our travel agent, Kathy, knew just the place. The all-inclusive Sandals La Toc Resort in Castries, St. Lucia.
Her description of breathtaking scenery, gorgeous beaches, delectable food and amazing hospitality sounded like exactly what we were looking for and after looking at a couple of brochures, we were sold.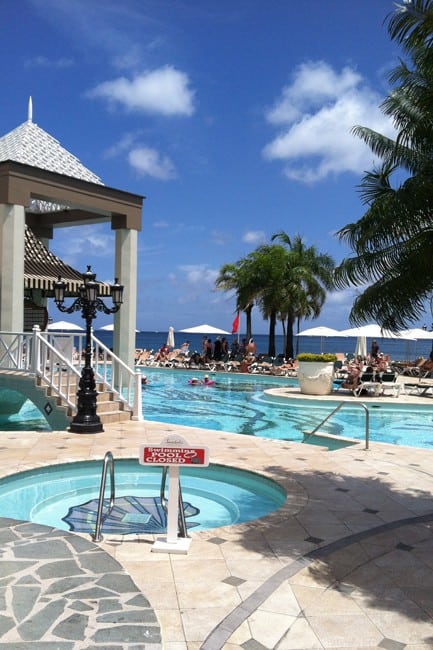 Sandals La Toc is located within a true rainforest on the beautiful island of St. Lucia. The vast 210 acre estate boasts a stunning, half-mile, crescent shaped beach, the island's largest pool, a 9-hole resort style golf course, 8 restaurants and so much more. Yes, ladies, there's also a spa. Although I can't attest to the services at Red Lane Spa, I can say their in room shampoo and conditioner was magical.
I'm pretty certain the people of St. Lucia are amongst some of the kindest, warm, and friendliest people that we've ever encountered. The staff at La Toc are there to make your stay as incredible as possible. This is something we experienced at every turn. Wherever you go, you're greeted with the island's motto of No pressure. No worries. Quite refreshing, especially when crazy schedules pretty much rule my life back in Ohio. By the end of the vacation, Brian actually acquired a bit of a St. Lucian accent and No pressure. No worries. became his new mantra.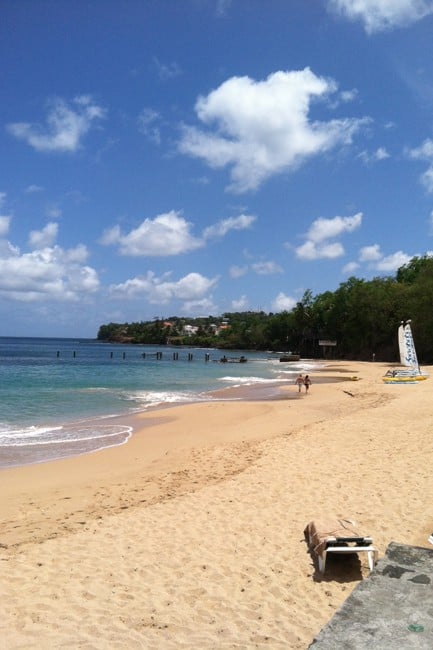 The employees were not only accommodating, many were quite entertaining – we constantly found ourselves wanting to tip them for their amazing hospitality, but tipping is a big no-no at the resort. Which actually made us adore the employees all the more because we knew they weren't in it for a tip. They truly love the island and their jobs and that fact shines throughout all three Sandals resorts. Sandals has 3 resorts on the island of St. Lucia. Sandals La Toc, Sandals Grande St. Lucian and Sandals Halcyon Beach. Each resort had it's own vibe, but we immediately fell in love with breathtaking view of the Caribbean from the Grande. It's definitely on our must stay list. And it is home to Gordon's restaurant which definitely ranked in the top 3 meals of my life, but I'll touch more on that in another post.
Another amazing aspect of Sandals La Toc is that they have butler services. Now I know that may seem a bit extravagant; however, I can attest to the fact that it's well worth it. We had Garvey as our butler. He pretty much epitomized the laid back nature of the island, but we really could not have asked for better service. The great thing about having a butler is that they arrange many aspects of your stay for you such as restaurant reservations, tours, and even room service. Heck, they'll even unpack your luggage and deliver your favorite cocktail to the beach if you're in to that sort of thing. We just really appreciated the fact that we could truly relax and knew that Garvey was just a phone call away if we needed anything. Brian and I agree that Garvey is pretty much one of the coolest guys on the planet.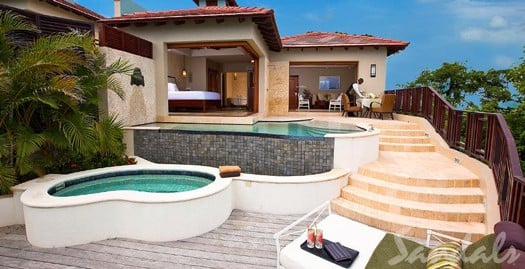 If you're really looking to splurge, La Toc has what they refer to as the Millionaire Suites, which are settled on the resort's highest point and truly epitomize luxury. Along with the villa comes a plunge pool, waterfall, whirlpool, and of course – a butler.
The laid back atmosphere and stunning scenery alleviated my stressy pants, tightly-wound self in about 5 minutes. I honestly don't think it's possible to have a bad day while on vacation at La Toc. Honestly. One day a huge storm rolled in and saturated the resort for about 20 minutes and instead of running for cover, we sat on the patio in the downpour just because the sky was so beautiful as the clouds pushed through.
I'm telling you, there's just something about the island and the resort that transforms you while you're there – it's pretty amazing.
Although it's only been a short few months since our stay at Sandals La Toc, we're already planning our next visit for this coming Spring and are already starting to count down the days. Stay tuned for the next post where I'll be talking deep sea fishing and Brian will fill you in on his volcanic mineral mud bath.