Do you ever crave a mid-week dessert, but really don't have the time to channel Martha Stewart? If you happened to whip together the Microwave Lemon Curd Recipe I posted earlier in the week (and if you haven't – what are you waiting for?), I have the perfect use for it. That is assuming, of course, you haven't already slurped all of it up with a spoon!
For this recipe, I am combining leftover cream cheese pound cake with lemon curd, whipped cream and fresh strawberries to create a simple yet visually stunning lemon curd parfait.
I was down to my last pack of Gushers, and those are pretty much a requirement to get through my work day. So into my purse they went, and instead, I took to the kitchen to solve my sweet cravings.
I know you're just as busy as I am, but we all deserve treats as easy as this to help get us through the week. You can make this dessert even easier by using store bought pound cake and whipped cream. In less time than it takes you to get through the self check-out (okay, almost!), you'll have an absolutely decadent dessert worthy of a dinner party, let alone Tuesday night.

Lemon-Strawberry Parfaits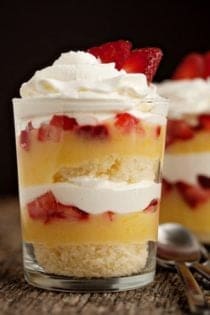 Ingredients:
sliced pound cake (store bought or homemade)
1 batch of microwave lemon curd
1 cup diced fresh strawberries
1 cup heavy cream plus 2 tablespoons sugar; whipped (or use store bought)
Directions:
1. Using a small circular biscuit or cookie cutter, cut 8 circles from the sliced pound cake. You want the pound cake cut outs to fit snuggly inside your mini parfait glass. Alternately you can cube the pound cake.
2. Place one piece of pound cake into the bottom of each mini parfait glass. Pipe or spoon a layer of lemon curd directly onto the pound cake. Add a layer of fresh strawberries and then a layer of whipped cream . Repeat layers. If desired, finish with strawberries.
Notes:
- These Lemon Curd Parfaits can be made up to 24 hours in advance. Simply cover each parfait with plastic wrap and store in the refrigerator until ready to serve.
All images and text ©
Follow Jamie on Instagram. We love to see what you're baking from MBA! Be sure to tag @jamiemba and use the hashtag #mbarecipes!