If you follow me on Facebook or Instagram, you might already know that Brian and I recently traveled to St. Lucia for an amazing week of Caribbean bliss. Being a teacher, I'm lucky enough to get about 10 days off every year for Spring break. And this year, we decided to escape the damp, chilly Ohio weather and travel to the beautiful Caribbean island of St. Lucia.
After I posted a few photos on Instagram and Facebook, I received emails from some of my lovely MBA readers asking for more details of our vacation. I decided as the emails flooded in that you should all know the beauty that is St. Lucia so you can consider it in your own vacation plans.
Since neither of us had been on a proper vacation in years, we decided to enlist assistance from a highly recommended travel agency in our area. We didn't really have a game plan, and our list of demands was quite simple: sun, sand, gorgeous water and of course – great food. When we mentioned St. Lucia as a destination interest, our travel agent, Kathy, knew just the place. The all-inclusive Sandals La Toc Resort in Castries, St. Lucia.
Her description of breathtaking scenery, gorgeous beaches, delectable food and amazing hospitality sounded like exactly what we were looking for.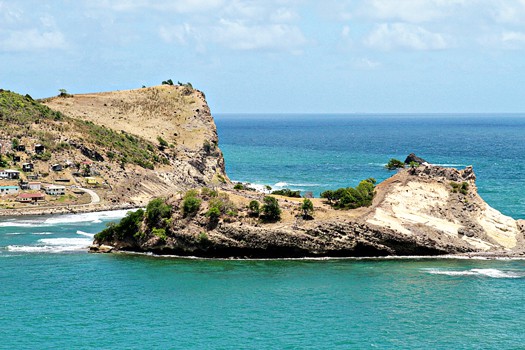 Since Brian and I aren't really into the whole credit card thing, we were delighted to know that Delta Vacations offered several payment options for our specific destination. This allowed us to make 3 payments over the course of 5 months – we were sold – our trip was booked and we were counting down the days.
Brian became a little obsessed and changed all the screen savers in the house to picturesque views of St. Lucia, which turned out to be quite torturous considering it was November. When March arrived, we were in full-on vacation anticipation mode – for a minute, I even thought about making a paper chain to count down the days, but I couldn't find a glue stick!
We had a final meeting with Kathy in late March to discuss our itinerary and pick up our travel documents – we were ready to go!
From the moment we stepped off the plane and into the tiny airport, we fell head over heels in love with St. Lucia. Greeted by a rush of warm air, lush green vegetation and incredibly friendly staff – we instantly knew we were in for one of the best weeks of our lives.
If I've piqued your interest about St. Lucia, stay tuned next week. I'll be telling you all about the amazing all-inclusive Sandals La Toc, what I'd consider to be one of the most beautiful hotels on Earth.