I find the berries from local farms to so much more juicy, fragrant and sweet compared to the shipped in variety.
Due to this strawberry buying obsession, I am constantly testing out recipes that will utilize my ample supply of berries. This recipe is not only a perfect way to make the most of seasonal berries, but it also a great way to beat the summer heat.
If you have never heard of granita before, it is a semi frozen dessert that originated in Sicily. It's a simple combination of water, sugar and various flavorings and is somewhat similar to Italian Ice. The beauty of making granita is that you do not need an ice cream maker to enjoy this frozen treat. Essentially you make the base and toss it into the freezer, pulling it out to agitate every once in a while. Once it's pretty frozen, scrape it with a fork to separate the ice crystals and as easy as that, you have yourself an amazing summer dessert.
The lemon juice in this granita recipe adds just a little punch of brightness and acidity while still maintaining the sweet essence of the fresh strawberries. In my opinion, this strawberry and lemon combination is a match made in granita heaven! Have you ever made granita before? If so, leave a comment letting me know your favorite flavors, I can't wait to make more of this icy dessert in the coming summer months. Have a great day and thanks so much for stopping by MBA.
Looking for more strawberry recipes?
Fresh Strawberry Bread from My Baking Addiction
Strawberry Cream Cake from My Baking Addicion
Creme Filled Strawberries from Bakers Royale
Strawberry Crumble Bars from Technicolor Kitchen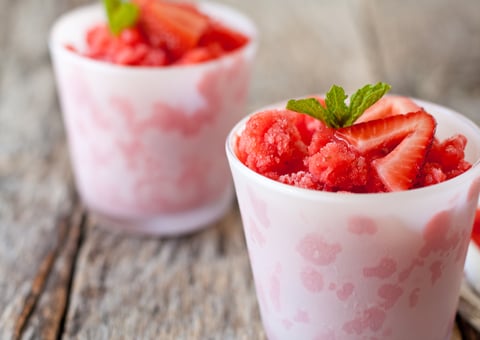 Strawberry Lemon Granita
Ingredients
1 cup water
3/4 cup sugar
2 lemons; juiced (about 4 tablespoons) *see not below
3 cups sliced hulled strawberries (about 1 pound whole berries)

Directions
1. Make a simple syrup by combining the sugar with 1 cup of water in a saucepan. Place over medium heat and heat until the sugar in completely dissolved; swirl the pan occasionally. Let cool.
2. Place strawberries and lemon juice into a blender or food processor until smooth.
3. Pour the cooled simple syrup into the strawberry and lemon puree and blend to combine.
4. Pour the mixture into a 9×13 metal or Pyrex baking dish and place in the freezer for about 30 minutes. Ice will begin to form along the outer edges of the pan. Using fork, stir icy portions into middle of pan. Freeze until mixture is frozen, stirring edges into center every 20 to 30 minutes for about 3-4 hours. Using fork, scrape the granita into flaky crystals. Cover tightly and freeze.
5. If desired, serve with fresh berries and a sprig of mint.

Note: The juice of two lemons will give you a well balanced flavor, if you are looking for more of a lemon kick, feel free to add more lemon juice.

I have an addiction to buying strawberries right now, especially the locally grown ones that have been making their seasonal appearance at my fave market.