Strawberries and rhubarb combine with a crumb topping to create a delicious summer cake.
I've mentioned before that Eric and I subscribe to the weekly organic delivery service, Door to Door Organics. We absolutely love the service since most of the organic produce in our nearby grocery stores is kind of hit or miss. I should mention that Door to Door Organics does use local produce, they just make it much easier to find! One thing about a delivery service like this though, you have to remember to customize it. Last week we neglected to customize our box, so we ended up with a bunch of rhubarb.
Rhubarb has never really been my thing. In my mind, it's kind of like celery's prettier and tarter sister – even though it tastes absolutely nothing like celery. I tried pawning some of on our neighbors, but they had zero interest in taking a few stalks – it is stalks, right? – so, I thought I'd create a few rhubarb desserts to share with you lovely people instead.
I've made a rhubarb cake at one point in my life, but typically it's not a go to ingredient in my kitchen. If you've never tasted rhubarb, it's hard to actually describe the flavor aside from the fact that it is super tart. Like whoa – tart. And this is coming from someone that can shovel tart candy in my face by the fistful. That's an attractive visual, isn't it? Back to rhubarb..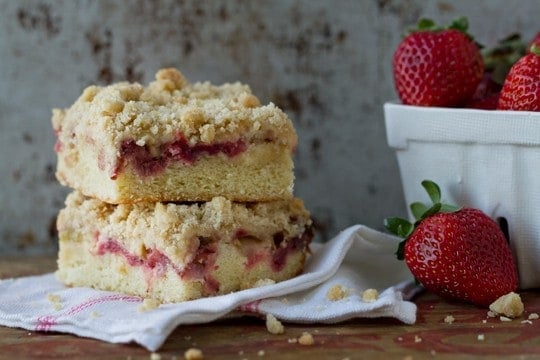 In my opinion, rhubarb needs sugar in its life. Once those two ingredients meet, the rhubarb completely transforms itself into something that is not only beautiful, but also delicious. I've actually heard of people eating rhubarb raw with salt. Totally not my thing. However, I am a lover of salt on watermelon, so who am I to judge anyone's rhubarb eating ways. I just know I like mine with sugar, and lots of it!
I don't think I've ever met anyone that didn't like a sweet, juicy strawberry, though. Since these baked goods get shared with a myriad of people in my life, some of whom may not be keen to try new things, I decided pairing strawberries with my ton of rhubarb is the way to go.
This Strawberry Rhubarb Crumb Cake comes together in a snap, and even the most skeptical dessert eater in your bunch will love it. Sweet strawberries mellow out the tart rhubarb to make one delectable dessert that you won't be able to stop eating. Remember, friends – sharing is caring! And sharing this Strawberry Rhubarb Crumb Cake is definitely caring.
Strawberry Rhubarb Crumb Cake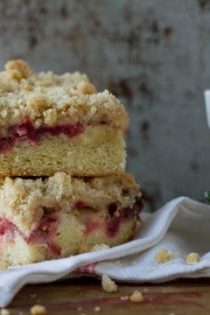 Ingredients:
For the Streusel
6 tablespoons unsalted butter, melted, plus room-temperature butter for pan
1 cup all-purpose flour, plus more for pan
1/2 cup packed light brown sugar
1/4 teaspoon salt
For the Cake
1 cup chopped rhubarb (1/2 inch pieces)
1 cup chopped strawberries
1 tablespoon light brown sugar
1 cup all-purpose flour
1/2 teaspoon baking powder
1/4 teaspoon salt
1/2 cup (1 stick) unsalted butter, room temperature
1 cup confectioners' sugar
2 large eggs
1 teaspoon pure vanilla extract
Directions:
Preheat oven to 350 degrees. Butter an 8-inch square baking pan. Line with parchment paper, leaving a 2-inch overhang on two sides. Butter and flour parchment and pan, tapping out excess flour.
Make the streusel: In a medium bowl, whisk together melted butter, brown sugar, and salt. Add flour and mix with a fork until large crumbs form. Refrigerate until ready to use.
Make the cake: In a medium bowl, combine rhubarb, strawberries, brown sugar, and 1/4 cup flour.
In another medium bowl, whisk 3/4 cup flour, baking powder, and salt.
In a large bowl, using an electric mixer, beat butter and confectioners' sugar until light and fluffy, about 3 minutes.
Beat in eggs, one at a time; turn the mixer to low speed and add in vanilla. Gradually add in the flour mixture, mixing until just combined.
Spread batter in prepared pan. Sprinkle with rhubarb and strawberry mixture and top with streusel.
Bake cake for 45-50 minutes or until the top is golden and a toothpick inserted in center comes out with moist crumbs attached.
Let cool completely in pan. Using paper overhang, lift cake from pan.
Cut into 16 bars.
Notes:
Cake will keep in an airtight container at room temperature for up to 3 days.
Recipe slightly adapted from Martha Stewart.
All images and text ©
Follow Jamie on Instagram. We love to see what you're baking from MBA! Be sure to tag @jamiemba and use the hashtag #mbarecipes!