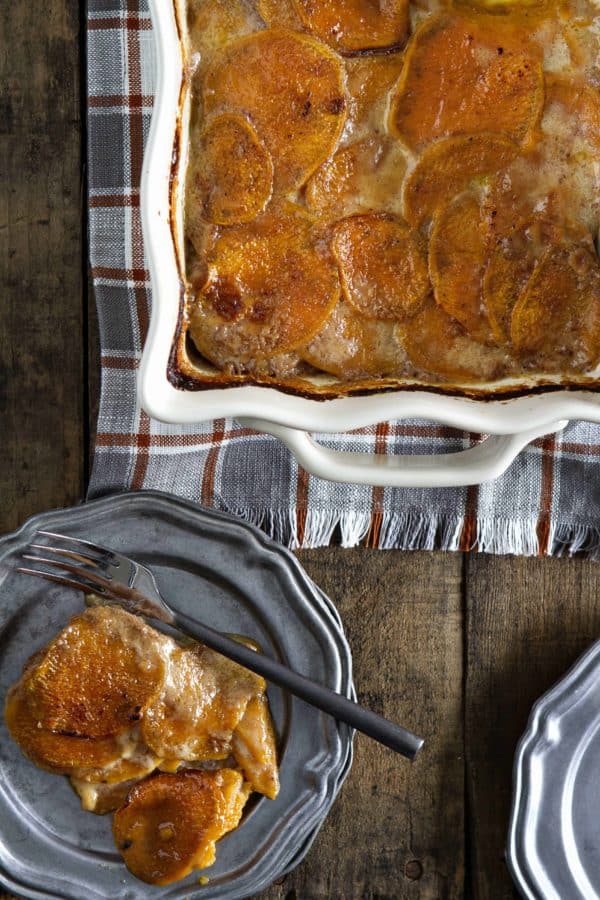 I was compensated by Nielsen-Massey Vanillas for my time in developing this recipe and post. All opinions are my own.
Sweet Potato Gratin will have the whole family excited for side dishes this holiday season. Skip the canned sweet potato – please! – and make this instead.
There's finally a crispness in the air here in Ohio, so my gears are just starting to shift to Fall cooking and baking. If you've been a reading My Baking Addiction for a while, you know that I'm pretty obsessed with all things fall.
From cozy sweaters to festive décor, there's just something about the season that will forever make me feel warm and fuzzy.
When I was kid, Autumn always signaled baking season with my Nana. We'd crank out pumpkin roll after pumpkin roll, pumpkin pies and pretty much any other pumpkin recipe you can think of.
I'm pretty sure it's this time of year that grew my love for all things baking – and pumpkin.
Although fall brought on all the pumpkin recipes, Nana also made other delicious creations like nut roll, cherry cheesecake, and lemon bars.
However, there was one ingredient that Nana used in her fall baking that I wasn't so fond of – sweet potatoes. In fact, I've only just recently become a fan.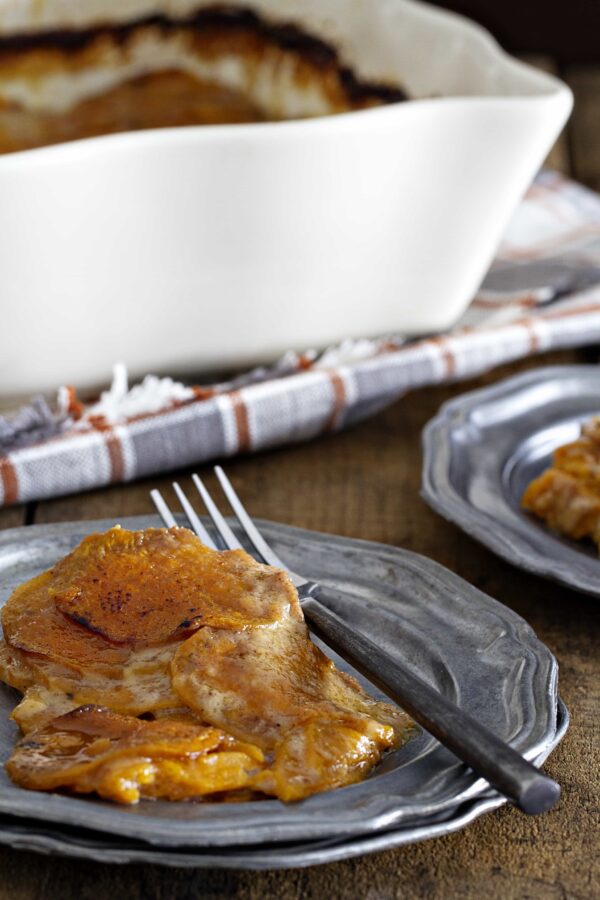 Every Thanksgiving, I would take a spoonful of my Nana's sweet potato casserole and systematically remove and eat every single toasted mini marshmallow from my serving – leaving behind a pile of untouched canned sweet potatoes.
In fact, I'm pretty sure that's what almost the entire family did.
Now that I've become fond of fresh sweet potatoes, I decided to take the flavors of Nana's casserole, which was brimming with brown sugar and cinnamon – but kick it up a notch by making scalloped sweet potatoes with hint of vanilla.
However, instead of vanilla extract, I used Nielsen-Massey Madagascar Bourbon Pure Vanilla Bean Paste.
I'm a huge fan of the flavor-punch their vanilla bean paste adds to just about anything, without adding more liquid. Plus, it's super sophisticated to present people with beautifully-flecked baked goods and casseroles, amiright?
We love traditional scalloped potatoes, so I figured a sweet potato gratin recipe would most definitely be a total win.
Plus, I kinda love any excuse to use a mandoline. The result was sweet potato perfection that will be a welcomed side dish to any Thanksgiving spread.
It's different from that traditional casserole, but just close enough that no one's going to complain it's missing from the table. Plus, I can guarantee that people are actually going to eat this one – in giant, heaping, delicious spoonfuls.